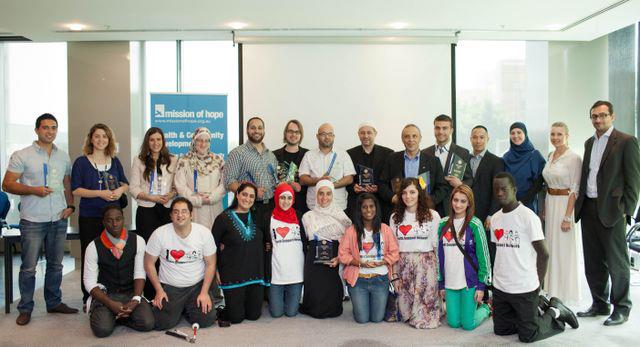 The  Australian Muslim Achievement Awards 2011, to recognise the best of the Australian Muslim community, were held this weekend at the University of Melbourne. Hosted by Mission of Hope, the awards are now in their sixth year and have become the cornerstone in acknowledging the achievements of  Muslims, both young and old, in Australia. The awards ranged from Sports person of the year, to Event of the year and even Media Outlet of the year (which Muslim Village.com actually won).
This year, the prestigious awards for Man of the Year went to Moustafa Fahour, the  co-founder of the Islamic Museum of Australia and prominent business figure. He was also awarded the Volunteer of the Year award, making him, and his newly founded foundation, one of the big winners of the night. The museum also won Community Organisation Of The Year and Best New Community Project. Founded in May 2010, the project is now moving ahead quickly and hopes to open in Melbourne soon.
Woman of the year went to Dr Joanne McKeown, a pallative care consultant in Perth. Winning out over such prominent names in the community such as Omeima Sukkarieh and Randa Abdul-Fattah, Dr Joanne worked in Central Australia including in and around Alice springs from 2005 until earlier this year, and is currently caring for elderly nursing home patients who are approaching the end of their lives.
Taking out Youth of the Year over the winner of Sportsperson of the year, Amna Karra-Hassan won over international Rugby League and Rugby Union player Walid Yassine. Amna, currently studying her Masters in Islamic Studies with Charles Sturt University (CSU) and the Islamic Sciences Research Academy (ISRA), is currently employed as a Team Member in the Australian Federal Police Community Liaison Team. At the age of 23, Amna has proven to be a passionate advocate for grass-roots activism in both the youth and community sector.
Winning the Abyssinian Award this year was Rabbi Zalman Kastel, director of Together for Humanity Foundation, an interfaith organisation that fosters a sense of belonging together, cooperation and respect. Role Model of the Year went to a multi- award-winning author of nine novels, and lawyer Randa Abdel-Fattah.
List of Winners:
Best new community project of the year – Islamic Museum of Australia (VIC)
Business of the Year – Crescent Times Newspaper (WA)
Media Outlet of the Year – MuslimVillage.com (NSW)
Sportsperson of the Year – Walid Yassine (NSW)
Community Organisation Award – Islamic Museum of Australia (NSW)
Professional of the Year Award – Dr Bulent (Hass) Dellal (VIC)
Abyssinian Award – Rabbi Zalman Kastel (NSW)
Role Model of the Year Award – Randa Abdel-Fattah (NSW)
Creative Artist of the Year Award – Peter Gould (NSW)
Researcher of the Year – Dr Bulent (Hass) Dellal (VIC)
Event of the Year Award – Auburn Community Development Network- Ramadan Iftar Program 2011 (NSW)
Volunteer of the Year Award – Moustafa Fahour (VIC)
Youth of the Year Award – Amna Karra-Hassan (NSW)
Man of the Year Award – Moustafa Fahour (VIC)
Woman of the Year Award – Dr Joanna McKeown (WA)
Lifetime Achievement Award – Dr. Qazi Ashfaq Ahmad (NSW)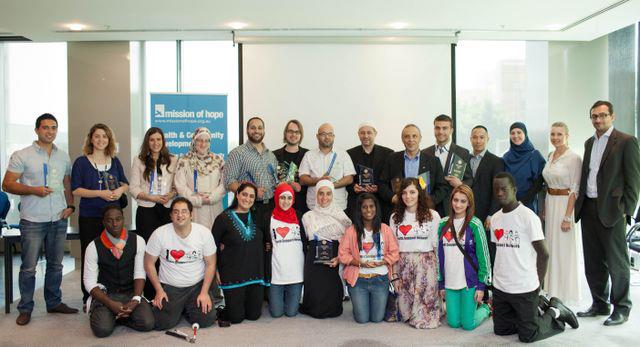 RELATED:
 MuslimVillage.com wins media prize at Australian Muslim Achievement Awards  
MuslimVillage.com has won the Media Outlet of the Year 2011 award at the Australian Muslim Achievement Awards held in Melbourne yesterday. This was the fourth time MuslimVillage.com has won this prestigious award after previously winning in 2006, 2007 and 2009.
Since launching as IslamicSydney.com in Aug 2001, ten years on MuslimVillage.com is now a widely respected and recognised global web portal that had over 1.2million visitors in 2011. Whether it's checking daily prayer times, finding out the latest Islamic related lifestyle stories, news + opinion, politics, community events or discussing current issues in the MuslimVillage Forums, MuslimVillage.com has become the leading media of choice for Australia's Muslim community. This was not more evidenced than in Ramadan this year when MuslimVillage.com received over 40,000 visitors in the space of 36hrs from readers seeking information on the announcement of Eid.
Although Australian based, MuslimVillage.com now attracts users from Muslim communities all around the world with over 50,000+ visits a month from 200+ countries outside of Australia. Although most of it's users are fluent in English, MuslimVillage.com is configured to be read in numerous other languages including Arabic, Turkish, French, Malay and Indonesian. This gives MuslimVillage.com unprecedented reach within the highly diverse Muslim community, in Australia and Internationally.
Besides the main site, MuslimVillage.com also have over 14,200 Facebook fans, just under 15,000 Forum users and 14,800+ email subscribers. With the addition of recently launched twitter and youtube sites, there are now just under 1 Million comments that MuslimVillage.com users have posted  via it's website and social media platforms.
In 2011 MuslimVillage.com successfully launched it's own media team – MV Media. This new and exciting initiative has proven to be exceptionally successful with MV Media beating the "mainstream" Australian media in breaking exclusive stories in 2011 with an interview with the "sharia whipping"victim, expose of Federal Senator Cori Bernardi's Islamophobic letters and breaking the news of the announcement of the new Australian Mufti. In addition the MV Media team is now publishing, almost daily, content on everything from exposing Today Tonight's Muslim bias, to the ever popular topics of the struggles of love & marriage amongst Muslim youth.
In 2012 MuslimVillage.com will be branching out into other related areas launching HalalOnline.com, a Halal food + products, business and community directory and IslamophobiaWatch.com.au  – an online portal that will allow Australians to report incidents of Islamophobia from the media, political or general public sphere.
The award was accepted on behalf of the MuslimVillage.com team by it's co-founder and Director Ahmed Kilani who thanked Mission of Hope for organising the awards and paid tribute to the entire MuslimVillage.com team for all their hard work and dedication during 2011.