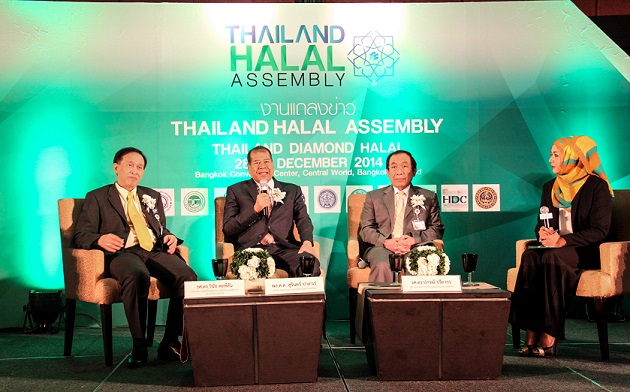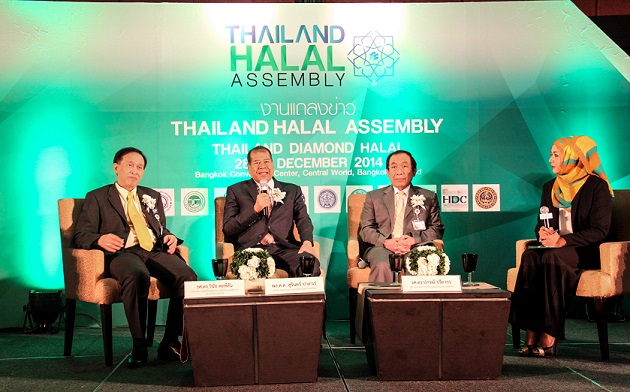 By: eturbonews.com
Source: eTN
First Thailand Halal Assembly to help boost trade, travel with Islamic World poster-halal-assembly-re02Bangkok – An estimated 5,000 delegates are expected to meet in Bangkok between 28 – 30 December for the first "Thailand Halal Assembly 2014″ to be held at the Bangkok Convention Centre, Centara Grand Hotel at CentralWorld.
Organised jointly by the Halal Science Centre of Chulalongkorn University, the Central Islamic Council of Thailand and Halal Standard Institute of Thailand, the event is designed to help upgrade the standards of halal products and services being made in Thailand to cater to the rapidly growing Islamic market, both within Asia and worldwide. Prime Minister Gen Prayut Chan-Ocha will deliver the opening speech.
The core objective is the launch of Thailand Diamond Halal, a brand concept under which all halal products and services sourced in Thailand will be marketed and exported. One session at the conference will be devoted specifically to Halal Tourism and Hospitality and Halal Medical Tourism.
The Royal Thai Government has given strong backing to the event because of the benefits accruing to regional ASEAN socio-cultural and economic integration. After the 2015 ASEAN Economic Community plan takes effect, the roughly 650 million population of the 10 ASEAN countries will comprise 46% of Muslims.
This is a huge market waiting to be tapped by the Thai-Muslim community.
According to Associate Professor Dr Winai Dahlan, Founding Director of the Halal Science Centre, Chulalongkorn University, "We have invited senior executives from all over the world, including the Organisation of Islamic Countries, to share their experiences and knowledge, and become better acquainted with more than 120,000 Thai-made halal products and services, which will now be known as Thailand Diamond Halal."
Dr Pakorn Piyakorn, Director, Halal Standards Institute of Thailand added, "There are about six million Muslims in Thailand, helping build a strong Thailand. By upgrading and certifying our standards, by next year these products and services will become much better known worldwide."
In addition to the Thailand Halal Expo 2014, which has attracted about 200 exhibitors, the event will include scientific conferences and workshops to help participants and delegates share knowledge on advances in other Islamic countries. Conference delegates and trade visitors will be coming from Muslim-minority countries; such as, South Africa, India, Russia, the UK, Singapore and New Zealand.
Tourism Authority of Thailand Governor Thawatchai Arunyik said, "We would like to welcome all delegates to this important assembly. It will a very important contribution towards ASEAN integration, boost intra-regional travel and help Thailand attract more visitors from the Islamic world, covering leisure, business travel and MICE."
Thailand is projecting strong growth in visitors from Muslim countries, especially Indonesia and Malaysia, after the ASEAN Economic Community takes effect. Visitors from the UAE, Qatar and Kuwait already comprise the highest spending category of visitors to Thailand. They also play a major role in helping to fill up hotel rooms in the "Green Season", the monsoon months when visitors from the traditional markets of Europe and North America experience a slight dip.