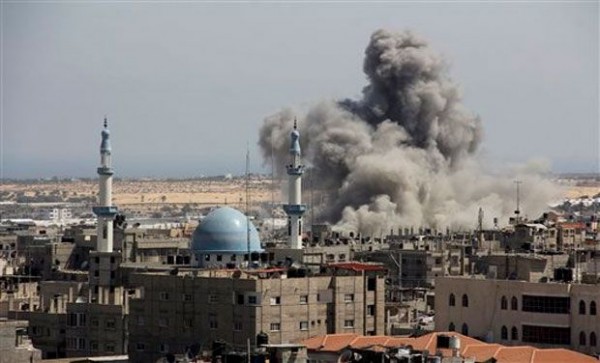 By: VOA News
Source: http://www.voanews.com/
U.N. diplomats say the United States and European nations are working on a Security Council resolution to end fighting between Israel and Hamas in the Gaza Strip.
A two-page document circulated Thursday calls for an immediate end to Hamas rocket attacks and Israeli military operations that have killed over 2,050 Palestinians and 67 Israelis in the past six weeks.
The document also calls for lifting the long-standing Israeli blockade of Gaza, opening all border crossings into the coastal enclave, and returning the West Bank-based Palestinian Authority to control there.
An international monitoring mechanism would be established in order to verify those steps, as well as to ensure the flow of goods entering Gaza does not include weapons or tunnel-building materials for Hamas.
The initiative comes as violence once again flares up in the Gaza Strip. On Thursday, three senior Hamas commanders and at least three others were killed in an Israeli airstrike on a four-story home in the town of Rafah. Hamas identified those killed as Mohammed Abu Shamaleh, Raed al-Attar and Mohammed Barhoum.
Israeli Defense Minister Moshe Yaalon said the three "were responsible for deadly attacks" against Israel, including the killing of Israeli soldiers and the 2006 kidnapping of soldier Gilad Shalit.
The bombing is part of what Israel said was a wave of airstrikes on targets in the Palestinian territory along the Mediterranean in response to Hamas rockets fired into Israel.
The rocket fire resumed earlier this week after the expiration of a temporary cease-fire and the collapse of peace talks, which were being led by Egyptian officials in Cairo.
U.N. diplomats say they do not want their Security Council proposal to interfere with the Egyptian-led negotiations, but expressed hope the initiative would help lead to wider peace talks between the Israelis and Palestinians.
The diplomats insist their proposal has been well-received by both Palestinians and Israelis, but stress the project is in its early stages. It is unclear if or when the proposal could take the form of a draft resolution.