Kashmir "girl band" quits after fatwa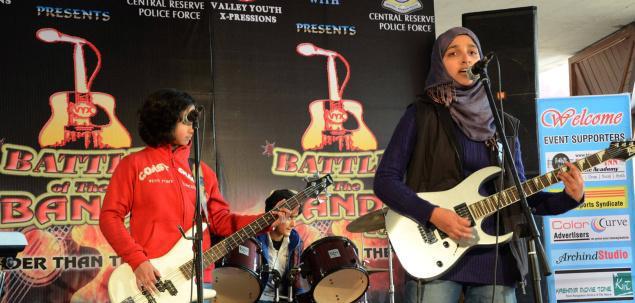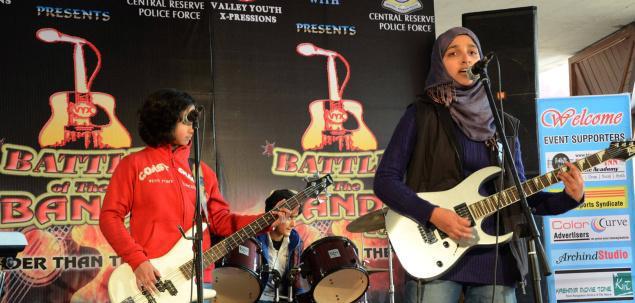 By: Peerzada Ashiq
Source: Hindustan Times
Speaking out for the first time since controversy erupted over Kashmir's all-girl rock band, its guitarist Aneeqa Khalid said, "We respect mufti sahib (Bashir-ud-Din) who said it is haram and so decided to quit music. We did not know that people of Kashmir were unhappy with what we were doing"
Khalid said all the bands in Kashmir had decided to disband in solidarity with their band Pragaash."When the issue was confined to FB, things were not so bad. All of a sudden it got too much (media) hype," said the Class 10 student, who along with drummer Farah Deeba and vocalist-guitarist Noma Nazir came third in the Battle of bands competition in December in Srinagar.Ever since then, they've been receiving online threats.The mufti had earlier issued a fatwa against music and dancing, asking the girls to discontinue.All the three girls have decided to disband the group. "We all are from one school and went to learn music. Later, we started the band. It was our passion. I never knew it would generate so much controversy," she said.
Girls quit in interest of Islam: Mufti

Jammu: On a day the all-girl Kashmir rock band disbanded, grand priest Bashir-ud-Din welcomed the girls' decision.
"This is in interest of Islam," declared the mufti who had issued a fatwa (decree) against the band.
"I appreciate the understanding of it by the girls as well as their parents and the whole society which has backed me in stopping this blasphemous activity," he said.
"Bring in seminars, debates and other educative forums instead of glamorous music in the valley."