Mar 24 2012 – SYD – Trivia Night Fundraiser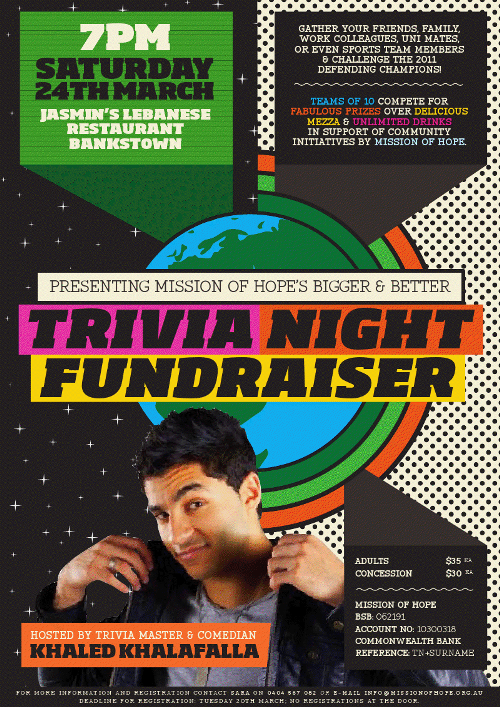 Organizer: Mission of Hope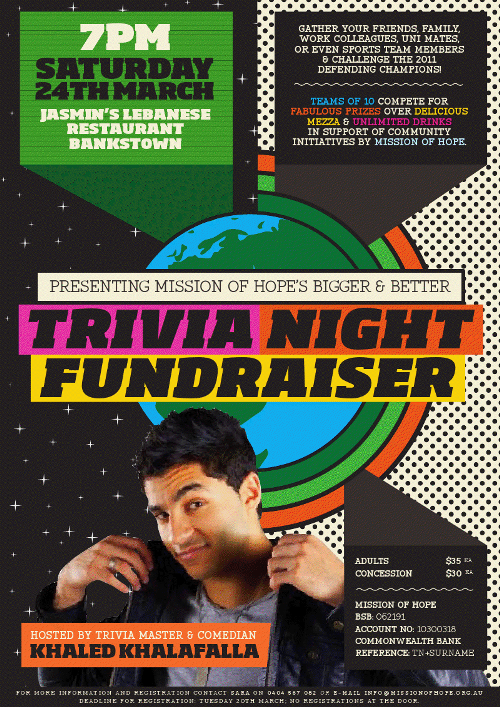 Know all the answers to every question on Jeopardy? Are you smarter than a 5th grader? If you've got game, gather your friends, family, work colleagues, uni mates, or even sports team members & challenge the 2011 Defending Champions!
Presenting Mission of Hope's BIGGER & BETTER
TRIVIA NIGHT FUNDRAISER
Hosted by Trivia Master & Comedian
KHALED KHALAFALLA
WIN! WIN! WIN!
Teams of 10 compete for FABULOUS prizes over DELICIOUS MEZZA & UNLIMITED DRINKS in support of community initiatives by Mission of Hope.
(Either form a team of 10, or we can place you in one. Sisters/Brothers only team available upon request)
Adults $35EA/Concession $30EA
Location: Jasmin Lebanese Restaurant, 4/222 South Terrace, Bankstown NSW 2200, Australia
Mission of Hope
BSB: 062191
Account No: 10300318
Commonwealth Bank
Reference: TN+Surname
For more information and registration contact Sara on 0404 567 082 or
e-mail info@missionofhope.org.au.
Deadline for registration: Tuesday 20th March; no registrations at the door
[mappress mapid="228″]