Bosnia still paralysed 20 years after genocide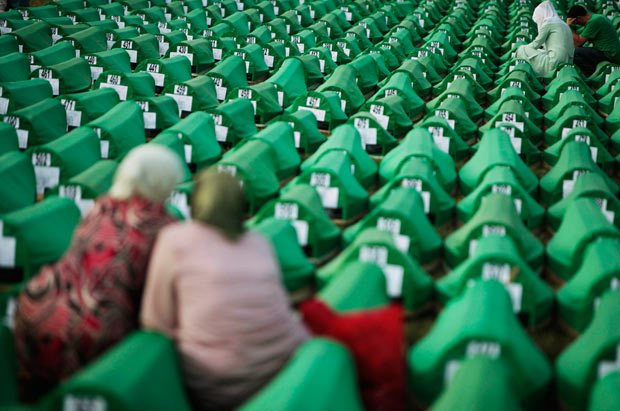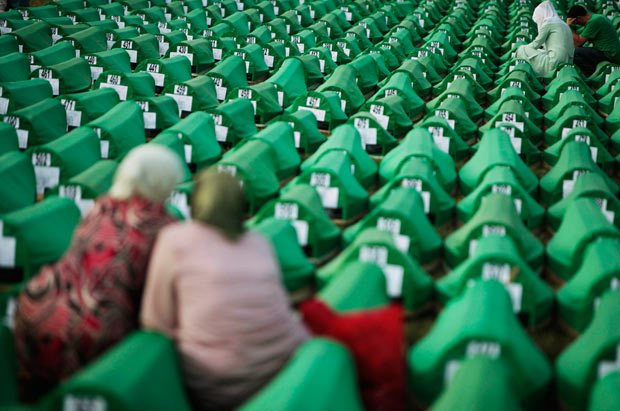 By: Dan McLaughlin
Source: The Irish Times
As Bosnia marks 20 years since members of one community slaughtered civilians from another and dumped them in mass graves, a stark question hangs over the country: what does it mean to be Bosnian?
Saturday's commemoration of the Srebrenica genocide, when Bosnian Serb troops murdered more than 8,000 Bosnian Muslim men and boys, will do nothing to unify a country still shaped and divided by its 1992-1995 war.
Bosnian Serbs and Serbia are now seeking to block a British draft UN resolution on Srebrenica, which they say ignores atrocities committed against Serbs during a war that claimed 100,000 lives.
Last Saturday, Bosnian Serb leader Milorad Dodik visited Bratunac, a town near Srebrenica where Muslims were executed and buried 20 years ago, and again questioned the nature and scale of the massacre.
"The goal is to register at the UN, on the basis of false declarations and reports, that a genocide was committed against Muslims," Dodik said at a commemoration event for 3,500 Bosnian Serbs killed in the region during the war.
"Everything is a recurrent lie. We are told 'You should not deny.' How not to deny a lie? You are the ones who are not telling the truth. Where are the 8,300 [murdered] men? Why do you lie?"
Dignitaries from around the world will attend a memorial ceremony on Saturday at a cemetery where 6,200 Srebrenica victims are buried, and at least 115 newly identified bodies will be interred; about 7,000 people are still missing since the war.
Worst massacre
Bosnia does not have an official day of commemoration, however, because Bosnian Serb politicians have blocked efforts to formally mark Europe's worst massacre since the second World War.
Bosnia's war left an indelible mark on its Muslims, who are known as Bosniaks: they made up about three-quarters of the 40,000 civilians killed in the conflict, and tens of thousands of Bosniak women were raped.
Serbs perpetrated the vast majority of this violence but, while admitting that some Serb fighters committed grave crimes, Bosnian Serb and Serbian leaders also complain that the West demonises their people over the bloody fall of Yugoslavia.
Ethnic violence and revenge attacks are now remarkably rare in Bosnia, but clashing ideas about history and justice constantly undermine efforts to unify the country.
These divisions were entrenched by a peace deal that split Bosnia into a Muslim-Croat Federation and a Serb-run Republika Srpska, autonomous "entities" linked by weak state institutions in the national capital, Sarajevo.
The pact deemed Muslim Bosniaks, Orthodox Christian Serbs and Catholic Croats to be Bosnia's "constituent peoples", who would share power and dole out state jobs via quotas; only people from those ethnic groups can hold senior state posts.
Two decades on, however, this fiendishly complex, opaque and bureaucratic system is still operating according to data from 1991 – before a war that temporarily displaced two million people and prompted many to leave Bosnia forever.
National census
With the support of the European Union, Bosnia sought to take a long overdue new "snapshot" of its population with a national census in 2013.
"A census should be a technical project but here – as with many things – it's very political," said Dalio Sijah of civil society group Zasto Ne? ("Why Not?").
Ahead of the census, Zasto Ne? called on Bosnians to reject the labels of Bosniak, Serb or Croat and declare themselves as "others", in a bid to break the entrenched ethno-political system and the culture of party patronage that it fosters.
Thousands supported the campaign, posting pictures of themselves online holding signs saying "Ethnically challenged", "Constitutionally challenged" and "A citizen above all".
The 1991 census showed that 4.4 million resided in Bosnia. Almost 43 per cent were Muslims, 31 per cent were Serbs and 17 per cent Croats, and most lived in ethnically mixed areas.
The 2013 survey discovered that Bosnia's population had shrunk to 3.8 million – but sensitive data on the ethnic composition of the country is yet to be disclosed.
"We still don't have official results and have no idea when they'll be released . . . The law on census was vague and badly defined, and there was lots of 'we'll figure that out afterwards'.
"Well, they're still figuring it out," said Sijah.
"Republika Srpska won't recognise the results because Bosniaks living abroad came back for the census, and Bosniaks say that not to allow them back would entrench the results of ethnic cleansing by Serbs."
Bosnia's fault lines trace opinions not only about the war, but about the country's political and economic future.
Most Muslims and Croats want Bosnia to join the EU, but many Bosnian Serbs favour ties with Russia and are deeply suspicious of Brussels's push to strengthen Bosnia's unity by reducing the autonomy of its two "entities".
Dodik visited Russia last month, and hopes that country will block the UN draft resolution on Srebrenica; last week, anti-EU posters bearing a picture of president Vladimir Putin appeared in Serb villages around Srebrenica, including some on the bullet-scarred walls of an infamous warehouse where Bosniaks were executed.
Rupture by resolution
On Sunday, Dodik again threatened to push for Republika Srpska's independence and said the disputed UN resolution could tear Bosnia apart.
"Why does the world let the Serbs block the functioning of this country?" Camil Durakovic, Srebrenica's Bosniak mayor, asked in a recent interview.
"Why don't we work together – Serbs, Croats, Bosniaks – to make our Bosnia a success?
"The world should remember that Serbs and Croats have a homeland just next door, in Serbia and Croatia. But we don't have that – all we have is Bosnia."
The views expressed in this article are the author's and do not necessarily reflect those of MuslimVillage.com.