AirAsia Crash: 'Big Objects' Found in Java Sea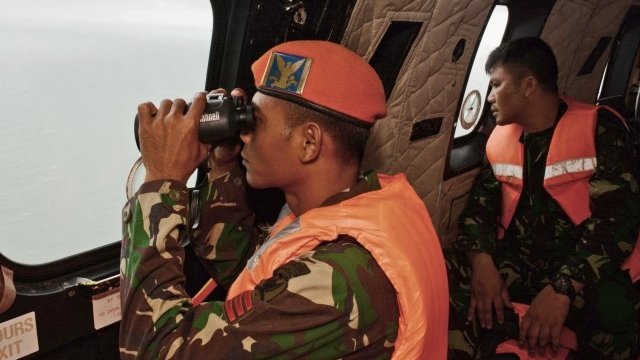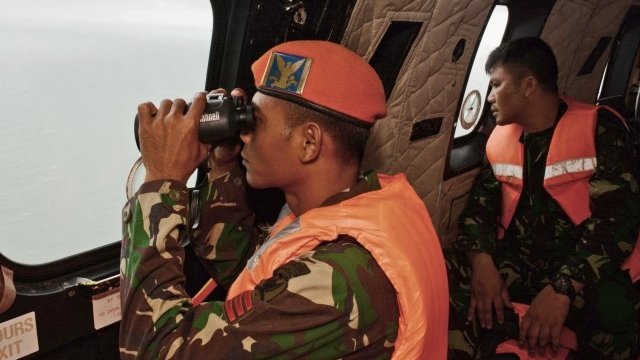 By: VOA News
Source: VOA News
Indonesia's weather bureau said weather conditions were a factor in causing the plane to plunge into the Java Sea, according to a new report.  The report said the aircraft had flown into bad weather that would have been difficult to avoid.
Indonesian search and recovery teams hunting for the wreck of an AirAsia passenger jet have located four large objects in the Java Sea, as searchers try to reach the plane's fuselage to retrieve bodies believed to be inside and the aircraft's "black boxes."
The four objects under the sea and an oil slick were found some 75 nautical miles off the coast of the Indonesian town of Pangkalan Bun.
The head of Indonesia's search and rescue agency, Bambang Soelistyo, said the largest object measured 18 meters long. At a news conference Saturday, Soelistyo said objects had been found despite stormy weather.
Soelistyo earlier said that two "big objects" had been found in about 30 meters of water in the Java Sea.
"At 23:40 p.m. (1640 GMT Friday) we detected two big objects. We used a two-dimensional (detection) device and three-dimensional (detection) device," Soelistyo said. "The first object which detected with the three-dimensional (detection) device measured 9.4 meters by 4.8 meters by 0.4 meters and the other object that detected by two-dimensional (detection) device measured 7.2 meters by 0.5 meters. The two objects were close to each other."
He said searchers are trying to get images of what may be the plane's wreckage using remotely operated underwater vehicles.
Indonesian officials say 30 bodies have been retrieved from the sea and were being transported to Surabaya for identification. Images from inside a C-130 transport plane show white, numbered caskets in line next to one another, a bouquet of flowers on top of each.
Efforts to recover bodies and debris were hampered by poor weather and turbulent seas. Portions of the plane, including an exit door, inflatable escape ramp, suit cases and other debris have also been recovered.
Among the bodies already returned to families is that of an AirAsia flight attendant and a young Indonesian man studying at an Australian university. Most of the 162 people on board the Airbus jet came from Indonesia and were travelling to Singapore to mark New Year celebrations.
United Nations Secretary General Ban Ki-moon joined regional leaders in expressing condolences and thanking international teams in the search. Up to 29 vessels, 17 aircraft, and sonar equipment are being used to help locate wreckage of the Airbus A320-200 jet. Russia has joined the search alongside Singapore, the United States, Malaysia and Australia, and China.
Indonesia's director general of air transport, Djoko Murjatmodjo, said Saturday that AirAsia's permit to continue flying the Surabaya to Singapore route had been cancelled after finding the plane was not allowed to fly the scheduled service.
AirAsia Indonesia's chief executive, Sunu Widatmoko, told a news conference Saturday the company would abide by the investigation's outcome.
"As you all know the government has suspended our flight QZ8501 from Surabaya to Singapore and to that effect the government is now doing the re-evaluation process to investigate," Widatmoko said. "And in that regard AirAsia management would fully cooperate with the government in that evaluation process."
Widatmoko said AirAsia would be making no further comment until the investigation was completed.
Aviation analyst Hugh Ritchie, chief executive of Sydney-based Aviation Consultants International, says, while the issue may be technical, the investigation could lead to litigation.
"That's going to cause them a lot of trouble because they're not licensed to (travel the route), therefore they are not going to have insurance," he said. "They're probably going to be included in any litigious exposure. The organization, AirAsia Indonesia, which is the management thereof should have known (the situation) when they are allowed to fly the route."
In a statement, Singapore's Civil Aviation Authority and airport operator, Changi Airport Group said AirAsia's Surabaya to Singapore service had been granted approval into Singapore, but that flight schedules were required from the respective civil aviation authorities.
The accident was the first by AirAsia since the parent company was launched in Malaysia in 2002. The Indonesian offshoot first began service in 2006.  AirAsia, including subsidiaries in the Philippines and Thailand, is led by chief executive officer Tony Fernandes.
The search was widened Saturday as authorities say debris may have drifted as far away as the coastline of southern Borneo.
Forecasters predict that heavy rain and wind hampering recovery efforts could last through Sunday, with high waves and strong currents.
Officials also say the search for the flight data recorders, which send out a soft pinging sound, may be hampered by the number of search vessels in the area.
"But other problem also raised up, as you have so many ships in the area, then they will also create noise," said Toos Sanitiyoso air safety investigation official with the National Committee for Transport Safety. "Because this is not very deep water, this is very shallow water, 30 up to 40 meters. Theoretically, we should avoid high level of noise in order to find the detail signal, because the signal is not a very big signal. It's quite weak signal from the pinger, it's only like that size."
The U.S. 7th Fleet announced Friday that it has sent a second ship to the search area, where the USS Sampson is already assisting.  Although the USS Fort Worth has not yet been tasked with joining the search effort, it will be on standby in case it is requested by the Indonesian government.  The USS Sampson recovered two bodies Thursday.
"All the information that we know and that we're getting, we are certainly passing to BASARNAS (Indonesia's National Search and Rescue Service) first, and that is being passed to other ships, as we work together to improve our inter-operatebility and find the victims as soon as possible," said Lt. Commander of U.S. Navy Greg Adams.
Many bodies are expected to be found in the main fuselage of the plane, with some authorities speculating the plane's experienced pilot may have landed it on the water before it sank.
Before takeoff and during the last moments of the flight, the pilots requested to fly at a higher altitude to avoid a storm cloud.  The request was not approved because other planes were in the area.
The twin-engine jet disappeared from radar without a distress call nearly halfway into what was supposed to be a two-hour flight from Surabaya to Singapore.
Indonesian authorities have temporarily suspended AirAsia flights from Surabaya to Singapore because the airline did not have a permit to fly the route on Sundays – the day of the crash.
Ron Corbin contributed to this report from Bangkok.