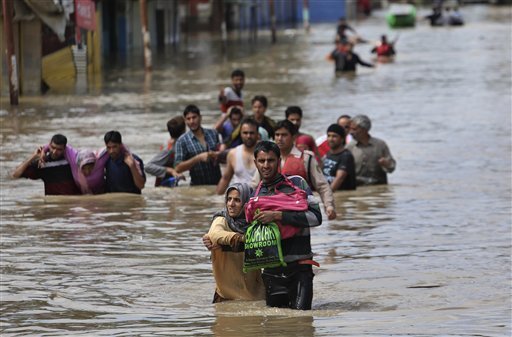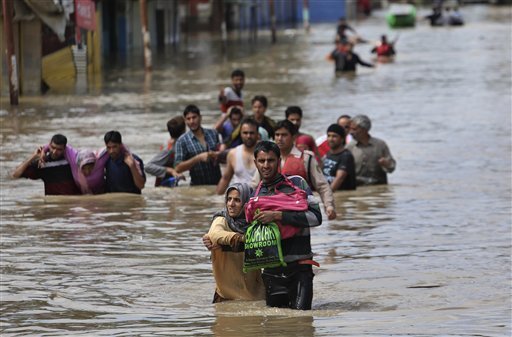 By: aljazeera.com
Source: http://www.aljazeera.com/
Five days of heavy rains have left more than 335 dead in Pakistan and the Pakistan and Indian-administered areas of Kashmir, the region's worst flooding in more than five decades.
By Sunday, flooding had submerged at least 450 villages and triggered landslides in Kashmir, killing 175, while in neighbouring Pakistan more than 160 people have died and thousands others have been made homeless.
Rescuers in Pakistan and the Kashmir area were using helicopters and boats to try to reach tens of thousands of stranded people.
A senior official in Pakistan's Punjab rescue agency said 103 people had died in the province.
He added that about 5,000 people had been rescued since Thursday, but that three soldiers had gone missing during the rescue operation.
Ahmed Kamal, a spokesman for Pakistan's national disaster management authority, said 48 people had died in the Pakistan-administered Kashmir and 11 in the adjacent Gilgit Baltistan area since the flooding began.
He said that the flooding had hit 286 villages in Punjab, as several rivers breached their banks, and that the crisis was rapidly becoming a "national emergency".
More than 4,000 homes in Pakistan have collapsed, leaving thousands homeless.
Pakistan's amry and civilian rescuers have mounted a huge operation to get villagers to safety. Kamal said 95 relief camps had been set up for the homeless.
Modi promises help
More than 2,000 villages have been affected by flooding in Kashmir, officials said.
Rescue efforts in Srinagar, the capital of Indian-administered Kashmir, were being hampered by a shortage of boats and fast-moving floodwaters that submerged large parts of the city.
The airport is out of service and the main highway closed.
Indian prime minister, Narendra Modi, surveyed the flood-hit areas from a helicopter on Sunday and promised the federal help for the "national disaster".
Pakistan and India suffer widespread flooding each year during the June-September monsoon season. In 2010, floods killed 1,700 people in Pakistan.
Kashmir is divided between India and Pakistan, but claimed in its entirety by both countries.