Hijab ban troubles Nigeria Muslims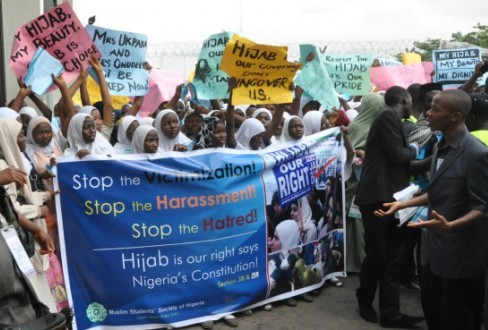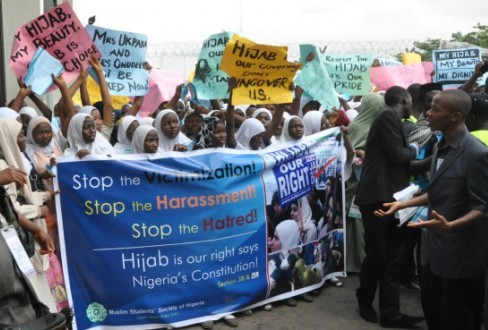 By: OnIslam & Newspapers
Source:  OnIslam
A leading Nigerian Muslim group has condemned the ban on the use of hijab by Muslim student across all Lagos public schools, calling it a breach of the fundamental rights of the students to practice their religion.
"As a Muslim alumni body, that cut across the country and beyond, we have not heard of any state or public schools where wearing of Hijab causes confusion or led to break down of law and order," the Obafemi Awolowo University Muslim Graduates Association (UNIFEMGA) said in a statement cited by Premium Times newspaper.
"If, the Lagos state Government, or the Ministry knows that the affected students need to wear Hijab when they go for prayers or read Qur'an, why not for all times," the statement signed by the group's National President, Prof. Wahab Egbewole and Abdur-Rahman Balogun, National Public Relations officer, added.
Lagos authorities have banned the wearing of hijab at schools. The Muslim outfit is also outlawed in most south-western states.
Muslims have sued the government on allowing Muslim students to wear the hijab at schools.
Muslim leaders say that banning the headscarf violates the religious rights of Muslim students as spelt out in the Constitution.
"We want to say categorically that even in advanced democracies, this right is guaranteed to Muslim female students to dress in accordance with their faith''.
Islam sees hijab as an obligatory code of dress, not a religious symbol displaying one's affiliations.
The Muslim outfit has been in the eye of storm since France banned it at public schools in 2004.
Since then, several countries have followed suit.
Government Claims
Muslim leaders rejected the government false claims that hijab might cause divisions in the society.
"It is unacceptable and laughable that wearing of Hijab will create confusion and break down of law as claimed by the commissioner during her press conference on Tuesday," UNIFEMGA said in the statement.
"It is actually an affront on our faith system to equate hijab with confusion or break down of law.
They have also condemned calls for Muslims to enroll their daughters in private school if they want them to don the Islamic veil.
"It is also insulting to the collectivity of our faith to say that Muslims should send their daughters to private school if they want them to wear hijab!" the statement added.
"It must be stressed that the public schools are maintained with our taxes and we have a right to benefit from its use."
"We hereby register our protest that banning Hijab in Lagos public schools is against the Muslim fundamental human right and we will not allow our fundamental right to be trampled upon with impunity.
"UNIFEMGA urge the Lagos State Government to reverse this unpopular and ungodly decision, in the interest of peace, unity, harmony, equity and justice."
Nigeria, one of the world's most religiously committed nations, is divided between a Muslim north and a Christian south.
Muslims and Christians, who constitute 55 and 40 percent of Nigeria's 140 million population respectively, have lived in peace for the most part.
But ethnic and religious tensions have bubbled for years, fuelled by decades of resentment between indigenous groups, mostly Christian or animist, who are vying for control of fertile farmlands with migrants and settlers from the Hausa-speaking Muslim north.