Residents of Lakemba can now breathe a clean sigh of relief when walking past Croydon Lane.
The once rubbish-filled lane is now marked off for cementing by Canterbury Council after a successful clean up effort by Muslim community youth last weekend.
Organised by the Federation of Australian Muslim Students and Youth (FAMSY) and MuslimVillage, the event brought together a team of young volunteers keen to take part in Clean Up Australia Day (CUAD).
"The aim of the event is to cultivate civics and grassroots activism within Muslim youth and get them to develop an appreciation for their communities and neighbourhoods," says FAMSY NSW spokesperson Tasnim Saeid.
"We essentially want people to 'walk the talk', to get out there and do something to better our society."
The chosen site lay behind Haldon Street, the main trading street in Lakemba. Rubbish was piled so high, Ms Saeid says, that volunteers had to use shovels to clear the site.
"When Council staff came down and were shown 'Lakemba Tip', they were shocked at the amount of rubbish," says Ahmed Kilani, editor of Lakemba-based website MuslimVillage.com.
"To their credit they agreed to work with the local community and shop keepers to proactively educate and create a sense of community vigilance to prevent further dumping of rubbish once the lane was clean," he says.
Bankstown local advocate, Rebecca Kay, was one volunteer at the Croydon Lane clean up.
"Clean Up Australia Day is all about Aussie pride to me. It's about being proud and grateful for your country," she says.
"Cleaning up the streets is far more patriotic then running around with board-shorts and Aussie flags."
19-year-old Haleema Shaikh saw it as an opportunity to do some worthwhile philanthropy for her community.
"We need to encourage more Muslim youngsters to get involved in programs like this because it gives us a chance to do good – both religiously and ethically – and to socialise with and get to know other young Muslims," Ms Shaikh says.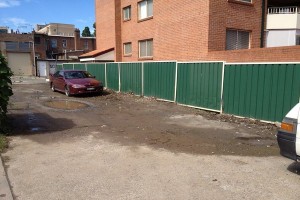 FAMSY's Ms Saeid says that CUAD also confirms aspects of the Islamic faith that the volunteers hold important.
"For young Muslims especially, following the Prophetic Sunnah [example] of cleanliness is very important," she says.
"There is a famous narration of Prophet Muhammed that says, 'Faith has over seventy branches or over sixty branches… the humblest of which is the removal of what is injurious from the path'."
And while the volunteers celebrated the transformation of the Lakemba site with a lunch of Afghan and Lebanese food, Mr Kilani stresses FAMSY and MuslimVillage's long-term Clean Up Australia Day goal.
"This goes beyond cleaning a lane way. It is about teaching people to take ownership of community problems and empowering them with the belief that every one can make a difference."