Syrian civilians paraded and humiliated in Ghouta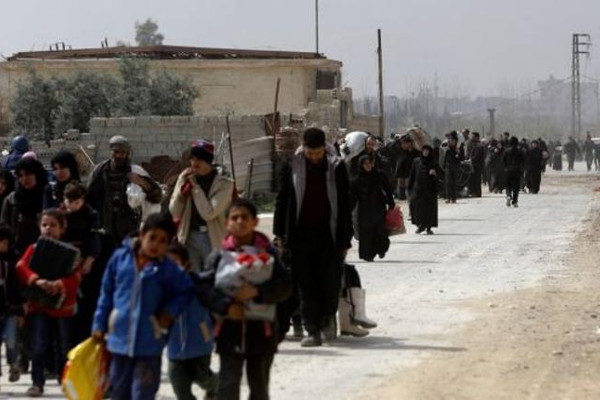 By: Zouhir Al Shimale
Source: Middle East Eye
Climbing aboard a coach that would take her away from her childhood home in Shefonya, Eastern Ghouta, Tasneem al-Bush grappled with the uncertain future of living in Idlib. What came next was a humiliating cross-country journey as she and others made their way hundreds of miles north to the new home they never wanted.
Like 41,000 rebels and civilians who were deported in the last few weeks as part of a deal with the Syrian government to wrest control of the Damascus suburb, the 29-year-old mother of three was forced to leave Eastern Ghouta after enduring weeks of bombardment from the Syrian government.
"We were trapped with our neighbours inside a smelly basement for days waiting for the bombs to stop. It got so bad that at one point, each of us had only one meal every two days," Bush told Middle East Eye.
But after weeks under siege, the journey to rebel-held Idlib was anything but a respite for Bush and others fleeing Eastern Ghouta as they were paraded through pro-government neighbourhoods and ridiculed by government supporters.
"People were swearing at us and throwing rocks against the buses," Mohannad Arbane, a resident of Eastern Ghouta, told MEE.
After Arbane left his home with his wife and two children last week, it took the family 23 hours to reach Hama city, near Idlib.
"Why did the journey take so long? Going to Hama takes only a few hours. Not 23 hours," he said. "We couldn't sleep much because the checkpoints would stop the buses and check them one by one."
"Some of them would harass the men and fighters by shouting against the revolution and in favour of Assad. It was humiliating to experience."
Bush said that during her journey, Russian soldiers boarded the bus armed with metal detectors, checking the belongings of residents onboard.
Thousands over the last two weeks have been "evacuated" from their homes inside Eastern Ghouta as the Syrian government commences the final stages to take full control of the Damascus suburb.
And as the rebel fighters and their families were led away in buses, the Russian defence ministry told Interfax news agency on Tuesday that more then 40,000 civilians who fled the area over the past few years were able to return.
The Syrian Observatory for Human Rights, however, tweeted that their was "no truth" to the ministry's account.
'Well-constructed kill box'
Despite leaving Eastern Ghouta, former residents remain fearful as the Syrian government shifts its attention to Idlib after taking control of Eastern Ghouta.
After the fall of Aleppo in December 2016, thousands of residents from the former rebel enclave were ferried to Idlib.
The Syrian Observatory for Human Rights on Tuesday reported 10 people injured after Syrian warplanes bombed areas across Idlib province.
Earlier this year, senior Arab officials in Amman, Jordan, and Beirut described conditions in Idlib as a "well-constructed kill box" as refugees continue to pour into the last remaining rebel-held areas of Idlib and Hama.
While some remain doubtful about the future of the revolution, Hosam Damas, a rebel fighter from Faylaq al Rahman in Eastern Ghouta, is optimistic.
"We haven't lost the war against Assad, even though many think we have," said Damas.
"In Ghouta, we were alone in fighting the regime, but in Idlib, we will continue our fight from here and will gather our strength and unite under one flag to win the battle."
But for Bush, revolution is the last thing on her mind, as she grapples with the realities of living as a refugee.
"When we arrived, they gave us some food, but the buses drove us to the countryside. The bombings forced us to leave with very little. We are now living in the mountains like cave people," she told MEE.
"My husband is trying to bring us food. I don't know what the children will do and if they will go to school.
"We feel that we lost everything we have built since getting married. Everything is gone. We have no home, no work, or money. We are truly lost."