Rohingya Muslims in 'no-man's land'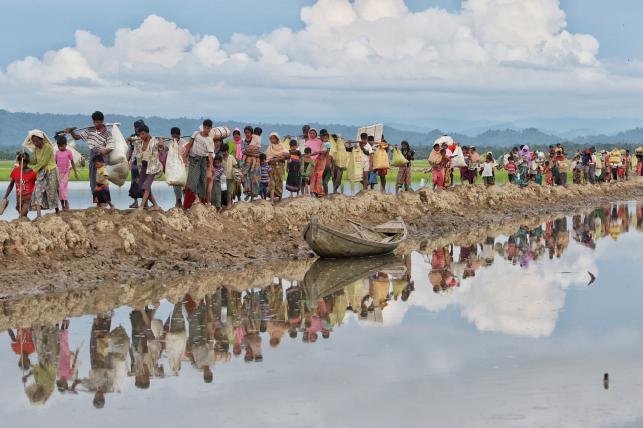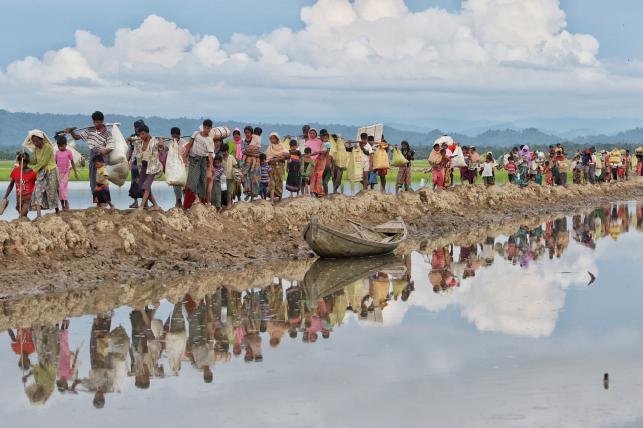 By: Radio Free Asia
Source: Radio Free Asia
Hundreds of Rohingya refugees living on a strip of unclaimed land along the Bangladesh-Myanmar border protested last Wednesday against their repatriation to Rakhine state, saying they would not return without guarantees for their safety.
The demonstration took place a day after Bangladesh and Myanmar officials met in a Rakhine village and agreed in principle to resettle the refugees stranded along the border, according to a deputy commissioner from Bandarban, a southeastern Bangladeshi district, who attended the meeting.
"We demonstrated early morning Wednesday against the resettlement plan that does not guarantee our security," Dil Mohammad, organizer of the demonstration, told BenarNews, an RFA-affiliated online news service. "We have announced today that we will not return unless our safety is ensured and a U.N. force is deployed."
A YouTube video of the demonstration showed protesters raising clenched fists and chanting slogans as Myanmar soldiers and other officials watched from behind a barbed-wire fence.
According to Mohammad, the demonstrators demanded that Myanmar authorities must recognize Rohingya as citizens of the country and allow journalists and international groups to investigate widespread allegations of killings and other atrocities targeting members of the ethnic minority.
"Unless the demands are met, the Rohingya stranded at the no-man's land will in no way return to Myanmar," he said.
Officials could not provide exact numbers because the refugees haven't gone through a verification process, but the U.N. refugee agency (UNHCR) estimates that about 1,300 families, or approximately 5,300 people, live near a canal in the so-called no man's land between the two countries. Bangladeshi officials estimate that 6,500 are sheltering there.
At least 688,000 Rohingya Muslims fled to Bangladesh amid a military offensive launched in response to attacks on police and army outposts in northern Rakhine State by Arakan Rohingya Salvation Army (ARSA) insurgents in August 2017. The U.N. and United States have labeled Myanmar's counter-offensive as "ethnic cleansing."
In November, Dhaka and Naypyidaw signed a bilateral agreement to repatriate some 700,000 Rohingya sheltering in refugee camps in southeastern Bangladesh. The process has not begun but, last week, Bangladesh's home minister handed Myanmar officials a list of more than 8,000 refugees whose information is now being verified by Naypyidaw for repatriation.
UNHCR, in a statement released Tuesday, reiterated that "everyone has the right to seek asylum, just as they also have the right to return home when they deem the time and circumstances right."
"People who have fled violence in their country must be guaranteed safety and protection, and must be consulted on their future. Any decision to return must be voluntary, based upon a free and informed choice," the U.N. agency said.
'Take them back'
Abdul Mannan, the divisional commissioner of Chittagong, led the 12-member Bangladeshi delegation at Tuesday's meeting in Rakhine on the resettlement of the Rohingya refugees stranded in the no-man's land, officials in Bangladesh told BenarNews.
They said U Ye Htut, the deputy commissioner of Maungdaw township in Rakhine, attended the meeting in Dhekibunia village. Myanmar Border Guard (BGP) officials, immigration officials and police representatives were present, they said.
"As the Rohingya living in the no-man's land at Tambru point have yet to enter Bangladesh, we at the meeting proposed that the BGP take them back," Dilip Kumar Banik, deputy commissioner of Bandarban and one of the Bangladeshi team members, told BenarNews.
"They have assured us they would resettle the Rohingya," Kumar Banik said, referring to Myanmar officials. "But they have not given us any resettlement date."
A Myanmar minister visited the strip of land at Tambru last week, according to news service Agence France-Presse. It reported that the minister warned the Rohingya refugees, who live in makeshift settlements, that they would face "consequences" if they did not take up a Myanmar offer to return.
The views expressed in this article do not necessarily reflect those of MuslimVillage.com.