Iran and Israel clash at Munich conference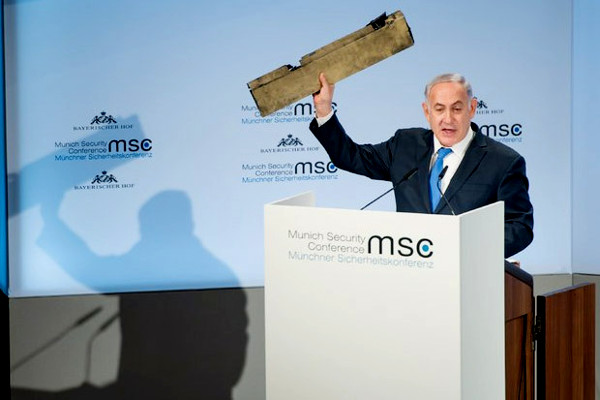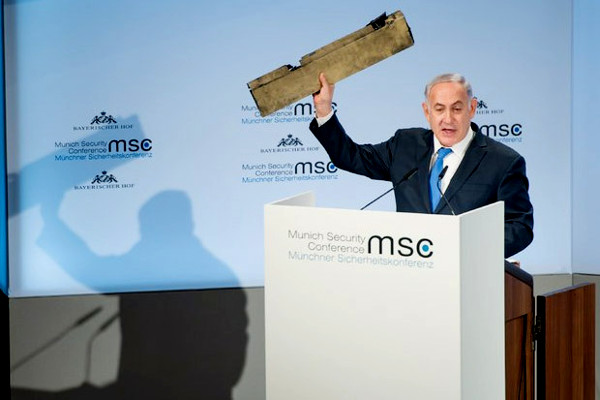 By: Henry Ridgwell
Source: VOA News
MUNICH — Israeli Prime Minister Benjamin Netanyahu has claimed that Iran is just years away from having a nuclear bomb.
Under pressure back home and facing possible corruption charges, Netanyahu took to the stage at the Munich Security Conference Sunday to deliver a warning about the security of the Middle East region, accusing Iran of posing an existential threat.
"The nuclear agreement with Iran has brought the countdown, has begun the countdown to an Iranian nuclear arsenal in little more than a decade. And the sanctions relief that the deal provided has not moderated Iran. It's not made them more moderate internally, and it's not make them more moderate externally."
Netanyahu brandished at the podium what he claimed was a piece of an Iranian drone shot down over Israeli territory, calling on the Iranian delegation present to acknowledge it. He then outlined Israel's red lines on Tehran.
"Israel will continue to prevent Iran from establishing a permanent military presence in Syria. Israel will continue to act to prevent Iran from establishing another terror base from which to threaten Israel."
Netanyahu said alliances were changing in the region.
"Now there has been one positive consequence of Iran's growing aggression in the region. It's brought Arabs and Israelis closer together as never before. And in a paradoxical way, this may pave the way for a broader peace and ultimately also for a Palestinian-Israeli peace."
However, just hours before Netanyahu spoke, Israel carried out a number of strikes against Palestinian positions in Gaza in response to a bomb attack that wounded four Israeli soldiers. Two Palestinians were killed by tank fire.
Netanyahu's tough tone on Iran and the 2015 nuclear deal echoed that of the U.S. national security adviser a day earlier at the conference.
Iran's reaction
Speaking later Sunday in Munich, Iran's foreign minister Mohammad Javad Zarif dismissed the Israeli prime minister's speech.
"You were the audience for a cartoonish circus just this morning, which does not even deserve the dignity of a response," Zarif told delegates. He said Tehran was seeking peace in the region based on mutual respect.
"Iran believes that our security in the Persian Gulf requires a fresh regional security architecture. We believe in, and have proposed, creating what we call a strong region, rather than a strong man in the region. And you've got to notice the difference. We want a strong region. We do not want to be the hegemon in the region, as we believe the era of hegemony is long passed," he said.
Zarif urged other powers to join Iran in a regional dialogue, "at a time when we are dangerously close to escalating conflict that will affect our children, and grandchildren."
Kerry: Agreement must be upheld
Former U.S. Secretary of State John Kerry, who helped negotiate the Iran nuclear deal that saw limits on Tehran's atomic enrichment program in return for the lifting of some sanctions, said the agreement must be upheld.
"I believe it is absolutely critical for Europe, for the world, to make sure we hold on to this agreement, because to go backwards, we know what the world looks like without the Iran nuclear agreement. It's not a better place," he said during a panel discussion on regional security.
U.S. President Donald Trump has criticized the 2015 deal and threatened to reimpose sanctions if Iran continues with its ballistic missile program, although that was not covered under the agreement.
Alongside the Iran nuclear deal, there were also heated exchanges on the conflict in Syria. Several regional and international powers, including the United States and Russia, have troops on the ground in Syria, while Israel has carried out airstrikes on Syrian government forces. There are growing fears that a miscalculation could trigger a much wider conflict.