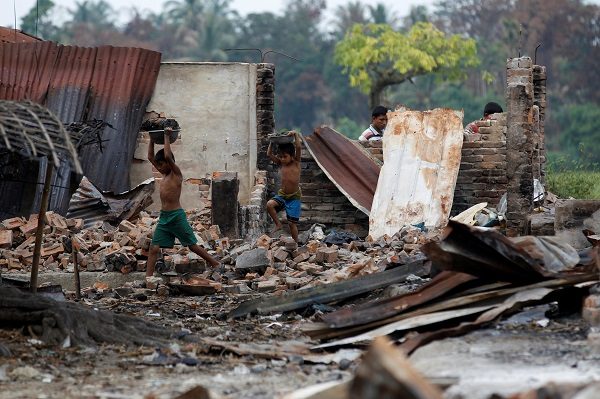 By: Al Jazeera
Source: Al Jazeera
A commission investigating violence in Myanmar's Rakhine State has denied security forces had abused Rohingya Muslims, a claim slammed by the Human Rights Watch, the US-based rights group.
The commission's report and the HRW's reaction to it came on Wednesday, days after a video emerged showing police beating civilians from the Muslim minority.
Tens of thousands of Rohingya, a group loathed by many among Myanmar's Buddhist majority, have fled a military operation in the northwestern state, launched after deadly attacks on police posts in October.
Dozens have died in the crackdown, while escapees now in neighbouring Bangladesh have alleged rape, arson, murder and torture at the hands of security forces.
Myanmar's government, led by Nobel laureate Aung San Suu Kyi, has said the allegations are made up and has resisted mounting international pressure to act to protect the minority.
On Wednesday, the commission set up to investigate the violence released its interim report dismissing claims security forces had carried out abuses or embarked on a campaign to force the Rohingya Muslims out.
The size of the "Bengali" population, mosques and religious buildings in the unrest-hit area "are proof that there were no cases of genocide and religious persecution," it said in a statement carried in state media.
Myanmar refuses to recognise the Rohingya as one of the country's ethnic minorities, instead describing them as Bengalis or illegal immigrants from neighbouring Bangladesh.
'Pre-baked political conclusions'
The commission, headed by a former army general until recently blacklisted by Washington, also found "insufficient evidence" of rape and was still looking into claims of arson, illegal arrests and torture of the Rohingya.
HRW called the report "methodologically flawed".
"[It is] a classic example of pre-baked political conclusions to assert the situation is not so bad, designed to push back against international community pressure," the group said.
Legal action has been taken against 485 civilians, it said, without giving further details.
The statement comes days after the government detained four police officers over a video shot by a fellow policeman that shows them beating and kicking Rohingya villagers, a rare admission of abuse.
More than 120,000 have been trapped in squalid displacement camps since sectarian violence erupted in 2012, where they are denied citizenship, access to health care and education.
Source: News agencies