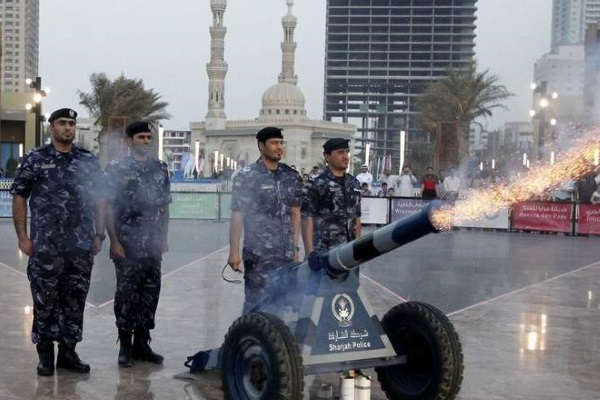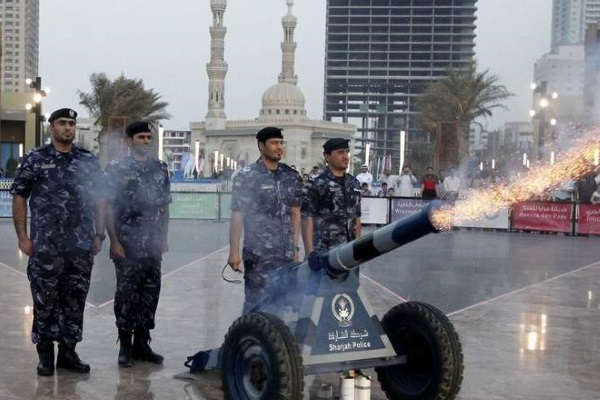 By: Afkar Abdullah
Source: Khaleej Times
The Sharjah Police have placed nine cannons in different parts of Sharjah that are fired at Iftar time. As is the tradition, the police will fire the cannons to notify Muslims it is time to open their fast.
Brigadier Said Al Zeri, Sharjah Police chief, said the police have been carrying on with the tradition for the past several years as part of their social commitment to upholding traditional Arab values.
Brig Al Zeri said that two shots are fired to mark the beginning of the holy month, and a single shot is fired throughout the month to announce Iftar time. The cannons
The cannons have been installed in Al Jerain, Al Nour Mosque in Al Majaz, Mugadiar Square, Al Talla district, Al Barrab bin Azib Mosque, Al Mirgab, Al Bukhari Mosque in the Eastern region, Al Teraif Mosque in Kalba, Shaikh Rashid Al Qasimi Mosque in Dibba Al Hosn, and Al Dhaid police station.
After the cannons are fired, Iftar meals are distributed among the people who gather to watch the shots. The firing will also be broadcast live by Sharjah TV.
Abdul Aziz Al Mussalam, Chairman of the Sharjah Heritage Institute, said firing of cannons is a tradition that is still practiced in most parts of the Muslim world.
Before the age of clocks and watches, this was how residents were informed about Iftar time. Sharjah is continuing with the practice even in the age of televisions and smart devices, he added.
Some historians believe that the custom dates back to as far as 10th century Egypt, when one of the Fatimid caliphs ordered a cannon to be placed on Cairo's Muqatam Hill so all Muslims would hear the signal to break their fasts.