Uncertain times for Myanmar's Muslims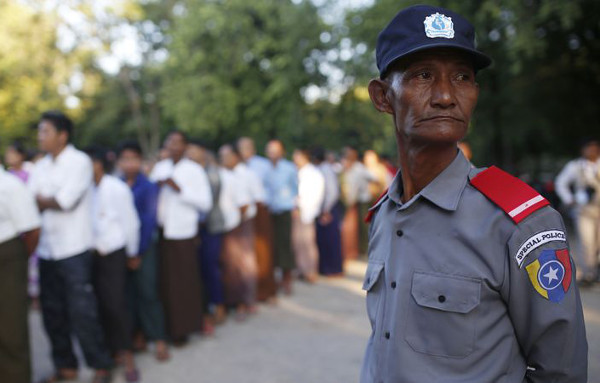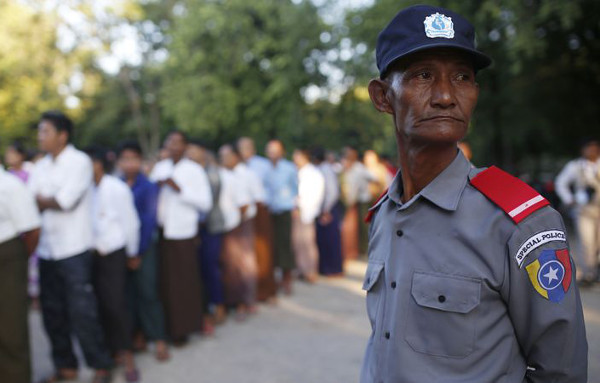 By: Sebastian Strangio
Source: Al-Jazeera 
Yangon, Myanmar – Two nights before Myanmar's November 8 election, hundreds of leaflets were scattered on the sun-baked streets of Mandalay, the former royal capital. 
"It's time for change," they said, echoing the slogan of the opposition National League for Democracy (NLD).
But the plain white fliers were not printed by the NLD. Instead, they warned that a vote for the party would lead to a takeover by the 'kalar'- a derogatory word for Myanmar's Muslim minority.
"The kalar have the Muslim peacock in their hands," they concluded, referring to the NLD's logo.
Some fliers were more vulgar: one featured a badly manipulated image of the NLD's leader, Aung San Suu Kyi embracing a Muslim leader; another showed her in cartoon form, breast-feeding a Muslim man, while neglecting her child, the nation of Myanmar.
Muslim community leaders in Mandalay said the pamphlets were a crude attempt to whip up sectarian fears to the benefit of the ruling Union Solidarity and Development Party (USDP), the political arm of Myanmar's powerful military.
"They were just scattered everywhere," said Thein Swe, 60, the deputy chairman of the Shwe Pone Shein mosque, Mandalay's oldest. "We feel a bit uncomfortable about it."
In the end, Myanmar's voters paid little attention. Going to the polls on November 8, for the first free national election since 1990, they voted overwhelmingly for Aung San Suu Kyi and her party, which as of Sunday had won 387 of the declared 478 parliamentary seats, to the USDP's 41. It was a stunning repudiation of military rule and a decisive vote for change.
Ma Ba Tha
But despite the NLD's euphoric victory, for the first time, Myanmar's Muslims will not be represented in parliament. This is a victory for the ultra-nationalists who have risen to prominence in this Buddhist-majority country since President Thein Sein took office as the head of a semi-civilian government in 2011.
"From the British period up to the 2010 election, Muslims were equal – they were participants in all parliaments, and ministers even," said Kyaw Min, the president of the Human Rights and Development Party (HRDP). "But the coming parliament will be bereft of Muslims."
Sectarian tensions first flared seriously in mid-2012, when violence broke out between Buddhist Rakhine and Muslim Rohingya in coastal Rakhine State, in Myanmar's west.
The conflict eventually drove around 140,000 Rohingya into internal displacement camps. Sectarian tensions also spread to the country's heartland, with violence in a number of cities, including Mandalay.
The clashes have been egged on by an ultra-nationalist Buddhist group called the Association for the Protection of Race and Religion.
Known by its Burmese acronym Ma Ba Tha, the monk-led organisation was instrumental in the parliament's recent passage of four repressive "race and religion" laws,  which ban inter-faith marriage and tightly regulate religious conversions.
Its most prominent member, the monk Wirathu, has described Muslims as "mad dogs", and has called for boycotts of Muslim-run businesses.
Rejection and exclusion
Under Ma Ba Tha pressure, few parties risked running Muslim candidates in last week's election. Of the 6,074 candidates who competed in the November 8 poll, just 28, or 0.5 percent, were Muslims – a tiny slice of the community's population as a whole.
Even the NLD refused to endorse Muslim candidates.
Ko Ni, a Muslim lawyer who works as a legal adviser to the party, said that the NLD's Central Executive Committee believed it was unwise given the political climate.
"In this situation, if we chose Muslim candidates there might have been some problems," Ko Ni said.
In troubled Rakhine state, meanwhile, the government barred most Rohingya from either voting or registering as candidates.
"In law all are equal, but in practise Muslims are treated as a degraded and unwanted community," Kyaw Min told Al Jazeera. His Rohingya party saw 15 of its 18 candidates rejected by the Union Election Commission.
Now, without representation in the newly elected parliament, some Muslim citizens say they have never felt less welcome in their own country.
"Muslims need to be involved in Burma's politics," said Ko Maung Maung, a 40-year-old water seller, using the former name for the country. "Now that we've been removed I feel like someone's thrown a handful of sand on our plates."
Historically, Muslims have played an active role in Myanmar society. Aye Lwin, the chief convener of the Islamic Center of Myanmar, said that when King Mindon founded the city of Mandalay in 1857, his palace compound included a mosque. Mindon also built a rest-house in Mecca, constructed out of Myanmar teak, for Muslim subjects undertaking the Hajj.
Later, Muslim politicians participated in the struggle to cast away British colonial rule, which was eventually achieved in 1948. Among the most prominent was U Razak, a former minister of education, who was assassinated in 1947 alongside General Aung San, a revered national figure and the father of Aung San Suu Kyi.
"This is our country," said Aye Lwin, whose own father was decorated for his role in the independence struggle. "We are not strangers. We have not sneaked in from Bangladesh."
Aye Lwin told Al Jazeera that while the lack of Muslims in parliament was painful on a personal level, the priority was backing Aung San Suu Kyi to end half-a-century of military domination in Myanmar.
"This is a time for revolution," he said, "so we can't be sentimental in this regard. We have to stand behind one bloc to make that change".
With Myanmar's Muslims voting overwhelmingly for the NLD, the party now has a responsibility to protect their rights, said Phil Robertson, the Asia deputy director for the US-based Human Rights Watch.
"A lack of Muslim representation in the national parliament means that an even higher duty of care falls to the NLD-led government to speak up and take action against any and all instances of rights abuses based on religious discrimination," Robertson said.
Fear and uncertainty
Even so, it will take time to overcome the fear and uncertainty of many Muslim citizens.
One Muslim man standing near the Bamala Mosque in downtown Yangon lamented how bad things have become.
"Even little children see us and they say: 'These are the kalar,' and see us as enemies," he said.
The 45-year-old, who declined to be named due to the sensitivity of the issue, said he and others feared a nationalist backlash if the NLD tries to promote inter-faith harmony. "Whatever happens, we Muslims are being very cautious."
The NLD will find things particularly challenging in Rakhine state. With around 650,000 Rohingya barred from voting, the election there was dominated by the Arakan National Party (ANP), a hardline Buddhist Rakhine party which has lobbied hard to strip Rohingya of citizenship and voting rights.
Before the election, the party handed out leaflets saying: "Love your nationality, keep pure blood, be Rakhine and vote ANP", according to Reuters.
If an ANP figure emerges as chief minister in the next government, it would be "really bad news for the Rohingya", said Mark Farmaner, the director of Burma Campaign UK.
Suu Kyi's power will be restricted further by the military-drafted 2008 constitution, which reserves 25 percent of parliamentary seats for the army, and gives it control of the three most powerful ministries: home affairs, border affairs, and defence.
Since any change to the constitution requires a three-quarter supermajority, the military has an effective veto over any changes.
Without full control over the security forces, "there is a big question over how far [the NLD government] will go to restore their rights and ensure they have citizenship", Farmaner said of the Rohingya. "The prospects for the peace process are very unclear."
But with new leaders taking control, and a system in flux, some Muslim leaders are optimistic that things are moving in the right direction.
La Shwe, the 67-year-old imam of the Shwe Pone Shein mosque in Mandalay, said the day before the election that a vote for the NLD was a vote against inter-faith conflict and fear.
"We seem to be heading towards democracy," he said. "There might be some problems, but I'm looking on the bright side."