The ethnic cleansing of Muslims in CAR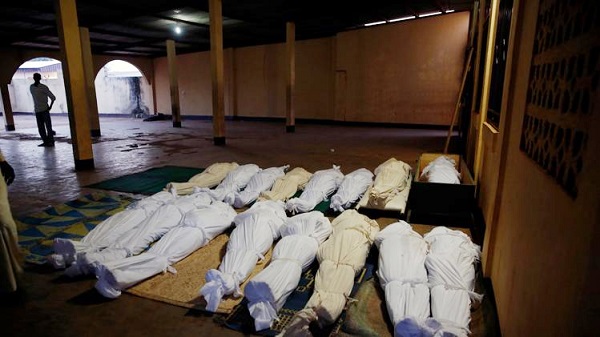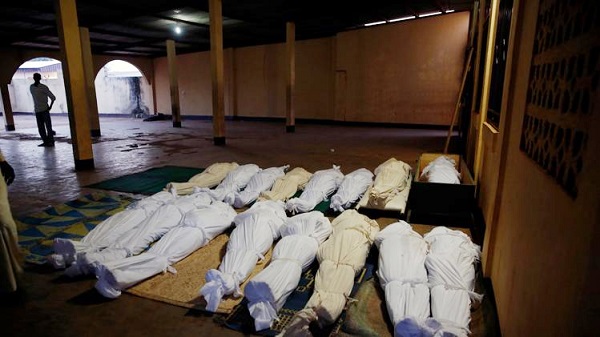 By: Amnesty International
Source: OnIslam
In a broad swathe of the Central African Republic (CAR) roughly the western third of the country the country's Muslim minority has largely disappeared. The site of a violent wave of ethnic cleansing in early 2014, this region still very much suffers from its consequences. While a few towns have Muslim enclaves protected by international peacekeeping forces, many towns and villages that were previously home to substantial Muslim communities are now empty of their Muslim inhabitants.
Mosques have been left badly damaged or destroyed, and the Muslim call to prayer, once a familiar sound, is no longer heard.
Yet this sombre picture masks a somewhat more complex reality. Notwithstanding the near-invisibility of the Muslim presence, a small number of Muslims have quietly returned to their home communities.
On a recent visit to three western provinces in the Central African Republic, Amnesty International delegates visited 12 towns and villages where Muslims are now living, and learned of several more. Some locales have only a handful of Muslim inhabitants, but others have more than 50.
Islam Made Invisible
The biggest challenge these small Muslim communities face is the lack of security. The armed anti-balaka militia that violently expelled tens of thousands of Muslims from the country last year continue to hold significant power. The Muslim communities that remain must, implicitly or explicitly, negotiate the terms of their existence with these anti-balaka power-holders.
The cost of survival for Muslims in these areas is high. In some places, anti-balaka militias have forcibly converted Muslims to Christianity, or have put Muslims under intense pressure to convert. Elsewhere in this region, except some towns in which UN peacekeepers are stationed, Muslims are effectively barred from practicing or manifesting their religion in public. To the extent that their presence in this part of the country is tolerated by anti-balaka militia, it is based on the understanding that they cannot publicly assert their Muslim identity or belief in Islam.
This means that they cannot pray (except in secret); they cannot wear traditional Muslim clothing, and in contrast to a few recent initiatives in Carnot and Bangui they cannot rebuild their mosques. Often they dare not even speak their preferred language within hearing range of others. Although members of the larger community may be aware that they are Muslim, their religion has been made invisible.
Religious affiliation, to be sure, is not the only element. Notably, the anti-balaka militia's tolerance for the presence of Muslims tends to vary considerably depending on the Muslims' ethnicity/nationality, as well as their kinship or other links to the Christian community.
Muslims belonging to ethnic groups that are deemed indigenous — such as the Gbaya — are much more likely to be allowed to remain than Muslims from other groups. In contrast, Muslims who are viewed as Chadian or Sudanese — who either themselves immigrated to the Central African Republic from Chad or Sudan, or who had parents or grandparents who did so are more often considered the enemy.
"The Arabs will never be allowed to return," one Muslim told Amnesty International, speaking of people of Chadian and Sudanese descent. "For the anti-balaka, they are indelibly linked to the Seleka."
More than 30,000 Muslims currently lead restricted lives in protected enclaves within the Central African Republic, while many tens of thousands of others have been made refugees abroad.
The beleaguered Muslim communities existing without protection in western CAR are relatively small in comparison probably fewer than 500 people in all — but their significance is disproportionate to their size. The extent to which their security and freedom of religion is protected will be an important bellwether to understand whether, when, and under what conditions others may be able to return. Much needs to be done.
Forced Conversion, Bans on Prayer
Nearly all of the Muslims that Amnesty International interviewed fled into the bush when the first anti-balaka attacks on their villages occurred. Some spent several days in the bush before returning home; others spent weeks or even months there.
"My whole family fled the moment the first anti-balaka arrived," recalled Moussa J., from Guen, whose father was a Muslim convert and whose mother was Christian. "We spent two weeks in the bush, were captured and taken hostage by the anti-balaka, and then were able to return home after my cousin negotiated on our behalf. We paid the anti-balaka 50,000 CFA to not be killed." The anti-balaka militia that had come to Guen in February 2014 had already killed more than 70 Muslims during a few days of slaughter.
Even after his release, Moussa J. and his family faced continuing death threats and harassment. "We had to pay the anti-balaka again and again. Finally we didn't have any more money. My Christian relatives like me a lot and kept negotiating with the anti-balaka to save me."
Omaru F., a diamond miner, described the forced conversion of some 10 people in Bania village, in Mamberé Kadeï prefecture. He said that anti-balaka militia from the towns of Carnot and Bouar attacked Bania in February 2014, killing two elderly Muslim leaders and causing the village's remaining Muslims to flee into the forest, hiding in small groups.
After a couple of weeks, he said, the village headman and a Protestant pastor came into the forest to inform the Muslims that if they did not return, the anti-balaka militia would chase them down and kill them. But in order to return, they would have to convert to Christianity.
After the Muslims were baptised into the Apostolic Church in a ceremony attended by the village headman, they "had to show the anti-balaka [their] baptismal cards to not be killed," Omaru said. Although Omaru had been baptised, he said that he did not accept the Christian religion in his heart, and that continuing religious harassment led him to flee to Berberati a few months later.
Muslims in Bania told Amnesty International in May 2015 that the situation had since improved somewhat, but that they still faced sporadic threats from anti-balaka militias coming from other villages, and that several had remained Christian for reasons of security.
De facto bans on Muslim prayer are ubiquitous. "We can only pray at home, alone, in secret," said Ali I., in Bania village a description repeated by dozens of other Muslims whom Amnesty International interviewed.
"It is effectively illegal for us to pray," said Abdou Y., in Mbaiki. "We have to hide, do it quickly, and do it by ourselves. Collective Friday prayers are impossible." Some Muslims said that they were afraid even to pray at home, because if someone saw them they would face trouble.
Roots of the Conflict
The wanton violence of Seleka forces, who took power via a coup d'etat in late March 2013, generated enormous anger and resentment. Perceived by many Central Africans as foreigners as Chadians and Sudanese and as favoring members of the country's Muslim minority, the Seleka carried out widespread human rights violations, including torture, sexual violence, extrajudicial executions, and enforced disappearances.
Groups of largely Christian and animist anti-balaka militia, supported and to some extent led by members of the former armed forces loyal to former president Francois Bozize, organized to fight the Seleka. In September 2013, they started attacking Muslim communities, supposedly in retaliation for Seleka violence against non-Muslims.
Seleka and anti-balaka attacks on civilians escalated dramatically in December 2013, as sectarian hostility reached a fever pitch. French and African Union (AU) troops that were deployed to the country in December limited the power of the Seleka, but did not stop the anti-balaka's depredations.
Then-President Michel Djotodia resigned on Jan 10, 2014 following intense international pressure. Immediately after he left office, Seleka forces began withdrawing from the west of the country, retreating to their strongholds north and east of Bangui. The power vacuum left in their wake was filled by predatory anti-balaka militia, which unleashed a violent wave of ethnic cleansing aimed at forcing Muslims to leave the country. Thousands of Muslims were killed, and many tens of thousands fled.
International peacekeepers, first under the auspices of the AU and then the United Nations (UN), helped stabilize the country but did not fully restore security. Even now, anti-balaka militia wield considerable power in areas from which Seleka forces have withdrawn.
The CAR government has yet to reestablish its authority across the country. International military forces are stretched thin, and according to multiple sources, many of them are seen more often in their barracks than carrying out patrols. Local government and religious authorities in several more remote areas told Amnesty International that they had rarely seen peacekeepers over the past year.