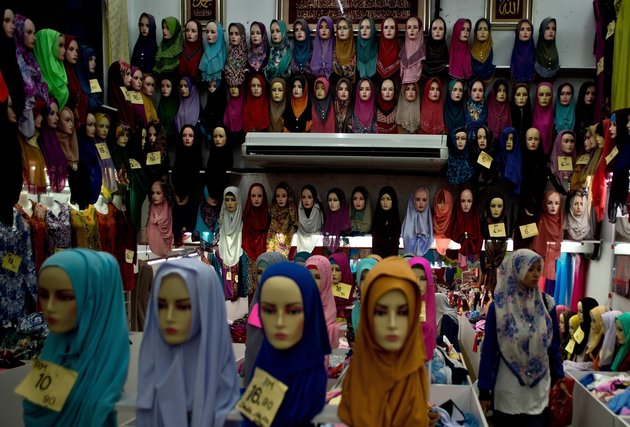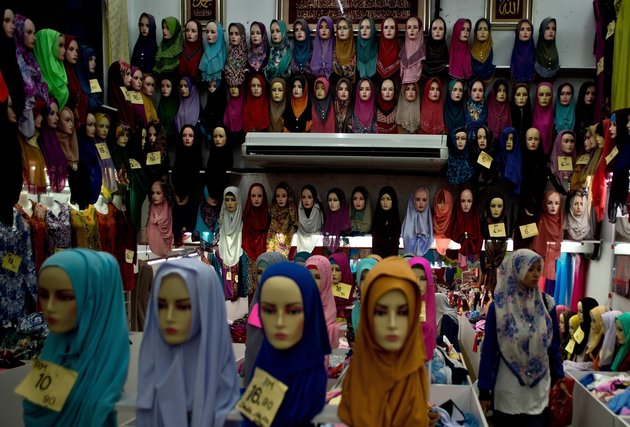 By: Trinna Leong
Source: HuffPost
Women in Malaysia, long seen as a moderate Islamic nation, have been denied entry to government buildings on the grounds their skirts were too revealing, fanning fears of growing conservatism in a country with large non-Muslim minorities.
Prime Minister Najib Razak's reluctance to intervene on the sudden enforcement of a dress code, analysts say, shows the liberal-minded leader is unwilling to stand up to conservatives at a time when he is battling allegations of corruption.
Ethnic sensitivities can often trigger dispute in Malaysia, particularly as none of those criticized for their clothes was from the Muslim Malay community that forms two-thirds of a population of about 30 million. Ethnic Chinese number 25 percent, and Indians about 7 percent.
The dress code, which bars revealing clothes for women in government buildings, had not been strictly followed, so the tougher enforcement over garments seen as showing too much leg came as a shock to many Malaysians.
The incidents went viral on social media, with activists saying they highlighted an expansion of powers for minor officials, who can now judge, and correct, women's attire.
"They're not paid to be fashion police," said rights activist Marina Mahathir, the daughter of former prime minister Mahathir Mohamed.
"Because we don't hear someone at the top saying, 'This is wrong,' that's taken as condoning these actions and a license for them to do that."
Mahathir himself had objected to similar measures imposed by officials during his 22-year tenure, she added. The most recent incidents showed that Malaysia was regressing and "acting like Saudi Arabia", the former prime minister has said.
In June, the leotard worn by a national gymnast also provoked outcry as being too provocative.
Malay women began adopting conservative styles of dress in the 1970s, reflecting a growing politicization of religion in the Islamic world. Many now wear the headscarf that in earlier decades had been worn mostly in conservative backwaters.
Political analysts and activists have long accused parties such as Najib's United Malays National Organization, which leads the ruling coalition, of using religion to shore up voter support.
"Leaders are afraid if their religiosity is questioned, that they may anger, or lose voters," said Ivy Josiah, an adviser to the Women's Aid Organization.
UMNO, which suffered its worst electoral result in 2013, relies on support from ethnic majority Malays, who are mostly conservative, particularly in rural areas.
It now faces scrutiny over Najib's role in debt-laden state fund 1Malaysia Development Berhad (1MDB), although a government report cleared its accounts of suspicion.
Najib recently said Islam's holy book, the Koran, would be the guide for all government policies and actions. The constitution enshrines Islam as Malaysia's religion, but allows the practice of other faiths.
"Whenever supporters raise conservative issues, Najib has always kept quiet," said political analyst Wan Saiful Wan Jan, of the Institute for Democracy and Economic Affairs.
"He may be progressive, but he has failed to convince his party and government to follow him."
The prime minister's office did not respond to a request for comment.
"EMBARRASSMENT"
Religious scholars saw the stricter enforcement of the dress code as a mark of respect to Muslims, particularly during the just-concluded month of Ramadan, when fasting in daylight hours brings religious merit, according to scripture.
"If a Muslim who is fasting sees a woman's 'aurat' then it'll just erase their benefits," said Harussani Zakaria, a cleric in the northern state of Perak, referring to the parts of the body that Muslim scriptures say must be covered.
Some of the women objected to the criticism they faced.
"To me, it was an embarrassment," said C. Premananthi, a 32-year-old reporter who was barred from entering a government building, but who refused to wear a sarong security officials offered her instead.
Activists say the availability of such sarongs handed to the women is evidence of a wider, quiet movement toward greater conservatism encouraged by the authorities.
"Somebody had to purchase it and give it to the security guards," said Marina, adding, "It points to some form of regulation."
The views expressed in this article are the author's and do not necessarily reflect those of MuslimVillage.com.