By: Eric Bellman
Source: India Realtime
At some point in the 2020s, India will be home to more Muslims than any other country in the world.
A study released last week by the Pew Research Center predicts that by 2050, the world's Islamic population will rise enough that there will be almost as many Muslims as Christians—possibly for the first time in history.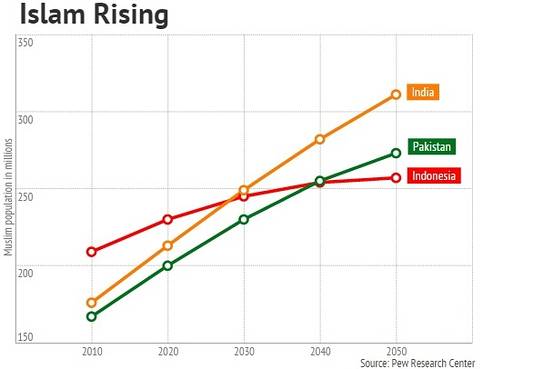 The report's data shows the Muslim population of India is set to expand at a rate fast enough that the South Asian nation will overtake Indonesia as the country with the most Muslims sometime between 2020 and 2030.
"Because Muslims in Indonesia are having fewer children, India is expected to pass Indonesia and become the country with the world's largest Muslim population," the report said.
Hindus in India will continue to far outnumber Muslims. But Muslims' share of population will rise, Pew expects, to around 18% in 2050 from about 15% today.
Over the same period, India's Hindu population will likely slip from around 80% today to about 77% in 2050.
According to Pew, between 2010 and 2050, India will add about 325 million Hindus and 100 million Muslims. That would represent a growth rate of around 33% for India's Hindus and 57% for Muslims.
In many countries around the world, migration and conversion is driving changes in religious mix. In India the growth in the Muslim minority is mainly attributed to fertility rates.
In India, the average fertility rate for Muslims is 3.2. That means the average Muslim woman is expected to bear at least three children in her lifetime. Hindus in India have a rate of 2.4, Christians a rate of 2.3.
Migration isn't as big an issue in India because few people of other religions migrate to the country—though migration from India is boosting the Hindu population in countries around the world.
Despite accusations that different religions are trying to convert Hindus in India, the Pew report did not include any data about conversions in India.
The report predicts there will be a tiny net gain in the global Hindu population through religious switching in the period from 2010 to 2050. However it did not include numbers from India because it is such a controversial topic and there is not enough reliable data.
"After analyzing Indian survey data and consulting other sources of information on the country, researchers were unable to discern a clear pattern of religious switching," the report's appendix says. "As a result, this report does not estimate religious switching in India."