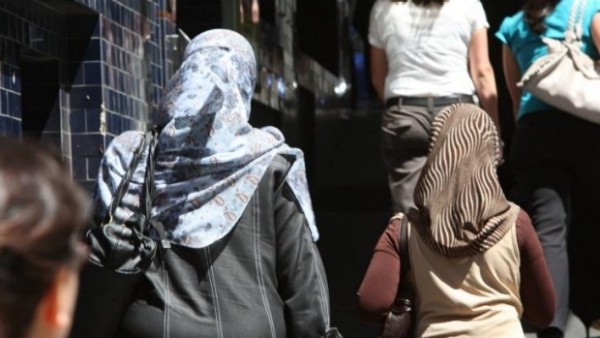 By: Rachael Hocking
Source: SBS
The woman, who does not wish to be named, says she was shoved, kicked and called names between Sydney's Central and Town Hall stations before anybody came to offer her support.
"When (the attacker) became loud, I looked around me… and I just thought 'Nobody is here to help me,' so if I keep speaking he may come closer to me and attack me physically," she told SBS.
She says she knew the attack was religiously motivated because of the way he looked at her hijab and told her "you people get in our way," before pushing her.
The woman says she was only offered support after the man left the train.
"Somebody offered me tissues, somebody asked me how I was… One woman who didn't see anything but heard everything, came out when I was crying and she came to me and said 'You don't have to cry, these people are nonsense….racist.'
"And I am very grateful to those people, but when I was fighting for my respect nobody even came."
"If this country is not accepting of me, I will return to my country. I will not stay here. I am not going to lose my identity because of this."
This is not an isolated event according to lawyer and founder of Islamophobia Register Australia Mariam Veiszadeh, who said the Register has been receiving a large number of reports of Australian Muslim women wearing the hijab being targeted.
"The anxiety felt by victims is very much crippling and have detrimental impacts on all aspects of their lives and their broader families and communities," she said.
"Many of the women who have submitted reports to us have indicated that they have had to change their daily routines and curtail their activities and participation in public life based on fear and anxiety," Ms Veiszadeh said.
She also noted an "upward surge" in incidents being reported whenever Muslims are "involuntarily thrown into the media spotlight."
Following the Sydney siege last December and growing reports of anti-Islamic sentiment, a Twitter campaign with the hashtag #illridewithyou grew rapidly in support of Muslim people who felt unsafe when riding public transport alone.
The woman who was attacked on a Sydney train on Monday night counts herself among those who felt threatened in the days following the siege.
"When I was on the train, it was just like 'everybody's looking at me.' I was very scared. For the next few days I travelled with my colleagues on the train," she said.
"And then I heard about that hashtag  and…this gave me my strength back actually."
For her, the attack on Monday was the first time during her one year living in Australia that she has been abused because of her religion, and it has lowered her confidence in the Australian public.
When one friend suggested taking her hijab off when she feels scared for her safety, she rejected the suggestion as intolerant.
"If this country is not accepting of me, I will return to my country. I will not stay here. I am not going to lose my identity because of this."
Race Discrimination Commissioner Dr Tim Soutphommasane noted the rise in "anti-Muslim sentiment" late last year, pointing out concerns for the safety of "women who wear visible Islamic dress such as headscarves."
"Such forms of anti-Muslim sentiment should have no place in our society. Every person should be free to live their lives, without being harassed or intimidated because of their religion."
Recently SBS reported that some Australian Muslim leaders are calling for tougher federal legislation to protect Australians from being targeted because of their religion.
At present, the Racial Discrimination laws that protect people against vilification because of their race, colour, ethnicity and national origin, do not apply to religion.
Anti-Islamic attacks fall broadly under "bias-motivated crimes." According to Ms Veiszadeh the current man power and resources devoted to investigating such crimes is "grossly inadequate," and she calls for better policing of Islamophobic attacks.
"Islamophobia, if left unchecked, may serve to erect barriers to Muslim inclusion in Australia, increasing alienation, especially among young Muslims. Not only would such a situation do grave damage to our social cohesion, it would simultaneously rapidly expand the pool of recruits for future radicalization," Ms Veisadeh said.
Parramatta police have commenced an investigation into the attack and are urging anyone who witnessed the assault to call Crime Stoppers.