By: Shelly Walia
Source: Scroll.in
Forget top three. Or top 10. Or even top 20. India ranks 40 on the list of 100 preferred holiday destinations for Muslim tourists in the world.
This is despite the fact that the country is home to the world's second largest Muslim population ‒ roughly 176 million ‒ after Indonesia. And some of the country's most popular tourism destinations ‒ Agra and parts of Delhi, for instance ‒ have a distinct Islamic heritage.
The rankings come from the Global Muslim Travel Index 2015, created by credit card firm MasterCard and CrescentRating, a travel service agency for Halal-conscious Muslim tourists.
For each country, nine factors were weighed upon, including availability of halal food eateries, accessibility of prayer rooms, accommodations, and safety. Under each of these nine criteria, countries were graded out of 100. An average was calculated for the final score.
Muslim travellers are "searching for products and services that take into account their faith-based needs", the report states, as seen "over the last decade by the accelerated growth of Halal food, Islamic banking and lifestyle sectors",
Like people from any other religion, Muslims look for family-friendly holiday destinations, with ample options for shopping and sightseeing. Another criterion for the rankings was "safety from the perspective of a Muslim traveller," the report states. So whether or not there have been specific cases of violence against people of their faith in a country, and any kind of resentment towards traditional Islamic attires for women, including the hijab and niqab, naturally factored in.
For 2014, the Muslim travel sector has been estimated to be worth $145 billion (Rs 9.06 lakh crore) ‒ with 108 million Muslim travellers representing 10% of the global travel economy. By 2020, the number of travellers is projected at 150 million visitors ‒ or 11% of the travel economy ‒ worth some $200 billion (Rs12.5 lakh crore).
OIC vs non-OIC
The Organisation of Islamic Cooperation is a cluster of 57 Muslim countries, across four continents, which typically have those facilities that a Muslim traveller looks out for. Halal food, for instance, is easily available.
In comparison, the non-OIC members need to build on these. In the top 20 holiday destinations, only two non-OIC countries ‒ Singapore at ninth position and Thailand at 20 ‒ made the cut. India is ranked at 40.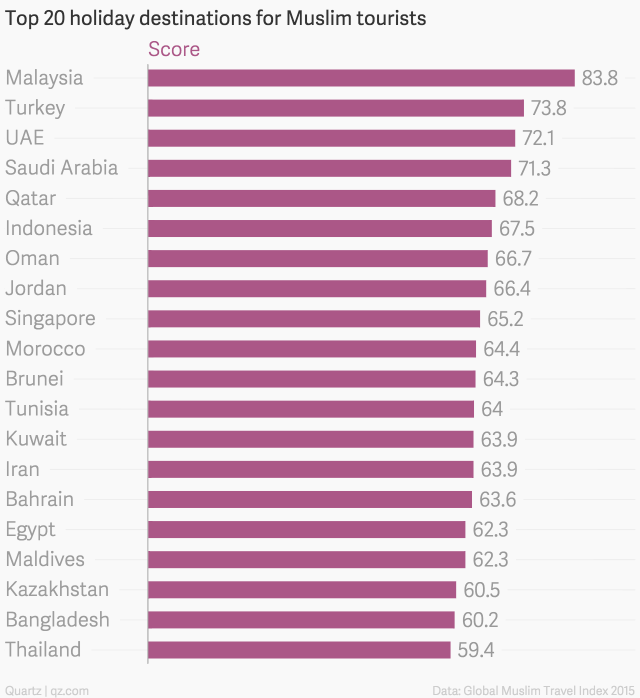 Singapore, the report notes, has emerged as the most popular destination for Muslims among non-OIC members because of its superior Halal food options. The tiny city-state has a Halal certification body and some 10,000 certified Halal eateries.
Not only does India fail to serve the gastronomic needs of Muslim tourists, the country's tourism circuit is also plagued by a far bigger problem: Lack of safety, which keeps all kinds of travellers at bay. In 2013, a World Economic Forum report placed India at 65th position in a travel and tourism ranking of 140 countries. Safety, hygiene, infrastructure, and natural and cultural resources were some of the parameters for the ranking.
"The main reason why India is not a great destination for Muslim travellers is the same reason why it isn't for travellers in general: Safety is a big concern," Rafat Ali, CEO and founder of travel company Skift, told Quartz.
So, as the Narendra Modi government goes about trying to resuscitate India's tourism sector, perhaps it should find a way of convincing millions of Muslims tourists to come visit. After all, it's a market likely to be worth $200 billion pretty soon.