By: Gianluca Mezzofiore
Source: International Business Times
The Islamic State (Isis) have allegedly burned to death five civilians accused of collaborating with the Iraqi security forces, in a brutal execution similar to the one carried out on Jordan's pilot Moaz (Muath) al-Kasasbeh.
The men, who were also accused of inciting tribal resistance to IS, were killed in the village of Dulab, in Iraq's Anbar province, some 110km west of Baghdad, according to Radio Free Iraq which cited local informants: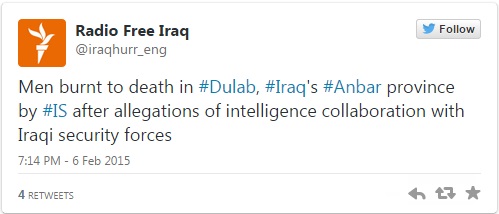 The execution was also reported by Almada Press news site, which cited a local police source saying that the civilians were burnt publicly after Friday prayers in front of the local citizens. The source, who wished to stay anonymous, said the five were killed in "Kasasbeh-style" for allegedly tipping off Anbar police with intelligence.
Radio Free Iraq confirmed the new outrage but said its sources believe three were executed by fire.
IS enforcers also reportedly compelled local residents to watch the execution.
Al-Kasasbeh, 26, was captured by the Islamist militants in December 2014 as his F-16 crashed near Raqqa. A gruesome video, published online by IS militants, showed the pilot standing in a cage engulfed in flames and being burned alive.
Another video, titled Muslims' Joy at Burning of Jordanian Pilot and published later by the group, sought to confirm earlier reports that IS used large viewing screens and movie projectors across Raqqa to play the barbaric clip of the pilot's killing.
In the footage, members of the Raqqa crowd are briefly interviewed about the execution in a documentary-style, while the video plays in background. Among them a smiling child, not older than eight years old, is seen praising the murder.