ISIS silent as second hostage deadline passes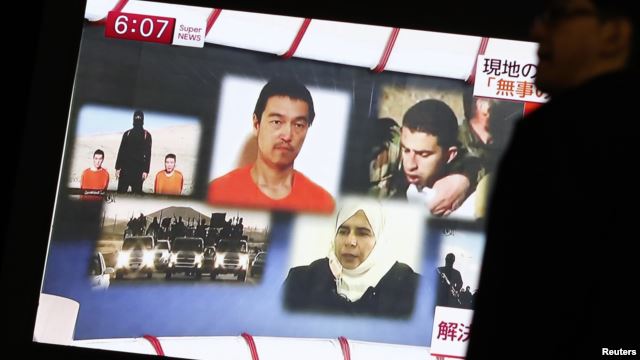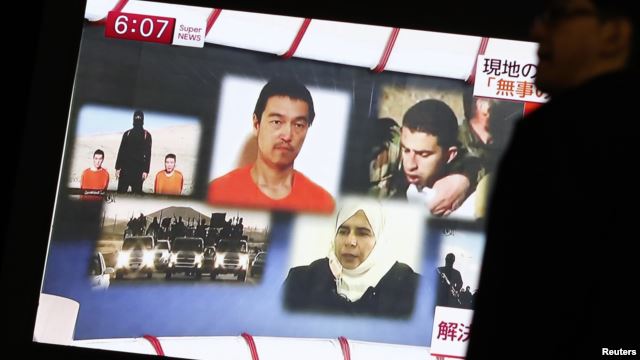 By: VOA News
Source: VOA News
The families of a Japanese journalist and a Jordanian pilot continue to await word on their fate as yet another deadline for a possible prisoner swap passed with no further word from the Islamic State group holding the men hostage.
An audio message purportedly from the journalist, Kenji Goto, said the pilot, Mu'ath al-Kasaesbeh, would be killed "immediately" unless Jordan released by sunset Thursday Sajida al-Rishawi, an Iraqi woman on death row in Jordan for her role in a deadly bombing in Amman nearly 10 years ago.
Jordan on Thursday said it would only consider releasing Rishawi after receiving proof that Kasaesbeh is still alive.
Kasaesbeh's father appealed for his son's release just as the deadline expired.
The audio recording, believed to be the voice of Goto, does not promise that either of the hostages held by the militants will be released in exchange for Rishawi.
Kasaesbeh is believed to have been captured after his jet crashed in Syria last month during a bombing mission against Islamic State, which has seized large parts of Syria and Iraq. He is from an important Jordanian tribe that strongly supports the country's ruling Hashemite monarchy.
Polls have indicated there is opposition in Jordan to the country's involvement in the U.S.-led coalition fighting Islamic State.
Last week, Islamic State militants released a video showing Goto holding pictures of another Japanese hostage, Haruna Yukawa, apparently beheaded. In the video, a man's voice directly addresses Japanese Prime Minister Shinzo Abe, accusing him of responsibility for Yukawa's death.
Goto is believed to have been captured by Islamic State last year while trying to rescue Yukawa.
Abe, while on a recent tour of the Middle East, announced $200 million in non-military aid for countries fighting Islamic State militants.
The Islamic State group threatened last week to behead the Japanese hostages unless it received a $200 million ransom.  The demand for money has not been repeated in recent statements.