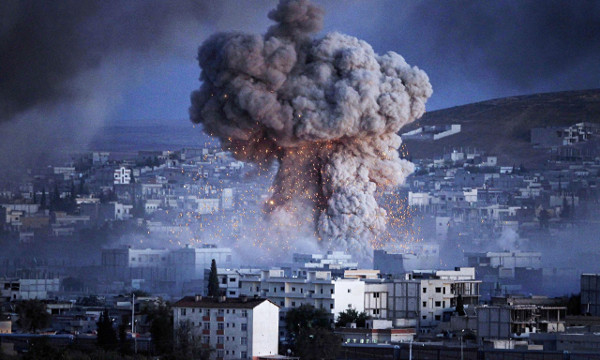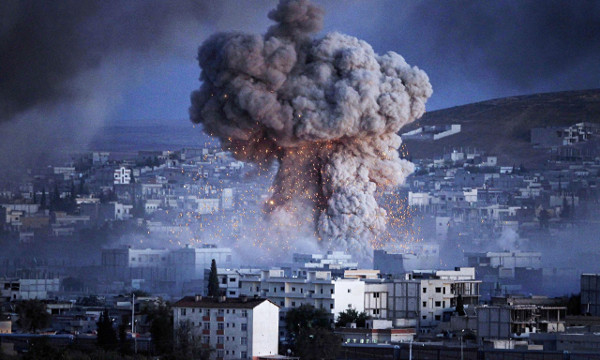 By: rferl.org
Source: http://www.rferl.org/
An imminent all-out victory for Kurdish forces over Islamic State (IS) militants in Kobani is an unlikely scenario. However, there are signs that the extremist group is facing some difficulties in the northern Syrian town. This is likely because U.S.-led airstrikes are helping to render one of the main military tactics IS has relied on in other offensives — sending in wave after wave of eager militants regardless of casualty numbers — ineffective and even damaging, given that the battle for Kobani has turned into a long drawn-out battle and some are now calling it the "Kurdish Stalingrad" — a reference to the infamous siege that turned the course of World War II.
A major clue that suggests this is the case can be found in recent comments by General John Allen, the coordinator of the U.S.-led coalition against IS in Iraq and Syria.
Islamic State has "in so many ways impaled itself on Kobani," Allen told Turkey's "Milliyet" newspaper on November 19, explaining that the extremist group has sent large numbers of fighters into the town, only to be killed in air strikes.
"ISIL [another acronym for IS] continues to pour fighters into the process. And as they pour fighters into the process, we are going to continue to bomb them, we are going to continue to interdict their supply lines, we are going to continue to disrupt command and control, and at the same time, do what we can to support the defenders," Allen said.
Allen went on to describe why IS's tactic of sending large waves of fighters into a battle to overwhelm their opponents, is simply not working in Kobani.
"Any time you mass, to achieve the affect that they are trying to achieve with respect to Kobani, you create targets. And the precise number is probably not known but we are convinced that our air attacks have killed well over 600 ISIL attackers and created for them, some real problems. At what point do they decide that it has cost them too much?" Allen said.
'Cannon Fodder' — A Typical IS Tactic In Syria
While we do not know for certain which IS commander is directing the offensive in Kobani, it is likely that Umar Shishani, the group's military emir (commander) for Syria, is in overall charge, as there has been no indication that IS has changed his role.
The style of the battle in Kobani — the sending of mass waves of fighters into the town — fits what Umar Shishani's former associates have said about the IS Syrian military commander's approach to battles in Syria.
In previous offensives, such as the August 2013 battle for Menagh Air Base in Aleppo province, Umar Shishani adopted a similar approach, sending wave after wave of (mostly young and inexperienced) fighters into the battle, relying on their belief that they had to obey their emir at all costs.
"[Umar Shishani] only knows how to send mujahedin [militants] as cannon fodder, that is all," one of the IS commander's former associates, Khalid al-Shishani, said recently.
Khalid described what he said had been the "catastrophic loss" of militants at another offensive in Aleppo, when Umar had ordered his men to storm an air base under direct fire.
Even though Umar was ultimately successful in these short offensives, other militants had complained about the tactic, because it led to too many casualties, according to Khalid.
'They're Going To Keep Pouring Those Troops In'
According to General Allen, the IS commanders in charge of the Kobani offensive have not yet made the decision to change tactics, even in the wake of high casualty figures.
This, Allen suggested, plays into the hands of the Kurdish militia and the U.S.-led coalition.
"They are going to keep pouring those troops in and we are going to keep dealing with those troops as they go in," Allen said.
Recent clashes in Kobani, as IS militants apparently struggled to retake the key Halnaj-Kobani road in the southeast of the city, seem to indicate some of the difficulties IS is facing.
IS claimed to have recaptured the road from Kurdish militias — even posting a video on November 20 as proof. However, the retaking of the road, which is used to supply IS fighters inside Kobani, seems to have come at a price, though the exact cost is unknown. The Syrian Observatory for Human Rights (SOHR), a British-based monitoring group, reported that there were a number of IS casualties in the clashes over the road. (The reports cannot be independently verified.) Meanwhile, a Chechen militant fighting for IS in Kobani reported that the extremist group had managed to retake the road only after a fierce battle, and described the news of the hill's capture by the Kurds as "alarming".
IS in Kobani faces a problem, therefore: based on reports of previous offensives led by Umar Shishani in Aleppo, and on accounts by his former associates, the Georgian-born IS commander has not used any other tactic apart from the "cannon fodder" approach. This tactic is made easier given that IS has used the waves of foreign militants who came to Syria to join its ranks, many of them highly ideologically motivated and who view "martyrdom" — death in battle — as an ultimate goal.
In terms of whether IS will abandon this technique or even pull back from Kobani, we need to consider another issue: that of prestige. Kobani has become more than just an offensive: it is a "publicity war" as "The New York Times" put it recently. IS has used the battle for Kobani as a recruitment tool for bringing more young militants to Syria, and as a sign of its invincibility in the face of the "global kuffar," or "infidel" forces.
Even if IS is facing difficulties in Kobani, the group still controls part of the town. Kobani Mayor Anwar Muslim told Al-Monitor on November 15 that Kurdish People's Protection Units (YPG0 controls 70 percent of Kobani, while IS controls about 30 percent of the eastern and southern parts.
That the U.S.-led air strikes on Kobani have been the factor that has helped put IS in difficulties in the town is clear, as is the reality that those air strikes will have to continue if the Kurdish militias are to push IS militants out of the town. As a Turkish unit commander put it to Al-Monitor columnist Cengiz Candar, who reported from just outside Kobani on November 15-16, "If U.S. planes had not come to help, IS would have captured Kobani long ago. Even today, if there are no planes, they can still take it."
The views expressed in this article are the author's and do not necessarily reflect those of MuslimVillage.com.