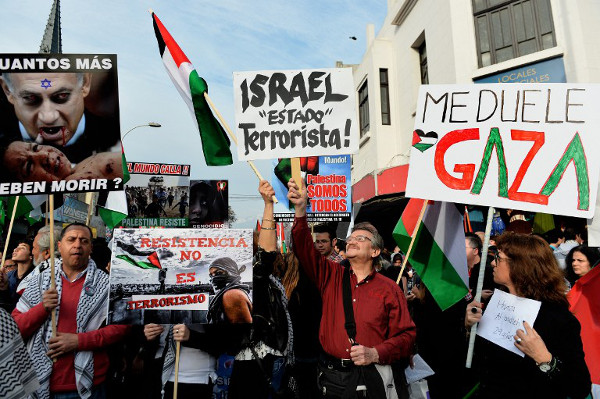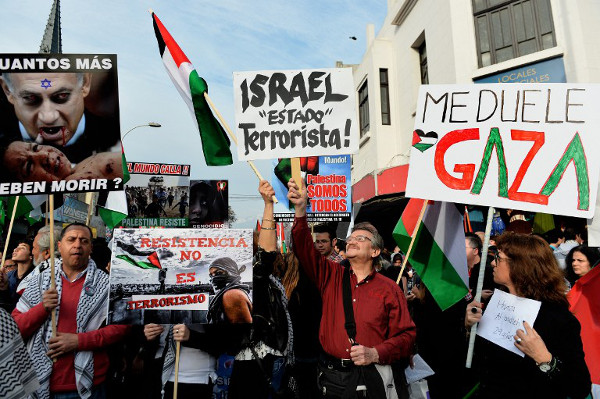 By: http://news.yahoo.com/
Source: http://news.yahoo.com/
Latin America's leaders are among the most vehement in condemning Israel's Gaza offensive labelling the Jewish state "terrorist", recalling ambassadors, and offering near-unanimous, unwavering support to Palestinians.
"I can't remember another similar situation where (all the countries in the region) have reacted practically as a bloc," said political scientist Reginaldo Nasser, a professor at the Pontifical University in Sao Paulo, Brazil.
One of the most symbolic recent developments came from Bolivian President Evo Morales — one of the leaders of Latin America's far left — who put Israel on its list of "Terrorist States" and eliminated a visa waiver program for Israeli citizens.
More than 1,400 Palestinians have been killed and 8,000 injured, two-thirds of them civilians, in Gaza in 24 days of fighting between Hamas and Israel. The conflict has also cost the lives of 61 Israeli soldiers, as well as two civilians and a Thai farm worker killed by rocket fire.
More than 245 of the dead Palestinians were children, UNICEF has said.
Diplomatic recalls
Brazil President Dilma Rousseff this week called the Israeli military operation a "massacre."
Tensions between the two countries had already escalated a week earlier, when Brazil recalled its envoy from Tel Aviv, a move that prompted Israel's foreign ministry spokesman to call the Latin American powerhouse a "diplomatic dwarf".
Rousseff's condemnation did not go as far as some of her peers. Venezuela President Nicolas Maduro denounced "a war of extermination that has lasted nearly a century" against the Palestinian people. A lawmaker from his party used the term "genocide" — a term rejected by Rousseff.
Peru, Ecuador, Chile, and El Salvador have also recalled their ambassadors for consultations, while Costa Rica and Argentina, which have the largest Jewish populations in the region, called the Israeli ambassador for meetings at their foreign ministries.
The region has universally condemned the violence from Israeli military operations, urged a ceasefire and the resumption of negotiations between the two sides.
On Thursday, Uruguay President Jose Mujica asked for "an immediate withdrawal" of Israeli troops from Gaza and suggested it may also recall its envoy in Tel Aviv.
Israeli foreign ministry spokesman Yigal Palmor expressed "deep disappointment" over the recalls, saying they constituted "encouragement for Hamas, a group recognized as a terror organization by many countries around the world."
Other politically leftist Latin American countries had years earlier broken diplomatic relations with Israel, including Nicaragua in 2010, Venezuela and Bolivia in 2009, after a previous military campaign in Gaza, and Cuba, in 1973, after the Yom Kippur War.
The only somewhat dissonant voice has come from Colombia, where the center-right President Juan Manuel Santos has rejected calls to recall his diplomatic representative in Tel Aviv.
Following the people
Political scientist Nasser, himself surprised by the nearly unanimous condemnation of Israel, suggested several reasons.
"In the first place, a country today making a declaration against Israel is no longer considered outside international norms," he said.
There is also a link to anti-American sentiments, Nasser said, as a result of Israel's especially close diplomatic relationship to the United States.
But official moves have also reflected public anger at the war, said political scientist Ithai Bras, of the Autonomous University of Mexico.
In recent weeks, several protests across the region, from Mexico to southern Chile, have seen thousands of Latin Americans take to the streets in support of Palestinians.
These pro-Palestinian protests have been larger in Europe and Latin America than in Arab countries, Nasser noted, suggesting the issue speaks to concerns over asymmetrical relations.
Bras said the protests are "an identification with pain, a sentiment of solidarity with what is happening in Latin America," where feelings of oppression are widespread.