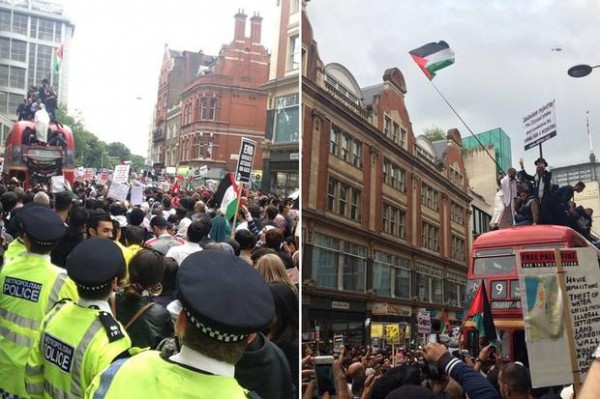 By: RACHEL BLUNDY
Source: http://www.standard.co.uk/
A rabbi stood on top of a double-decker bus in west London today as part of a pro-Palestinian protest against "Israeli aggression" in the Middle East.
Demonstrators brought traffic to a standstill outside the Israeli Embassy near Kensington High Street during a protest against what they see as Israel's increasingly violent treatment of the Palestinian people.
The rabbi held a banner which read: "Judaism rejects the Zionist state and condemns its criminal siege and occupation".
In a statement posted online this week, the Palestine Solidarity Campaign, which staged protests across the country, called on people to "oppose Israeli aggression". 
It said: "This isn't about rockets from Gaza. It's about Israel fighting to maintain its control over Palestinian lives, and Palestinian land.
"It's about Israel feeling able to commit war crimes with complete impunity."
Today Israel's prime minister Benjamin Netanyahu vowed to press forward with a broad military offensive in the Gaza Strip as the death toll from the recent four-day-old conflict rose above 100.
He said: "I will end it when our goals are realised. And the overriding goal is to restore the peace and quiet."
At least 106 Palestinians, including dozens of civilians, have been killed, according to the Palestinian Health Ministry in Gaza, including 21 today.
Palestinian militants have fired more than 600 rockets at Israel but there have been no deaths on the Israeli side, according to reports.
Tensions between the two countries have been building following the killing of Palestinian teenager Mohammed Abu Khdair on July 1, which some have described as a 'revenge attack' after the murder of three Israeli teenagers, who were abducted and killed in the West Bank.