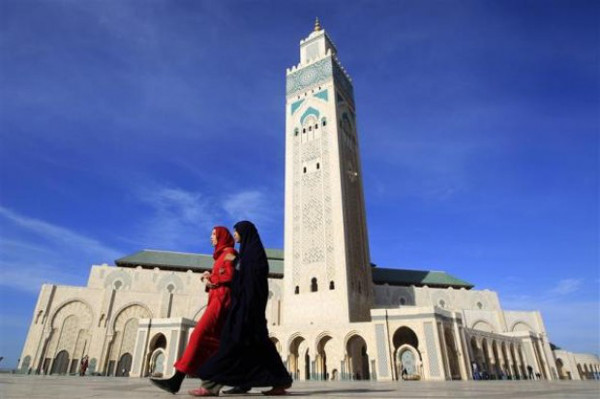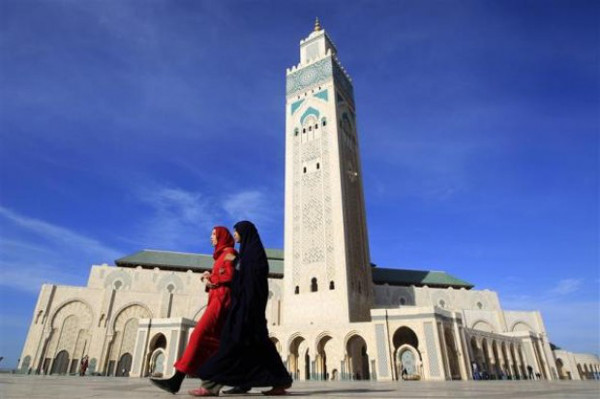 By: Ann K Smith
Source: http://www.moroccoworldnews.com/
If we choose to bite off on the idea, juicy, delicious apples might provide insight about how most people are not as different from each other as many would have us believe. The birth of this idea came in January 2013, sitting in a hotel room in Rabat, Morocco. Eating my first Moroccan apple, richly lime green and sweetly tart, I had another first – a live Islamic call to prayer sounded from a nearby mosque. While the Moroccan apple was a reminder of my home in Florida, U.S.A., the loud chanting was not. As a stranger to the sound, it was like a tormented ghost wailing over a bad microphone, as if trying to communicate from a different world. It was eerie to me although I could not identify exactly why. In the past year, I have heard calls to prayer five times a day.  Each time I heard one, the sound became less and less strange and at some point, it became comforting. One day I will leave this African Kingdom and the once eerie sound will be a positive, nostalgic memory.  But years ago, living the busy life of a lawyer, I would not have imagined hearing or relating to these sounds at all.
I did not choose to live in Morocco, but, the Peace Corps assigned me here to serve for the years 2013-2015. Before coming, I knew little about the Kingdom other than its world-wide reputation for wonderfully spicy food, camels, snake charmers and fine rugs. My pre-departure research informed me that Moroccans were mostly Muslim, in fact, 99%. I am not. So, with those facts in hand, I knew my new situation would be strange. And indeed, I found my new culture fully, completely and inextricably tied to Islam. There is no separation between "church and state."  Most national holidays are religious ones. Islamic study is required in all schools and Islam is the main basis for the country's laws. Women in Morocco who cover their hair and dress modestly, more often than not, do it to respect the faith. The five-daily calls to prayer emanate from mosques in all corners of any village, city or metropolis so that they can be heard by all.
One day I was asked by a Moroccan if I would become Muslim.  I felt immediately defensive. But, I learned in due time that Muslims simply want all people to share their own joy – to them, Islam is the best religion. This thinking is not at all unlike the feelings of many who have other religious beliefs and wish to share them.   As it turns out, evangelistic behavior is actually contrary to the teachings of Islam.  Muslims generally believe that religion, like most everything else, is solely as a result of God's will. A person could not possibly become Muslim from the prodding of any human being. And although I am not a Muslim, I have not been told that I will go to hell nor have I been criticized. I have been told that people of Islam are supposed to respect other's beliefs. But how could this possibly be true?  These are Muslims, and we have been told time and time again that evil plots against Americans such as 9-11 were driven by their religion. Those people who have committed such hate against us told us without equivocation that Islam required them to kill us, didn't they?
I remember 9-11 perfectly as most people do. A lawyer, I was in the courtroom that day. I noticed the judge studying his computer, and I was irritated that he was not paying full attention to my case. Soon I knew why. He recessed the trial and asked the attorneys to his office, where he told us that New York's twin towers had been destroyed by airplanes. We were in shock, mortified, petrified, and cemented in our steps as we watched more bad news quickly unfold. "Let's recess for the day" were the Judge's next words. Back in the courtroom, when the Judge told the jury what had happened, I heard, "the US has been attacked?" and "Who would do such a thing?" Disbelief was first. Anxiety came second. People began dialing their phones frantically, calling loved-ones to confirm their safety. Life went on for all of us, but everything was different.
The USA and its citizens were changed in so many ways, forever.  Masses of loved ones died. We saw film of people jumping to their deaths from windows rather than to die from fire. Good people were killed, public servants lost their lives and countless numbers were seriously injured. Intense fear and anxiety naturally led to blame. Analysts debated cause and effect, and religious factions became more divided than ever. Government implemented massive changes in security, impeding our cherished personal freedoms. The entire travel industry was affected by major inconveniences. The media became a powerful and daily reminder of the horror as news shows tirelessly aired discussions and photos of the events. America's way of life and principles, upon which it was built, had been threatened, despised and attacked.  From those feeling sprung a vile hatred that Americans had not experienced so personally before. A target was needed. Some blamed American attitudes and some even suggested that a US government conspiracy was involved. But, by far, the majority pointed the finger at the religion of Islam. And, this was very easy to do because those who took responsibility said that they were Muslims, commanded by God to teach America a lesson.
I admit my own confusion and indescribable emotions in 2001, as I tried to explain things to my children. I did not like the message given by the 9-11'ers, but it had been delivered nonetheless. People around the world rallied behind our nation in a way that they had not done so in a long time. As Americans also built a strong national group dynamic, there was inevitable rallying against Islam. The acts of the attackers had created a canyon of hate, giving the perfect incentive for people to take strong sides against each other and see each other not just as different, but dangerous. But, no matter how noble these evil doers thought their own cause, it was a devastating, destructive step backwards for all of humankind.
But then, there are apples. We all know the saying, "Don't let a few bad apples spoil the barrel." In theory, this saying is easy to employ, but in practice, almost impossible.  Labels and stereotypes are powerful; hard to ignore and sometimes even true.  Looking beyond them takes the courage to question our judgment. And, there can be huge negative incentive to contemplate things so uncomfortable. Ridicule or banishment from a group of friends or family might result. Twelve years after 9-11, my own labels and feelings resulting from those events would be seriously challenged in Morocco, as I was forced to face them head on via my Peace Corps service. Morocco was not only societally driven in most ways by religion, but the very religion that was cited by the 9-11 perpetrators as the perfect justification for hating and destroying human lives.
When I arrived in Morocco and first heard the call to prayer I was quickly thrust into the nation of Islam. And, although I never intended for my Peace Corps experience to provide me with insight into my feelings about 9-11, it did.  I know that my initial anxiety about Morocco's religious, country-wide culture was justified by a primitive need for safety and security, coupled with the resulting fears from 9-11. I am not ashamed of my emotional baggage which came from a big, clear and devastating attack upon my country and my own individual values. On top of that, my family and friends worried for my safety. But, what I ultimately did with my feelings was up to me once I had traveled across the Atlantic.
Hungry for adventure and to know another culture, as most Peace Corps volunteers are, I decided to fully engage with the Moroccan "apples" and simply see what happened, for good or for bad. I acted completely myself and did not hide from my love of America or the fact that I was not a Muslim. I met my neighbors and strangers alike. I fully interacted, speaking with anyone who would speak with me. I friended the butcher and baker, the vegetable seller and the olive oil vendor.  I asked for cultural advice and found warmth. I sought knowledge and was invited to tea. I learned new ways to think and do things, and although different from my own and sometimes strange, appropriate.
I found that just like in the US, Moroccan "apples" are just as different as they can be and are red, yellow, green and every shade in between. They are small, medium and large, round and oval. Some are tart and some are sweet, a few are tasteless and even fewer, inedible. But, most of them are good and some are even wonderful.   Luckily for me, just through personal experience and being an open student, the stereotypes I had developed from the unfortunate events of 9-11 were shattered.  Despite cultural and religious differences, in Morocco I have been welcomed and respected and I believe, even loved. And, although I will never truly understand the thinking behind the participants in 9-11, I know that it is illogical to believe that those bad "apples" and their hatred for the differences of Americans represent an entire religion. In fact, not one of the hundreds of Muslims I have personally met in Morocco believes that the bombers were acting in any way consistent with Islam.
The call to prayer that was so strange and mysterious to me the first time is now simply a reminder to thank God. When I hear "Allah Ahkbar" I do not relate it to evil, but rather to love. Here in Morocco, I have personally witnessed this love time and time again in people's actions and deeds, when I was looking and also when I was not. And, whether one agrees with any particular religion or no religion at all, the idea of loving each other is so very promising and universal that it is large enough to accommodate "apples" of every variety with room to spare. Of course, no matter what culture or religious views we are dealing with, we should all be wary of the worms that can eat "apples" from the inside out. But we are all "apples" in the barrel of human-kind, and there will always be a few that don't taste very good or even some rotten to the core. In the end, it is still a good idea to enjoy all types of apples and respect their differences.