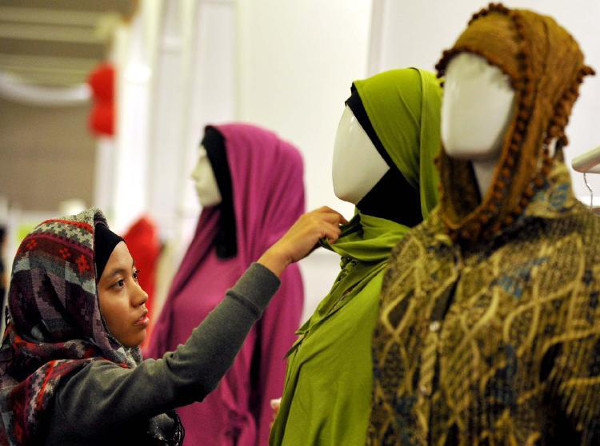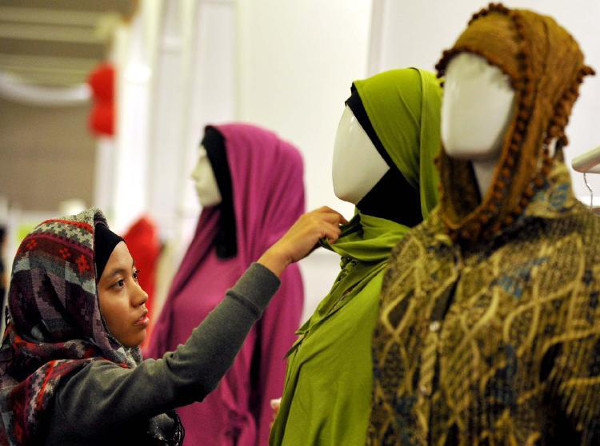 By: onislam.net
Source: http://www.onislam.net/
Attracting a growing number of Indonesian women, fashionable and colorful Islamic headscarf is gaining ground in the southern Asian archipelago, seeing hijab not only as a religious commitment, but also a fashion statement.
"The hijabs are all cute and I can't resist buying them," Fani, a 29 years old employee of an insurance company, told Antara News on Saturday, December 28.
"Some of the hijabs I've bought I have not yet even worn," she said.
Like many Indonesian young women, Fani, who lives in Bandung city, West Java province, shares a love for hijab fashion.
Satisfying her passion, she spends Rp300,000 (around US$35) per month to purchase hijabs and accessories.
According to Fani, every month there are new, trendy hijabs being displayed in stores. Hence, she often spends one day a month to go hunting for fashionable hijabs in malls or shopping centers in her town.
Twenty years ago, Indonesian women only knew square-shaped headscarves, in either plain black or white.
Women used also to wrap their headscarves in a simple way, putting a safety pin to keep it intact.
Wearing headscarves was often associated with an unfashionable life.
This has all changes nowadays.
In modern Indonesia, hijab turned to be a fashion item, as Youtube viewers can find thousands of Indonesian women offering tutorials on how to fashionably wear hijabs.
Islam sees hijab as an obligatory code of dress, not a religious symbol displaying one's affiliations. Islamic fashion is part of a growing appetite for Shari`ah-related industries and assets, ranging from finance to halal food.
Modesty and religion are the cornerstones behind the fast-growing Islamic fashion industry, which is making a mark on runways from Indonesia and Dubai to Monte Carlo.
Shops no more
Over the past few years, the hijab sales have exceeded retail stores, with website and social media replacing them.
Apart from profits for manufacturers, the hijab trend also brings out new celebrities who gained fame due to their style of wearing hijabs.
Personalities such as Dian Pelangi, Hanna Faridl and Fifi Alvianto are well-known for their stylish and chic fashion while wearing hijabs.
"In the end, the importance of wearing hijabs is that it is not only a symbol of modesty, it's about being able to put yourself in a positive state of mind and make the right decisions," Fifi wrote on her blog, hijab-scarf.com, viewed by 4 million people.
"Modesty comes from within, and even a woman wearing a hijab can have a lack of it."
Indonesia is the most populous Muslim state where Muslims make up 86.1 percent of Indonesia's 235 million population.