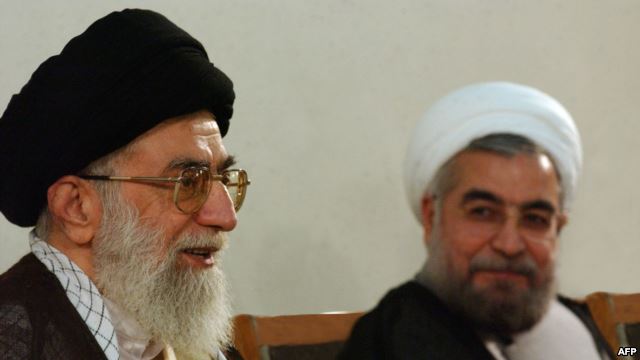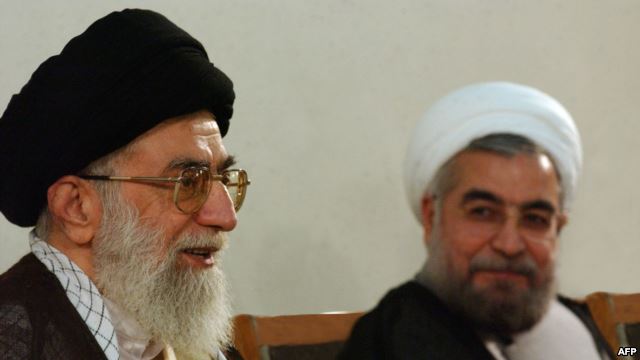 By: Golnaz Esfandiari
Source: http://www.rferl.org/
Iranian Supreme Leader Ayatollah Ali Khamenei, the famously inflexible and uncompromising hard-line cleric who wields the most power in Iran, appears to have softened his position toward international diplomatic dealings.
"I'm not opposed to correct diplomatic moves. I believe in what was described years ago as heroic flexibility," Khamenei said in a September 17 speech to commanders of the Islamic Revolutionary Guards Corps (IRGC), according to Iranian media reports.
He described the tactic as "very good and necessary" as long as Tehran remains faithful to its principles. "A wrestler who exercises flexibility for a tactical reason should not forget who his rival is and what his goal is," Khamenei reportedly said.
His comments appear to signal approval of renewed diplomatic efforts by President Hassan Rohani, who has promised to improve relations with the West and create more transparency in Tehran's nuclear activities.
Rohani and Foreign Minister Mohammad Javad Zarif are expected to engage other world leaders in diplomatic outreach efforts at the upcoming United Nations General Assembly.
Some Western media outlets have speculated that Rohani could meet on the sidelines with U.S. President Barack Obama, who confirmed over the weekend that that the two men recently exchanged letters.
But Iranian Foreign Ministry spokeswoman Marzieh Afkham said on September 17 that no meeting was scheduled. She said Obama had sent Rohani a message of congratulations on his election but couldn't confirm a claim by Iran's former nuclear negotiator, Hossein Musavian, that Khamenei has given a green light for Rohani's government to hold direct negotiations with the United States.
On September 15, White House spokesman Jay Carney also denied that any meeting between Obama and Rohani, who are due to speak the same day at the UN, was on the agenda. "There are currently no plans for [Obama] to meet with his Iranian counterpart at [the UN General Assembly] next week. "
Carney said the United States remained ready to engage with Rohani to achieve a peaceful solution to the nuclear crisis. "Actions, of course, speak louder than words," he added.
Senior Iranian lawmaker Alaedin Borujerdi, who heads parliament's National Security Committee, was quoted as saying that the conditions for a presidential-level meeting weren't right because Washington still had "hostile" policies in place toward the Islamic republic.
A meeting at the UN General Assembly, he said, "will not have any impact on the relations between the two countries. What is important is for the U.S. to change its policies toward the Iranian nation and the Islamic establishment."
Rohani's July election and his promises of moderation and engagement with the world have led to hope that a negotiated settlement to the nuclear impasse can be found and relations with the United States improved.
The two countries broke off diplomatic ties following Iran's 1979 Islamic Revolution and the taking of 52 American diplomats hostage in Tehran.
The rare exchange of letters between Obama and Rohani has been described by some analysts as a small but important step in breaking down the wall of mistrust and hostility between the two countries.
The United States accuses Iran of secretly pursuing the capability to produce nuclear weapons. Iran denies the charges.
In his September 17 speech, Khamenei again insisted that his country is not after a nuclear bomb. "We do not believe in nuclear weapons — not because of the U.S. or [others]," he said, "but because of our beliefs."
The views expressed in this article are the author's and do not necessarily reflect those of MuslimVillage.com.