Kashmir: More soldiers killed by Indian fire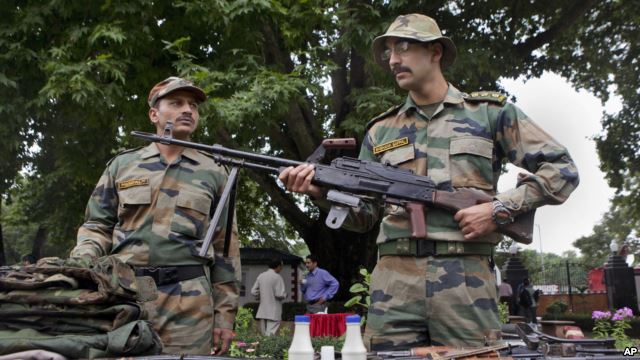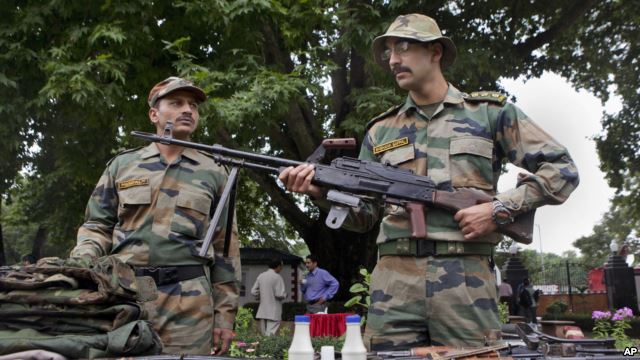 By: Ayaz Gul
Source: http://www.voanews.com/
ISLAMABAD — Pakistan has summoned India's top diplomat to protest the killing of two of its soldiers on Thursday in what Islamabad condemned as "continued unprovoked" Indian fire along the disputed Kashmir border.  Military officials say that such Indian attacks within the past 24 hours have left at least three Pakistani soldiers dead and wounded several others.
Tensions have been running high between the nuclear-armed rivals since early August, when India accused Pakistani troops of ambushing and killing five Indian soldiers in a remote Kashmir district.
Islamabad denies the charges and has since accused New Delhi of repeated violations of a mutually agreed to cease-fire in the disputed Himalayan territory.
Pakistani army officials allege the latest Indian "unprovoked" aggression took place Thursday evening in the "Hotspring" sector of Kashmir, killing at least one Pakistani soldier and wounding two others.
The incident came just hours after Pakistan announced the death of one of its soldiers in a similar Indian attack along the military line of control dividing Kashmir.
A Foreign Ministry statement says that the Indian high commissioner was summoned to protest the killings of Pakistani soldiers and to convey Islamabad's "serious concerns over the continued and unwarranted cease-fire violations" by the Indian army.
It added that Foreign Secretary Jalil Abbas Jilani also urged India to "desist from such acts," warning they have the potential to further escalate the tension.
Earlier on Thursday, Pakistan's Foreign Ministry spokesman, Aizaz Ahmed Chaudhry, told a weekly news briefing that Islamabad is demonstrating restraint in the wake of unprovoked Indian fire and the policy "should not be construed as a weakness."
He said India needs to reduce the Kashmir tension and engage in a dialogue with Pakistan to settle differences.  The spokesman again rejected allegations that Pakistani troops were responsible for the killings of Indian troops.
"On our side we investigated and we found that none of Pakistani side was involved in it and we conveyed that to the Indian side," he said. "It is for the Indian government to investigate as to what happened and how it happened.
Pakistan, which in itself has been suffering from terrorism, cannot be held responsible for any act of terrorism that may have happened on the other side of the Line of Control," said Chaudhry.
New Delhi has long accused the Pakistani military of training and sending Islamist militants into the Indian-ruled portion of Kashmir to fuel a separatist insurgency there.  Military leaders in India say that this year, there has been a spike in attempts by militants to infiltrate into Kashmir.
On Monday, Indian Defense Minister A.K. Antony warned in a statement that his country was running out of patience with what he called Pakistan army-backed transgressions across the disputed Kashmir border.  He demanded Pakistan act against its troops involved in the killing of Indian soldiers in the latest incident as well as the killing of two troops back in January.
The alleged Indian hostilities also dominated affairs in the morning session of the National Assembly, the lower house of the Pakistani parliament, where lawmakers unanimously adopted an anti-India resolution moved by the federal minister for defense production, Rana Tanveer Hussain.
"This house condemns this act of aggression and also expresses its serious concern over the continued violations of the cease-fire across the LoC [Line of Control in Kashmir] by the India army and demands for a constructive, sustained and result-oriented process of engagement [with India].  The people of Pakistan fully stand behind their civil and military leadership to defend the territory of Pakistan," said Hussain.
The clashes in Kashmir, many believe, have undermined a push by Pakistan's newly-elected prime minister, Nawaz Sharif, to normalize relations with India.  In his first address to the nation earlier this week,  Sharif emphasized that instead of fighting one another, Pakistan and India should jointly wage a war against poverty, illiteracy and backwardness plaguing their region.
Just days before the latest hostilities broke out in Kashmir, the two countries were about to resume their stalled wide-ranging peace dialogue to settle bilateral disputes that have long strained ties between India and Pakistan.
Analysts are worried the tensions could derail efforts on both sides to arrange a meeting between Prime Minister Sharif and his Indian counterpart, Manmohan Singh, in New York next month on the sidelines of the United Nations General Assembly.