Pakistan's beleaguered Shia minority caught In regional crossfire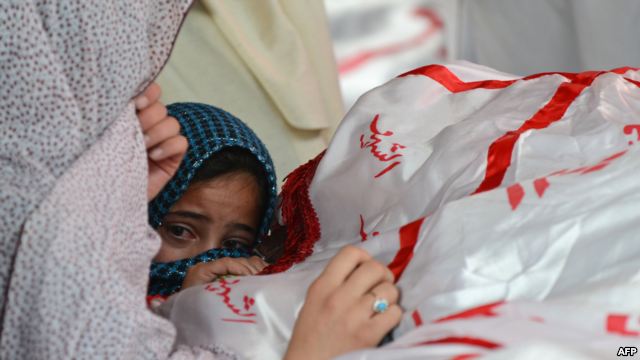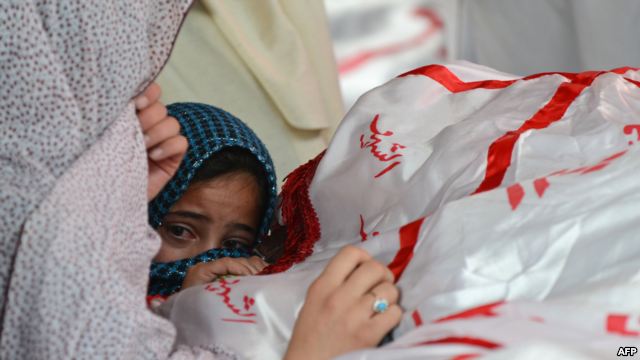 By: Abubakar Siddique
Source: http://www.rferl.org/content/pakistan-hazaras-sectarian-crossfire/24908361.html
The Hazara community once saw Quetta as a refuge from persecution. But today the tiny Shi'ite minority finds itself swept up in a broader conflict that has left it increasingly vulnerable to sectarian violence.
More than 1,000 Hazaras have been killed and thousands more injured in attacks carried out by Sunni militant groups in Pakistan's insurgency-plagued Balochistan Province since 1999. Whereas the provincial capital, Quetta, was once considered a secular city, it has been the scene of many of the attacks.
Politician Abdul Khaliq Hazara, whose last name derives from the ethnic group, says members of the community in Quetta are concerned in the wake of the latest attack, in which some 90 Hazaras were killed in a February 16 bombing. "This is a highly uncertain situation," he says. "It is possible that more people will be inclined to migrate now. We don't see any ray of hope here. The atmosphere is overwhelmingly gloomy."
Quetta's Hazaras arrived in the city after fleeing persecution from a hard-line Afghan king in the late 19th century. They prospered in the relative security of Quetta's cantonment under British rule, and later after Pakistan achieved statehood.
Many Hazaras joined the military and gained a reputation for loyal service. The community prospered in mining and business and was known for hard work and a passion for sports.
Hazara says that the atmosphere in Quetta began to change following the upheaval in Iran and Afghanistan in the late '70s. Both the Shi'ite clerics who led the Islamic Revolution in Iran and the Arab backers of the Sunni anti-Soviet Afghan mujahedin had ambitions that went beyond the borders of one country.
Caught In The Middle
Hazara explains that the traditional rivalry between Shi'a and Sunnis was rekindled in Pakistan through the generous funding of mosques and sectarian militias.
The Hazara community, he says, became a target in the late 1990s after members of the Sunni extremist group Lashkar-e Jhangvi fled a government clampdown in the eastern Punjab Province and headed west to the neighboring Balochistan Province.
Lashkar-e Jhangvi has accepted responsibility for nearly all the attacks carried out against Hazaras in Balochistan Province.
Now, Hazara says, the community feels they are caught in the crossfire of a much larger conflict among rival Muslim sects and ideologies. "We are the scapegoats in this war. We are being used as cannon fodder," he says. "Our enemies are trying to paint us as Iranian sympathizers just because we are Shi'a. We are caught in the crossfire between some [Sunni] Arab states and Iran, and we are being massacred in their proxy war."
Hazara says that despite years of unrest in Balochistan, the Hazaras have no rivalries with the largely Sunni Pashtuns and Baluchis that populate the province. Hazaras make up about 30 percent of Quetta's population of just over 2 million, sharing the city with Pashtuns, Baluchis, and smaller ethnic groups.
Lashkar-e Jhangvi is believed to draw recruits from hard-line Sunni madrasahs that were established in Balochistan over the last 20 years. Lashkar-e Jhangvi patronizes the Iranian Sunni extremist group Jundallah, which has mounted several attacks in Iran's southeastern Sistan-Baluchistan Province.
Jundallah draws its members from those Baluchis who took refuge in Balochistan Province to avoid capture by Iranian security forces.
Living in Quetta is becoming increasingly difficult for the community, says Ahmed Kuhzad, a Hazara political activist. He says Hazaras live in two neighborhoods on opposite ends of the city, making them vulnerable to attacks along the only road linking them.
Kuhzad says that the community, which has held large protests in the wake of the February 16 bombing, will feel secure in Balochistan only if the government launches a determined operation against Lashkar-e Jhangvi. "They have to go against them with the will to finish them off," he says. "We will consider anything short of that as a sign of support for them."