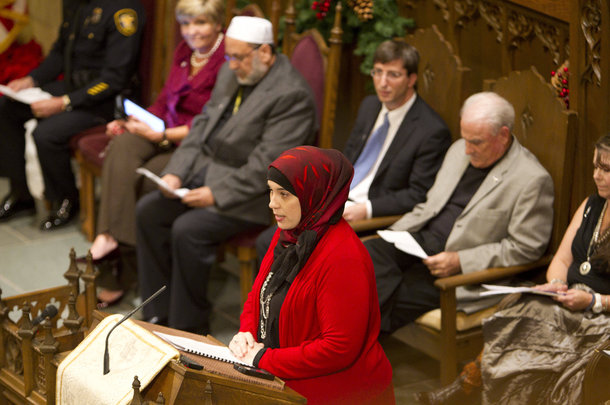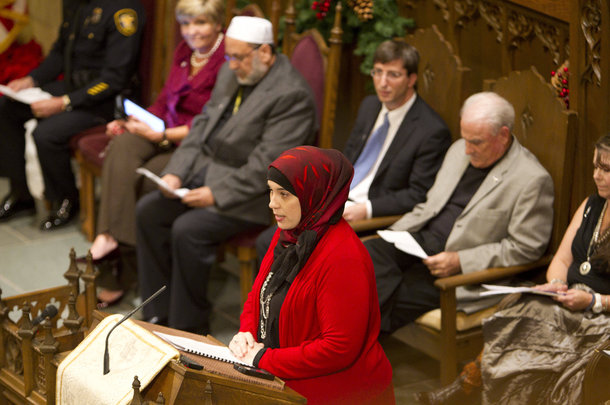 Huma Yasin was 14 when the Alfred P. Murrah Federal Building was bombed in Oklahoma City, her hometown.
As an American-born daughter of Pakistani immigrants, the horror of that attack was made worse by early reports suggesting that the perpetrators were Muslims — like her.
Although that soon was disproved, she suddenly questioned her place in the community.
"I thought, 'Oh, my gosh, are we really Americans? Are we really part of this fabric?'" she said last week.
Years passed. She graduated from the University of Oklahoma, where she also earned a law degree. She married and settled in Arlington with her husband and four children.
On Dec. 14, when 20 children and six adults were massacred at an elementary school in Newtown, Conn., Yasin no longer questioned if she was part of the American fabric.
"As a mother, I was just thinking about how horrible it would be going through that," she said. "And then I was thinking there were so many people in this nation who, regardless of ethnic heritage or religious affiliation, we were all hurting.
"All those children had become emblematic of someone we know, someone we love, and we needed to come together, to grieve together."
That's was the impetus of "Candles for Connecticut," an interfaith vigil held Dec. 20 at First United Methodist Church in Fort Worth. Among the speakers were Fort Worth Mayor Betsy Price and Police Chief Jeff Halstead.
Leading in prayers were Imam Moujahed Bakash of the Islamic Association of Tarrant County, Rabbi Andrew Bloom and the Rev. Al Meredith, pastor of Wedgwood Baptist Church.
"In 24 years of being police officer, I have not experienced anything this powerful," Halstead said after the event. "And the leaders put this together in just six days."
Plans began the day of the Newtown shootings.
Wedgwood reminder
Yasin turned to her friend Alia Salem, who works with the Islamic Speakers Bureau DFW and also is on the Fort Worth Police Department's citizens peer committee for the Middle Eastern and Greater Middle East Community.
The group, and six others like it, make up the department's Multicultural Committee, created by Halstead, to help police develop curricula for cultural diversity training. The information is intended to help officers get better understandings of the communities they patrol.
Salem, a Fort Worth native whose father was from Egypt, also had deep feelings about mass shootings.
She recalled last week how a classmate in her high school theater class, Justin Stegner Ray, was among seven people killed in the September 1999 mass shooting at Wedgwood Baptist Church.
"When you see the horror of Newtown, it dredges up feelings of insecurity," she said, "and you think about the people from Wedgwood.
"Huma said, 'Let's do something,' and I said, 'Yes.' But then I said, 'It should be interfaith.' My response was to act in a societal way."
Interfaith effort
Salem said she turned to police Lt. Robert Rangel, the facilitator of her citizens committee. A planning meeting was convened with Fort Worth ministers who meet regularly with police, including members of the Clergy and Police Alliance.
Salem said she thought one of the speakers should be a representative of Wedgwood Baptist. She then was introduced to Meredith, who was there.
"I mean, how perfect was that?" Salem said. "If Chief Halstead had not created the citizen peer committees, this would not have come together."
"Pastor Meredith was wonderful," she said, because he stuck to his beliefs by invoking Jesus Christ, yet encouraged other people to pray according to their own customs.
"It showed that we can do interfaith with no shred of compromising our beliefs," she said. "I respect '100 percent people' who are true to what they believe in, and that's up to each person to decide."
At the service, Salem was master of ceremonies, and Yasin read each victim's name as candles were lighted for them by police Cpl. Tracey Knight, who heads the Multicultural Committee, and area children. Photos of the Newtown children flashed across a screen.
"I have a 4-year-old daughter, so it was painful to look at those pictures," Knight said. "So this brought the community together in a way that was meaningful."
Yasin agreed.
"Every faith group I have learned about has a huge empathy for finding and helping the less fortunate," she said. "This was a wonderful showing of interfaith, and I hope, eventually, it will have a lasting impact for something much larger."