NATO says Syria is using more SCUDS
NATO chief Anders Fogh Rasmussen says Syrian President Bashar al-Assad's forces have fired more missiles inside Syria, a move Rasmussen calls an act of a "desperate regime approaching collapse."
Earlier this month, the U.S. and NATO said Assad's forces had fired Scud missiles at rebels near the northern city of Aleppo in what was believed to be the first use of the weapons against insurgents. Syrian officials denied the charge.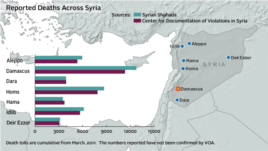 Syrian conflict deaths, updated Dec. 20, 2012.
​​Military analysts say Scuds are short-range missiles with a range of 500 to 800 kilometers.
Rasmussen said Friday that the Syrian government's use of the Scud-like missiles highlights the need to protect Turkey, a NATO ally.
NATO authorized the deployment of a missile-defense system to Turkey, after Ankara expressed concerns about cross-border shelling and the Syrian government's possible use of chemical weapons against rebels.
On Thursday, the United Nations highlighted the civilian toll in Syria's nearly two-year conflict, saying thousands have died in a crisis that has become increasingly sectarian in nature.
U.N. human rights investigators said the fighting "has brought immeasurable destruction and human suffering" to Syrian civilians, and that the humanitarian situation has rapidly deteriorated since late September.
Some information for this report was provided by AP, AFP and Reuters.
​​