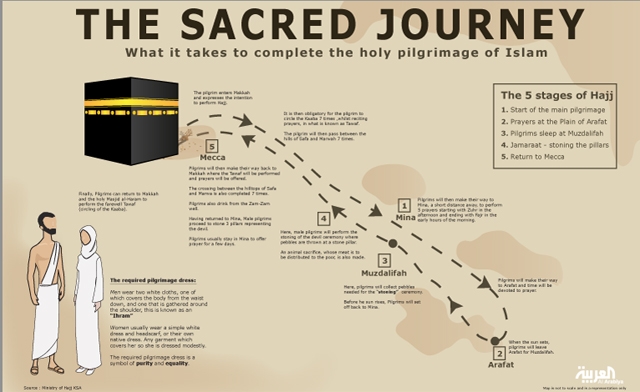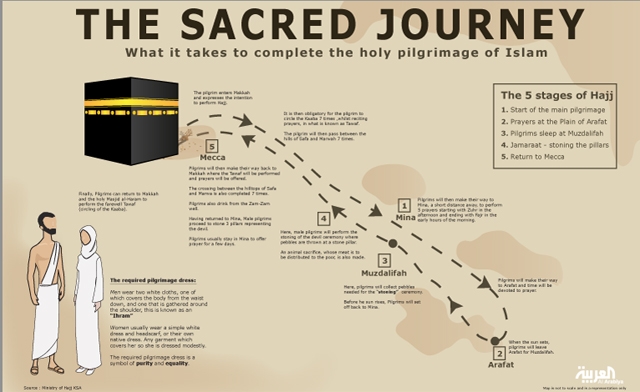 MECCA, Saudi Arabia — Millions of pilgrims arrived this week in Mecca for Islam's annual Hajj (pilgrimage), which officially started on Wednesday when around four million pilgrims headed to Mina, where they will spend their night before heading to the Mount of Arafat in the early hours of Thursday.
Many pilgrims began leaving for Mina on Tuesday night after circumambulating the Holy Kaaba, the first house of worship on Earth, built by Adam. Prophet Ibrahim and his son Ismail rebuilt it some 5,000 years ago. Most Hajj rituals are related to Prophet Ibrahim, his wife Hager and his son Prophet Ismail, and thus reflect the unity of humanity.
Muslims believe the Hajj rituals, which begins today (Thursday) and end Monday, trace the footsteps of the prophets Abraham, Ishmael and Muhammad.
Many say the experience of worshipping alongside hundreds of thousands of the faithful makes them feel as though Islam transcends the political and sectarian conflicts dividing the Muslim world, many of them will be praying for unity in the Islamic world at a time of turmoil.
Standing shoulder to shoulder in prayer, the pilgrims say that this year, more than ever, they are praying for unity among the Umma, an Arabic word related to "mother" and which refers to the global Islamic community.
The men dress in seamless white terrycloth garments meant to symbolize the equality of mankind and a return to God. Women, forgoing perfume, makeup and fitted outfits, have draped themselves in loose long clothing, covering their hair in the traditional Islamic headscarf as a way to focus on the internal soul, rather than outward appearances.
The pilgrimage comes as a civil war rages in Syria, threatening to tear apart the fabric of one of the Middle East's most diverse nations. More than 30,000 people have died, according to activists. Graphic images of shelling and massacre fill TV screens, in one of the first Muslim civil wars to be brought so powerfully into people's living rooms.
In Egypt, the public is divided over the country's direction under a new Islamist government, and the degree to which Islamic Shariah law will be incorporated into the constitution.
In neighboring Libya, pro-government militiamen have fought their way into Bani Walid, one of the country's last bastions of support for the former regime, in an aftershock of 2011's bloody eight-month civil war.
In Pakistan, people are grappling with the shooting of a schoolgirl by the Taliban.
In Myanmar, Muslims say they are under attack from members of the Buddhist majority. More than 90 people were killed during the summer there and some 70,000 people have been displaced by the conflict.
And weeks before the start of hajj on Thursday, protests – at times deadly – had erupted across much of the Islamic world to denounce an inflammatory film produced in the United States that depicted the Prophet Muhammad as a womanizer, fraud and madman.
Ali Ahmad Younis, a Libyan who said his sons were are all rebel fighters during last year's civil war to oust dictator Moammar Gadhafi, broke down in a well of tears, his emotions overwhelming him.
"I wish all the Arab nations would unite," Younis said, wiping a stream of tears from his face. "I also wish my country Libya and all its cities – Bani Walid , Misrata, Tripoli – would be united. I wish we could all be united as one to bring an end to the bloodshed in Libya."
"I prayed to God that all Arabs and the Umma can unite," he said, putting his face between his hands.
The hajj is one of the few times when largely Shiite Iranians pray alongside mostly Sunni Arabs.
The Syrian crisis, though, has widened sectarian lines. It pits a regime dominated by a Shiite offshoot sect and backed by Shiite-led Iran against mostly Sunni rebels with widespread support in the Gulf and other Sunni majority countries.
Maher Karim, an ethnically Kurdish Iraqi whose own nation has grappled with some of the region's bloodiest sectarian violence in recent years, said he is praying for all the Syrians battling President Bashar Assad's regime.
"Without any reason they are killing elderly people, children and women. All the Kurds are praying for the innocent Syrian people to pass through this crisis," he said.
Despite the upheaval, some pilgrims focused their prayers on the Arab-Israeli conflict, for decades one of the most emotive issues in the Muslim world but which in the last year has been eclipsed by events in Syria and elsewhere.
Egyptian pilgrim Abdo Ibrahim Basha said he is praying for Palestinians and the Al-Aqsa mosque. The site is located in east Jerusalem, which Israel captured in 1967 and claims as part of its capital. The move has not been internationally recognized.
"My message for all Muslims is that we have to be united to liberate one of the greatest and holiest places in the world after Mecca, which is the holy mosque in Jerusalem," he said as he made his way on foot through Mecca's streets to the grand mosque.
"I am saying, 'Just be united, and do not listen to the politicians and rulers because they just make it worse.'"
Al-Aqsa mosque is Islam's third holiest site, and in the first years of Islam, Muslims prayed in its direction rather than that of the Kaaba.
Asala Shaaban, an Arab Israeli performing hajj for the first time, also prayed tearfully for Jerusalem. But she also said Syria is on her mind.
"I am praying to God to support the Syrian people and make them victorious, to save their country from daily killing and help their children," she said.
Others are simply looking forward to the rituals of hajj, including a symbolic stoning of the devil, and the chance to ask for repentance for themselves and the Umma on Mount Arafat, a rocky desert hill where the Prophet Muhammad is believed to have delivered his last sermon.
"I am so happy that I have the opportunity to come and visit (Mecca)," Fadila Rahmo from Morocco said. "I am crying all the time throughout my prayers thanking God that he has honored me to become a pilgrim."
The Saudi government has given top priority to the security and safety of pilgrims and has deployed thousands of security forces in Mecca, Mina, Arafat and Muzdalifah, all cities within a radius of 10 kilometers, to ensure a safe and secure Hajj.
A statement by the Saudi Interior Ministry on Tuesday said that pilgrims were being transported to Mina smoothly without any obstacles, the official Saudi Press Agency reported.
The Grand Mosque, the focal point of the Islamic faith, was already teeming with joyful pilgrims at dawn on Monday, wearing the simple white folds of cloth prescribed for Hajj, many of them having slept on the white marble paving outside.
"I feel proud to be here because it's a visual message that Muslims are united. People speaking in all kind of languages pray to the one God," said Fahmi Mohammed al-Nemr, 52, from Egypt.
Hajj must be performed at least once in their lifetime by all Muslims capable of making the expensive, difficult journey, a duty that applies equally to Sunni and Shiite Muslims.
Saudi leaders have emphasized it is a strictly religious occasion and they are prepared to deal with any troublemaking.
Last year nearly 3 million pilgrims performed the Hajj, with roughly a third from inside the conservative kingdom. The Saudi authorities said there have so far been 1.7 million arrivals from abroad and about 200,000 from inside Saudi Arabia.
Mecca's merchants, famed across the Arab world, are already doing a thriving trade as pilgrims stock up on souvenirs such as prayer beads and mats, Qurans, dates, gold and Zamzam water, pumped from a holy well.
"The first time I saw the Kaaba I cried with joy. I prayed for myself and all Muslims," said Nafisa Rangrez, 36, from Gujarat in India, who had waited five years for a Hajj visa, according to Reuters.
All Muslims must face towards the Kaaba, the huge black cube at the center of the Grand Mosque, five times a day for prayer, making a visit to the sanctuary a powerful experience. Pilgrims must circle it seven times when they arrive in Mecca.
Wednesday is the first official day of the pilgrimage, with Muslims following a set form of rites laid out by the Prophet Mohammed and culminating on Friday with the Eid al-Adha (Feast of the Sacrifice), a holiday across the Islamic world.
"I would love to live here for the rest of my life. There's no such place in the entire world. This is a blessed country," said Ziad Adam, 23, a theology student from Kenya.
"It's my first time in Mecca for pilgrimage. I can't wait to pray in Arafat," 32-year-old Koara Abdul Rahman, a businessman from Burkina Faso, told AFP.
"Right now, I've got all the good feelings you can think of," said an Iranian pilgrim, her voice quivering and tears welling.
Saudi Arabia's king is formally titled Custodian of the Two Holy Mosques and the ruling family has long reigned on its guardianship of Islam's birthplace.
Over the past decade it has spent billions of dollars expanding the Grand Mosque and building new infrastructure to avert the stampedes and tent fires that marred past pilgrimages with hundreds of deaths.
In 2011, Saudi Arabia began the biggest expansion yet of the Grand Mosque, to increase its capacity to 2 million. A new railway will link the holy sites around Mecca.
This year alone, the kingdom spent more than 1.1 billion riyals ($293.3 million) on development projects in the holy sites of Mina, Arafat and Muzdalifah, all outside Mecca, according to AFP.