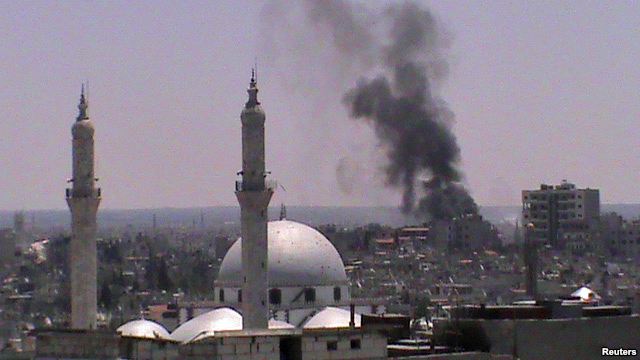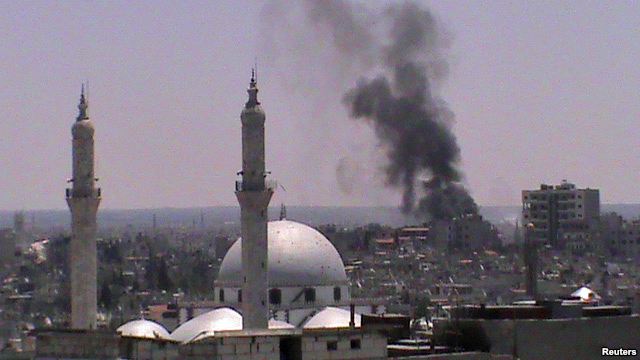 International envoy Kofi Annan says he's "shocked and appalled" at reports that tanks and helicopters were used in fighting that may have killed as many as 200 people in Syria's Hama region.
Annan said he condemned "these atrocities in the strongest possible terms," adding that the Syrian government had apparently violated a pledge not to use heavy weapons in populated areas.
The Syrian government and the opposition have acknowledged deaths in Hama, but have given different accounts.
Opposition activists say pro-government forces used tanks and helicopter gunships to carry out an assault on July 12 around the village of Treimsa.
Latest reports from the opposition say the dead include rebel fighters and civilians. An activist said most of the people killed were rebel fighters, adding they were slain in a counterattack after a Free Syrian Army raid on a government convoy.
Syrian activists have posted a video on the Internet they say shows 15 bodies of men who were among dozens killed in heavy government shelling of a farming village.
The head of the opposition Syrian National Council, Abdel Basset Sayda, expressed outrage at the massacre and called for a tough United Nations resolution that allows for military intervention against the Damascus regime.
Regime-controlled media has blamed "terrorist gangs" for the bloodshed, and accused pro-opposition media of manipulating public opinion with false reports of a government massacre.
The divergent accounts could not be confirmed by independent journalists because of reporting restrictions.
Chemical Weapons Concerns
The head of the United Nations observer mission in Syria, Major General Robert Mood, confirmed that mechanized units and helicopters were involved.
Mood said his mission would be willing to send a fact-finding mission to the region once a cease-fire was established and the safety of observers can be assured.
"From our presence in the Hama Province, we can verify continuous fighting on Thursday [July 12] in the area of Treimsa. This involved mechanized units, indirect fire, as well as helicopters," Mood said.
The UN monitors are "ready to go in and seek verifications of facts if and when there is a credible cease-fire," he added.
Reports of the slaughter came as the United States warned Syrian officials that they will be held "accountable" if they fail to safeguard the conflict-torn nation's stocks of chemical weapons.
The State Department statement came after a report in "The Wall Street Journal" said U.S. officials were concerned that part of Syria's chemical-weapons arsenal was being moved out of storage facilities.
UN Deadlock
The UN Security Council, meanwhile, appears deadlocked over a new resolution addressing the Syrian crisis.
Russia has rejected a Western-backed draft resolution that would have given the Syrian regime an ultimatum to implement an international peace plan or face sanctions.
Western powers, for their part, have spurned a Russian proposal that would extend the UN observer mission in Syria, but does not contain any threat of sanctions to compel the regime to start implementing an internationally backed peace plan.
The mandate of the observer mission expires on July 20.
In another development, Russia has announced that the joint UN-Arab League envoy to the Syrian crisis, Kofi Annan, is expected to meet with Russian Foreign Minister Sergei Lavrov next week for talks on the crisis in Syria.
The ITAR-TASS news agency quoted a Russian official as saying that the talks were expected to focus on "the current situation in Syria and the chances of an internal Syrian solution."
Russia, a traditional ally and weapons supplier to Syria, has ruled out supporting any foreign intervention in the conflict, saying it must be resolved by Syrians alone.
Russia's state arms-export agency announced on July 13 that the Russian freighter "Alaid," which is carrying helicopter gunships bound for Syria, had left the port of Murmansk.
The agency has denied reports the helicopters will be sent to Syria aboard Russian naval vessels currently heading for the Russian base at the Syrian port of Tartus.
Moscow says the three Mi-25 helicopter gunships belong to Syria and were repaired in Russia under a 2008 contract with Damascus.
Last month, Russia tried sending a cargo ship to Syria with repaired helicopters for Syrian forces. But the vessel failed to make the delivery after the mission was exposed by Washington and a British insurer dropped coverage.
Opposition activists say more than 17,000 people, mostly civilians but also members of the security forces, have been killed since the Syrian conflict erupted in March 2011.