French Muslims demand protection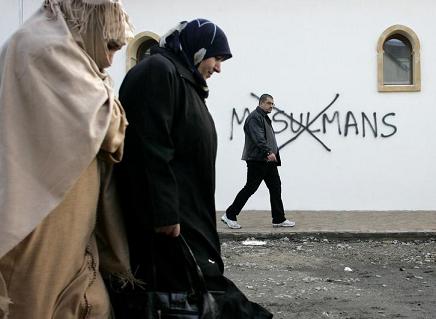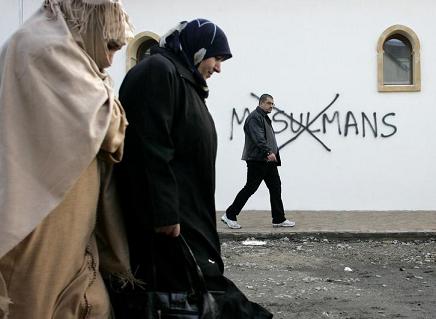 PARIS – French Muslim groups have urged the government to take a stronger position against rising anti-Islam sentiments, calling for a modified legislation to tackle the surging Islamophobic crimes targeting the Muslim minority.
"The actions and threats that have been the subject of formal complaints to the police and gendarmerie have increased from 116 in 2010 to 155 in 2011, an increase of 33.9%," Abdallah Zerki, head of the Paris-based Islamophobic Crime Monitoring Group, told Muslim News website on Friday, February 24.
Zekri, whose group issued a recent report warning of increasing number of Islamophobic attacks in France in 2011 in comparison to the previous year, said he wrote to French President Nicolas Sarközy urging him to act.
According to Zekri there were 38 major violent incidents and arson attacks aimed at French Muslims, mosques and Islamic centers, an increase from 22 in 2010.
"I wish that President Sarközy, to whom I sent a letter in December, makes a statement and denounces these unspeakable acts, "said Zekri.
"In short, he should seek to allay the concerns of Muslims who are citizens just as Christians or Jews."
The Muslim leaders' pleas followed a series of mosque vandalisms and controversial right wing outburst by France's Interior Minister.
Last January 31, vandals attacked a French mosque in the Glonnières district of Le Mans, covering its walls with graffiti reading "Islam out of Europe", "No Islam" and "France for the French."
Three days earlier, another mosque in Miramas was also daubed with Islamophobic slogans along with the name of Front National presidential candidate Marine Le Pen.
On January 17 fascist graffiti was painted on the wall of a mosque that is under construction in Montigny-en-Ostrevent reading "President Adolf" or "Hei" in reference to the Nazi salute. "Heil Hitler".
Two days later on January 19 two pigs' heads were left at the site a mosque is being built in Nanterre.
"Some people were jailed over arson of mosques, but still legislation in this area is inadequate," head of the French Islamic Council, Haydar Demiryürek, said.
"The Government should focus on this, condemn Islamophobia and adopt better legislation."
Political Games
Feeling betrayed by their government, French Muslims accused Sarközy of "playing down" the growing Islamophobia to "extend his political career in the forthcoming Presidential elections."
"The President was at the forefront of the niqab (face covering) ban law, although few French Muslim women actually wear it," a spokesperson for the Muslim Youth Association told The Muslim News.
"He is trying to capture the right-wing vote aware of the growth far-right parties across Europe – to acknowledge the growth of anti-Islam violence in France would result in him admitting that his policies alienated Muslims and made them targets [of hate crimes]," she added.
Sarkozy has been seen swerving into the far-right by using Muslim issues to win votes from the far-right.
Last year, Sarkozy's ruling Union for a Popular Movement (UMP) party started a debate on the role of Islam in secular France. He has also banned the Muslim face-veil in public.
Playing far-right anti-immigrants policies, his Interior Minister Guéant drew up new rules for foreigners trying to become French citizens which were enforced as of January 1, including new tougher tests.
Other French Muslim groups warned that anti-Islam rhetoric was not limited to one group, insisting that "Islamophobia infects all political parties."
The same rhetoric was used by Le Pen National Front party who focused on inciting fear on the role of Islam in France, home to up to six million Muslims, to gain public support.
In 2010, Le Pen compared Muslim prayers on the streets to Nazi occupation.
"Both left wing and right wing politicians resort to it in order to send electoral messages to those (mainly on the far right) who perceive Muslims' visibility in France as a problem," Marwan Muhammad, member of Collective against Islamophobia in France aka Collectif Contre l'Islamophobie en France (CCIF), said.
"Only the arguments used differ: conservatives claim that Islam is not compatible with the traditional Judaeo-Christian European identity and that Muslims need to assimilate into the pre-existing model.
"Left wingers come to the same conclusion from a different angle. They concentrate on women's rights and the threat of allegedly backward religious practice; even though conservative religious groupings like the Taliban do not exist in France."
Muhammad said surge in Islamophobic crimes "coincide with national campaigns spreading Islamophobic propaganda, whether it is the right wing's 'national debate on Islam' or the left wing senatorial bill on banning the hijab even in the private sector."