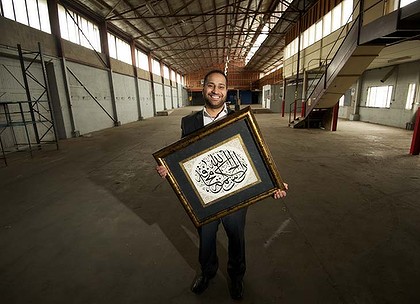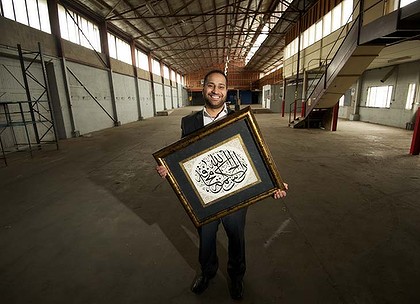 FOREIGN Minister Kevin Rudd first heard about the proposed Islamic Museum of Australia from his counterparts in Turkey and Senegal.
Seven months after the idea came to public attention via an Age article, the $8 million project is only $1.5 million short of starting the first building stage in a former bottled water factory in Thornbury.
So widespread and positive has the publicity been that the museum has already had 20 offers of exhibitions from organisations believing the museum is already open, though that is expected to take two years.
These three facts testify to the energy and skill of its founder and director, Moustafa Fahour, who last week left his job at the millionaires' club of Macquarie Bank to take on the museum full-time. From palatial 101 Collins Street to threadbare carpet and the vast dusty spaces of the Thornbury factory, from the salary of a division director to none, is a big step for someone just turned 30, whose wife Maysaa – the museum's chairwoman – is expecting their third child.
But Mr Fahour, whose brother Ahmed (the Australia Post chief executive) is the museum's patron, says it is time to put something back into the community.
"Like the Jewish, Chinese, Italian and Hellenic museums, it will benefit all Australians," he said.
"And, given the Islamophobia, our aim is to focus on Islam's positive contribution."
The museum will give visitors an insight into the Australian Muslim experience – from the Macassan fishermen in the 1600s to the Afghan cameleers who helped open up the interior to the latest migrants. "Most people don't know that Burke and Wills had Afghan guides for their expedition in 1860," Mr Fahour said.
It will also display Islamic art and architecture, explain basic Islamic beliefs and highlight the contribution of Muslims to knowledge over 14 centuries.
There are already a few treasures on the walls, such as traditional calligraphy by Ahmed Eid, which won an international award in 2007. It will be joined by a range of exhibitions, from local artists to major international visiting displays.
Designed by a Muslim architect, it takes its inspiration from Australia's red centre, and uses contemporary themes rather than the minarets and domes that Mr Fahour says people expect.
He and three associates have just returned from a 12,000-kilometre odyssey across Australia, exploring the breadth and depth of the Muslim history in this country, and experiencing local ways in six states.
"I'd never been to the outback before, never slept in a tent or a sleeping bag," he said. He might suspect there are many other firsts awaiting him.