'Flagman' becomes instant hero at Egypt protest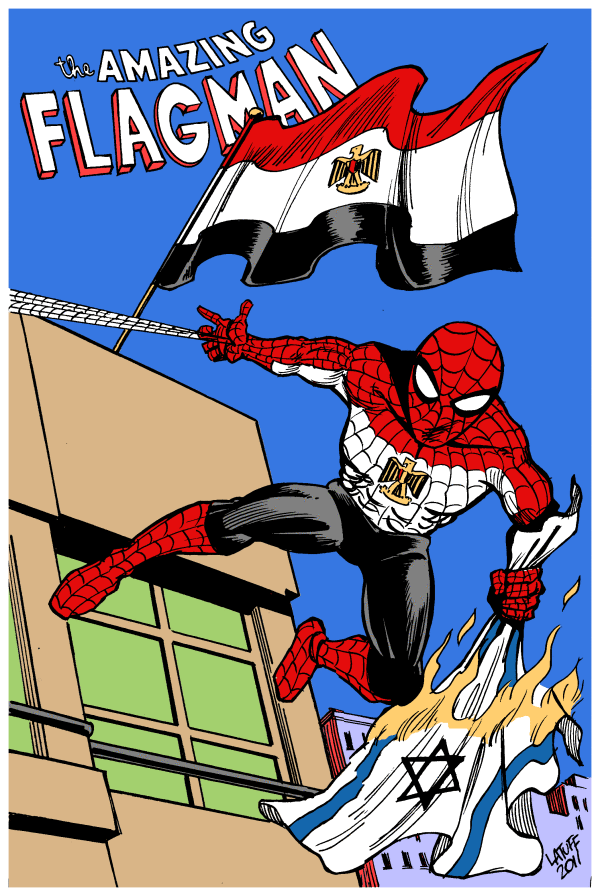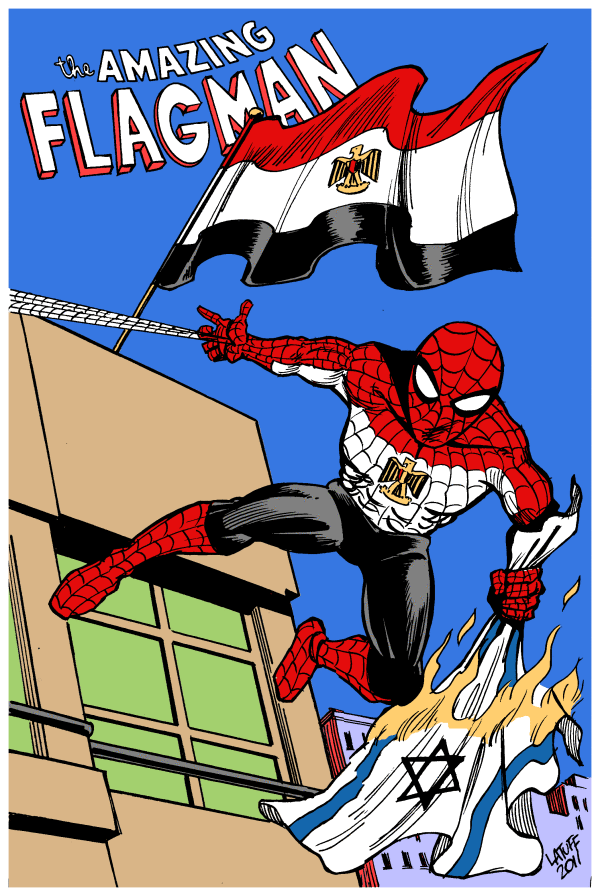 CAIRO—With the Egyptian flag draped over his shoulder, a carpenter carefully climbed up the 21-story Israeli Embassy in Cairo on his way to becoming an instant hero to millions across the Arab world.
"Keep going, keep going!" an awe-struck crowd below yelled at dawn Sunday, craning their necks to watch him.
When he reached the top, Ahmed al-Shahat ripped down Israel's blue-and-white flag and replaced it with Egypt's red, white and black. Thousands of protesters cheered; fireworks went off.
And so was born "flagman," a figure who resonates with Egyptians angry not only with Israel's killing of five Egyptian policemen on Thursday, but with Israel's treatment of Palestinians and their own government's decades-long support of Israel under Hosni Mubarak's ousted regime.
Fireworks were set off after al-Shahat took down the flag, in a symbolic eruption of decades of pent-up frustration. Within minutes, Twitter was abuzz with people writing about al-Shahat, making "flagman" one of the most popular phrases on the microblogging website. Shaky video recorded on mobile phones of him climbing the building received thousands of hits on YouTube. Brazilian cartoonist Carlos Latuff received more than 1.5 million visits to his website after posting his latest creation: Ahmed al-Shahat as Spider-Man, in a suit with the Egyptian flag's colors.
The attention echoed that given to Iraq's "shoeman"—the man who flung his shoes at President George W.Bush during a press conference in Iraq in 2008.
"What he did was so amazing because it was so simple and spontaneous," said activist and photographer Lilian Wagdy. "After the revolution people don't believe there should be concessions to an apartheid regime and what he did was take action in reshaping the official stance."
Egyptian military police in riot gear stood watching al-Shahat's symbolic act. One even helped hoist al-Shahat above a car to wave to the crowd after his descent.
By late Sunday, the Egyptian flag remained hoisted above the Israeli Embassy, which had no immediate comment about the incident. The Israeli envoy is away on vacation.
"Millions of Arabs want to pull that flag. When I pulled the flag it ripped accidentally, but it was burned below," al-Shahat said after climbing down. He was speaking to Al-Jazeera's live broadcast channel for Egypt.
Thousands of protesters have rallied outside the embassy since five Egyptian policemen were killed by Israeli gunfire in Egypt's Sinai late Thursday. The incident took place after Israel said Palestinian militants crossed from Egypt to carry out a series of deadly ambushes in southern Israel.
Militants in Gaza have agreed to cease-fire with Israel in an agreement brokered by Egypt, a senior official for Hamas, which rules in Gaza, said Sunday.
Israeli Defense Minister Ehud Barak said his country is sorry for the deaths of the policemen. Cairo said the apology was welcome, but not enough. Protesters want Israel's ambassador in Egypt expelled and the Egyptian ambassador to Israel recalled.
"The path to Jerusalem leads through Cairo," chanted activists outside the embassy.
The April 6th Youth Movement, one of the main organizers of the Egyptian uprising that led to Mubarak's downfall in February, said in a statement that al-Shahat's actions were "a new blow by the people to Israel and the United States and its failed diplomacy."
Al-Shahat said taking the flag down was about people's "disrespect and disgust" with Israel and showing that people in Egypt are not waiting for their government to take action.
"I wasn't scared going up there. This is a message to Israel that we can send millions of martyrs for the good of our country," he said.
Al-Shahat had some experience in climbing to make a statement. A photograph of him standing atop a light pole, Egyptian flag in hand, during a July protest in Tahrir Square became an iconic image.