Silence as millions die on World Water Day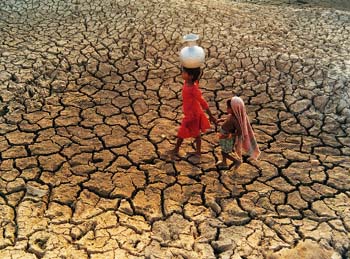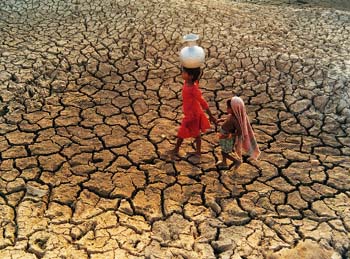 March 20 2011
When the international community commemorates World Water Day this week, perhaps it should ponder the words of U.N. Secretary-General Ban Ki-moon, who once remarked he does not expect people the world over to stop what they are doing and observe a moment of silence, come Mar. 22.
"But maybe they should," he added, considering the fact that every 20 seconds, a child dies from diseases associated with lack of clean water.
"That adds up to an unconscionable 1.5 million young lives cut short each year," said Ban.
By 2025, 1.8 billion people will be living in countries or regions with absolute water scarcity, and two-thirds of the world population could be living under stress conditions, according to U.N. Water, a coalition comprising representatives of 24 U.N. organisations.
Currently, about 70 per cent of the world's fresh water is used for irrigation, 22 per cent for industry and about eight per cent for domestic use.
The U.N. children's agency UNICEF points out that over 884 million people worldwide do not have access to safe water, while 2.6 billion have no access to adequate sanitation in a growing world population of over six billion people.
Maude Barlow, co-founder of the Blue Planet Project, which campaigns for the universal right to water, told IPS that while demand is fast outstripping supply, "We must come together this World Water Day to commit to a new relationship with water."
Asked how, she said: "By conserving it, restoring watersheds, protecting source water from pollution – which must be viewed as a criminal act – and sharing it more equitably for all humans, the future and for other species as well."
Anders Berntell, executive director of the Stockholm International Water Institute (SIWI), warns about the potential dangers of the world undergoing rapid urbanisation.
"People, ideas and commodities are intensively mobilising from peripheries to economic centres, where architectural wonders tower over skylines while slums continue to grow in their shadows," he said.
By 2050, he predicts, more people will live in cities than the number of people living in the entire world today.
The theme of this year's annual World Water Week in the Swedish capital of Stockholm, scheduled to take place Aug. 21-27, will be "Responding to Global Changes: Water in an Urbanising World."
Berntell said improved urban planning of water use and re- use can contribute significantly to reducing social and economic tensions within, between and around cities, in an increasingly variable water future.
In a statement released Friday, the Washington-based WASH Advocacy Initiative praised legislation introduced in the U.S. Senate Thursday that would put the United States in the lead in responding to the worldwide safe drinking water and sanitation crisis. The 'Senator Paul Simon Water for the World Act of 2011' would commit the United States to extending safe, affordable and sustainable supplies of drinking water and sanitation to 100 million people within six years, it said.
"This major bipartisan initiative would put the United States at the forefront of addressing the Millennium Development Goals (MDGs) for drinking water and sanitation", according to the statement.
Barlow told IPS the major cause of the present water crisis is that "modern humans see water as a great big resource for our pleasure, convenience and profit and not as the essential element of a living ecosystem that gives us all life."
"So we pollute it. We dump an amount of industrial and human waste into the watersheds every year equivalent to the combined weight of all humanity, pump water from watersheds and rivers into mega cities where, if they are anywhere near the ocean, it is then dumped as waste – a major cause of rising oceans," she said.
Additionally, "We grow crops with flood irrigation in deserts; poison it with mining, nuclear, fracking and tar sands production, and let it drain away from ancient rusting pipes because we have 'run out of money' for public infrastructure," said Barlow, a former U.N. Senior Adviser on Water.
Asked what role the United Nations should play in resolving the ongoing crisis, she said the world body has already started with the recognition of water and sanitation as a human right, which means that every government must now come up with a plan of action based on the 'Obligation to Protect, Respect, and Fulfil' this right.
And now the United Nations must turn its attention to water conservation and watershed restoration, and to finding ways to make water a means of peace, not conflict, she noted.
"We need to declare water to be a common heritage, a public trust and a public service, and we need to support the government of Bolivia in its new move to declare that water must be protected as a public right and not allowed to be delivered on a for profit basis by the private sector," Barlow said.
Simply put, she said: "We need water for life. Water can teach us how to live in harmony with one another and more lightly on this earth if we have eyes to see and ears to hear."