Earthquake followed by tsunami cause widespread death and destruction in Japan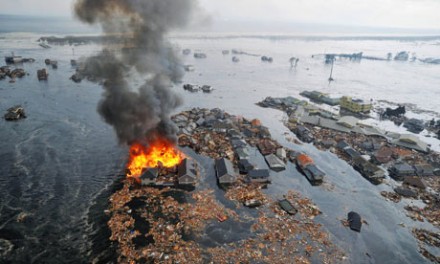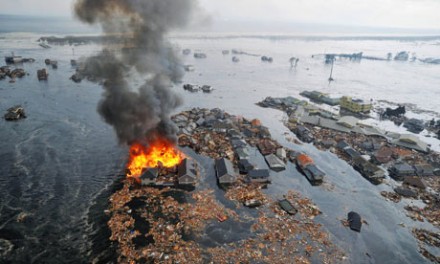 March 12 2011
It was 2.46pm when the chandeliers began swinging wildly in Tokyo's parliament chamber. Japan's Prime Minister, Naoto Kan, stared in growing panic as the tremors intensified. Outside, buildings swayed like giant metronomes, roads cracked apart and people screamed and ran for shelter. The biggest earthquake in the country's history had struck.
In the minutes that followed, a series of 10-metre high tsunami waves peeled 80 miles across a calm Pacific ocean from the quake's epicentre to Japan's north east coast. Their symmetry belied a raging power that left behind a boiling back wash. Hundreds were last night confirmed dead and tens of thousands missing after the huge surges crashed ashore, rocking Japan as ships and trains went missing, cities and industrial plants blazed and a dam burst sweeping away homes.
It was all captured in horrifying detail as TV channels broadcast the most vivid footage yet of the devastating power of a tsunami which was by turns heart-breaking and bewildering.
The foaming white tsunami turned black on landfall as it bought death and destruction and crushed everything in its path. It churned up the earth, shredded buildings, trees and crops and tossed boats and cars around like corks. The sludge surged inland surrounding homes where survivors waved white sheets from top floor windows, desperate for help. The tide erased carefully tended fields and mowed down rows of poly-tunnel greenhouses.
Up to 300 bodies were found in the coastal city of Sendai which bore the brunt of the waves. Most were feared drowned. Cars were swept across the city's airport runway where people gathered on the terminal roof for safety, trapped by the water all around them. About 140 people, including children, were trapped on top of an elementary school.
"I was trying to get up to high ground," said one elderly man in a baseball cap in the city of Ofunato, 80 miles up the coast, which had no power after more than 300 houses were swept away. "People up there were saying hurry up, get up here. Once I got up we watched cars flow by."
"The aftershocks gave us no reprieve," added a woman with a baby strapped to her back. "Then the tsunami came when we tried to run for cover."
The port at Miyako offered no shelter either and boiled like a cauldron. Cars, trucks and even a large building were churned in the tumult which pounded against the harbour wall, detonating like a string of explosive charges.
Off the coast, a giant whirlpool, hundreds of metres in diameter like something out of a Hollywood disaster movie, turned slowly with a leisure yacht caught in its vortex.
Commercial vessels were hammered into breakwaters while a ship carrying 100 people was swept away, according to Kyodo news agency. Footage showed a trawler ploughing head on into the on-rushing tsunami pitching almost too vertical. In one town ships, buildings and cars were tossed around together in an incongruous mix.
The images were reminiscent of the tsunami which struck Indonesia, Thailand and Sri Lanka on Boxing Day 2004, but far more comprehensive and clearer from being professionally shot from helicopters. In one heart-rending piece of footage, a lone cyclist could be seen pedalling fast away from the advancing morass of timber and sludge surging from behind him. In another scene, a large fishing boat was forced by torrents into a road bridge still being used by cars. The boat emerged the other side with its wheelhouse torn off. Cars and trucks were tossed around like toys after a smaller tsunami hit the town of Kamaichi in northern Japan. An overpass appeared to have collapsed and vehicles turned around and speed away from the danger. A train running north of Sendai on the Senseki line was reported missing with an unknown number of passengers on board. Then after the water came the fire. Swaths of Kesennuma, a hillside coastal town of 74,000 people in the hardest hit Miyagi prefecture, burned furiously into the night with no apparent hope of the flames being extinguished. A witness told the public broadcaster NHK it was sparked after the tsunami overturned several cars, causing them to leak oil and petrol. More than a dozen fires broke out across Tokyo where 4 million people were left without power.
At an oil refinery, infernos raged out of control and a huge orange explosion rose into the sky in the shape of a mushroom cloud. Another blast tore through a petrochemical complex in Miyagi prefecture.
Japan's infrastructure was collapsing fast. Roads were impassable, trains were cancelled and airports were closed for long periods with international flights into Narita resuming last night. An irrigation dam reportedly burst in the northeast Fukushima prefecture and homes were washed away. But the greatest concern was for the safety of four nuclear reactors in the area.
The government declared to the International Atomic Energy Agency a heightened state of alert at Fukushima Daiichi nuclear power, north of Tokyo, and some 3,000 residents evacuated the area. The Tokyo Electric Power Company said the cooling function at the nuclear plant had been knocked out causing the pressure in the reactor to rise, but there was no radioactive leakage.
"The earthquake has caused major damage in broad areas in northern Japan," the prime minister told a news conference. He said the government needed to act to "save the country".
"We urge the people of Japan to be cautious and vigilant and listen to the news reports and we ask the people of Japan to act calmly," he said.
Standing on the Pacific "ring of fire" Japan is one of the best prepared countries in the world to cope with an earthquake, but tremors were more powerful and more prolonged than any residents had ever experienced. The land felt like liquid.
Ritsuko Tachikawa, 34, a corporate consultant was sitting at a red traffic light in her car in Saitama, north of Tokyo, when the earthquake struck.
"It felt like we were in a large vessel," she told the Guardian. "It started getting worse and worse and we started kind of freaking out. The ground was shaking but like big and slow waves. We could barely stand up. The brick walls beside our cars were collapsing and it seemed safer to stay in cars. It felt like the end of the world today."
Last night, with the city's power down, her family gathered around a kerosene stove and drank green tea and ate porridge by candlelight while listening to the news on a radio.
A Tokyo resident posting on the New York Times website reported he and his fellow swimmers doing laps at the Izumi Garden Tower in the Roppongi district "were sloshed around like rubber duckies in a bathtub".
Another on the ninth floor of a residential tower in the Sumida area marvelled at the engineering of his earthquake-proofed building which "flexed and bounced like an airliner in turbulence". Rooftop lightning rods swayed like giant metronomes and after the tremors, a public address system broadcast a pre-recorded message, evidence of how Japan is one of the world's best-prepared countries for seismic shocks: "This is Sumida City. Just now, a large earthquake happened. Please be careful."
Passengers on a subway line in Tokyo screamed and grabbed other passengers' hands to remain standing.
Crowds gathered in front of televisions in a shop to find out what was happening. After the shaking from the first quake subsided, crowds pointed to construction cranes on an office building up the street. "They're still shaking", they cried. "Are they going to fall?"
Matt Alt, an American translator in west Tokyo, described the quake as "a sustained attack", while in Fukishima, in northeast Japan 150 miles from the epicentre, British citizen Ben Sabers told the BBC the quake got "bigger and bigger and bigger".
"It went on for five or 10 minutes and it was like 'when is it going to stop?'" he said. "After a couple of minutes being under the table you realised this is really serious."
By nightfall trains across the country were halted and the roads in Tokyo were jammed with millions of commuters trying to get home, in spite of official advice for people to stay where they are in a safe place.
"The big problem is that all the businessmen and women who commute into town from outside can't get home," Rie Kiyasu, an illustrator living in the Nakano district of Tokyo told the Guardian.
"We are back at home now, and outside the streets are full of people just walking. They don't have anywhere to stay for the night." Other residents said noodle shops were packed with people who would normally eat at home, while long queues had formed behind every payphone and out of every convenience store.
"Unending salary man hordes, in orderly lines, waiting for eight hours or more for cabs and buses that will never come," Adam Ismail, 32, an equities analyst said in an email to The Guardian. Hotels filled up and people slept in offices.
In downtown Tokyo, Tomoko Suzuki and her elderly mother stood at a crowded corner, unable to get to their 29th-floor condominium because the elevator wasn't working.
They unsuccessfully tried to hail a taxi to a relative's house and couldn't find a hotel room. "We are so cold," said Suzuki. "We really don't know what to do."
LATEST NEWS:
he damaged Fukushima Daiichi nuclear reactor has already been leaking radiation outside the plant, confirms Japan's nuclear safety agency and the operator, the Tokyo Electric Power company.
A radius of 10km is now being evacuated.