Egyptian protests turns Mosque into hospital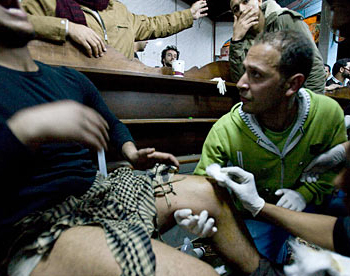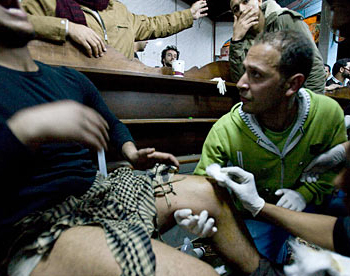 Jan 31 2011
The motorbikes skitter through Mohamed Mahmoud Street and into a side alley, sending debris flying in their wake.
Each one carries a lifeless figure, propped up between two others. The two have to hang on to their vehicle's sides to avoid falling off – if it slows down, even for a moment, sniper shots or teargas may reach them.
At the doorway of the Abad Rahman mosque, in a back street behind the Hardees burger restaurant, crowds of volunteers are waiting to receive the injured.
The scene is desperately chaotic. Some young men have linked together to man a wooden barricade, ensuring only the medics and those in need of their help make it over the threshold; others are using sticks and rods to push back the throng, making space for ambulances to weave through the clutter.
The Egyptian Interior Ministry, the scene of the day's fiercest street fighting, is just a couple of blocks away, and the sound of live gunfire echoes off the walls.
This place of worship is little more than a partially-roofed narrow passage between two tall buildings. Now it has been transformed into a makeshift hospital, with blood soaking through the prayer mats.
The muezzin's microphone – normally used to send out the call to prayer – is pressed into use by a thick-set, bearded imam, who is shouting out instructions to medics. Occasionally, he prays.
"The police have been shooting at these people with live fire," Dr Mona Mina, a paediatrician who had travelled from across the city to answer an urgent call for medical assistance, explains.
"I came down four hours ago, and I've seen six deaths here today – mostly from penetration wounds, but one was from gas suffocation."
As she talks, a commotion breaks out near the doorway and a child is carried through, bleeding heavily. Mina grabs a bundle of supplies from a nearby trestle table. "I have to go," she says.
On the white columns of the mosque, volunteers have taped IV drips and hung carpets to give a little privacy to the injured. Meanwhile, bystanders join hands to encircle those being treated on the floor and prevent them being jostled.
"It shows the solidarity of the Egyptian people who are fighting for the end of this regime, and now for their lives," Dr Ahmed Ali, an oncologist from the southern Cairo suburb of Maadi, said.
"We're advising people to halt the assault on the Interior Ministry because the police there have snipers and the youths have nothing but stones. They don't stand a chance – but they keep going on anyway. And as long as they keep going, we will, too."
In the midst of one small group lay a man in his early 30s, his shirt pulled up to show a small, ugly puncture on the right side of his stomach below his rib cage. A surgeon, still wearing his suit, probes it with forceps while the man screams, pulling out a fragment of metal.
"See this?" the doctor says, holding it up. "Do you see this? They are shooting people with live rounds." Another volunteer brings over a handful of .22 calibre shell casings.
In a corner of the mosque, a younger man is screaming as iodine is swabbed on his knee, which has been punctured by a piece of buckshot. A young woman, inconsolable, falls into a faint after being told her husband has been killed. "Please, don't stay here," a volunteer implores. "It is too dangerous."
Half an hour later, her husband's blue jeans, drenched with blood, are hooked on to a stick and held aloft by a group of volunteers, who march out of the mosque and back round to Tahrir Square.
"Shaheed", the Arabic word for martyr, is chanted by the crowd. It is not the first, or last, time this cry goes out on this day of violence in the capital.