Conquering and praying atop Pakistan's mountains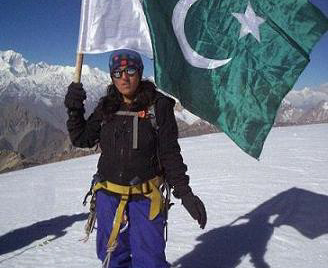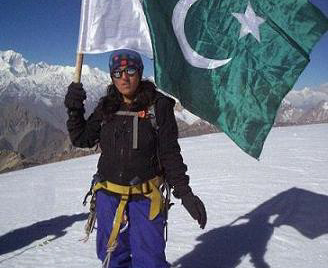 Jan 28 2011
"I could not believe for a while when I touched the peak. I thought I was dreaming," an apparently jubilant Samina revealed.
Touching the 22,400-feet (6,827m) tall Chashksin Sar peak, SaminaKhayal Baig, a 20-year-old Pakistani Muslim woman, kneeled down and bowed to Makkah in gratitude to Allah.
"Tears rolled down my cheeks as I could not control them," Samina told OnIslam.net in an exclusive interview.
"I kneeled down and bowed to Allah to thank His blessing."
Samina was the first woman in the south Asian Muslim country to climb Chashksin Sar peak, one of hundreds peaks in Karakorum region in northern Pakistan.
"I could not believe for a while when I touched the peak. I thought I was dreaming," an apparently jubilant Samina said.
Surprising enough, the Pakistani woman got no proper training to climb the peak.
"I usually fetch water by cutting ice, and collect woods from mountains, but I got no proper training before that (climbing)," said Samina, who resides in Shamshal, a scenic valley in Hunza, the home of hundreds of snow-capped peaks that touches the Chinese province of Xinang.
"But, I inherit climbing running in my blood that helped me achieve this target," added the Muslim woman who left home in a traditional manner whereby her mother raised a copy of the Noble Quran in the air, and Samina passed under it.
Honoring Samina, the local people have renamed Chashksin Saras Samina Peak.
Chashksin Sar was one of the hundreds of peaks in Karakorum region, which have never been climbed by any professional climber before Samina and her team, which also includes Danish ambassador to Pakistan Uffe Wolffhechel, made it.
Role Model
Samina has become a role model for many Muslim women in Pakistan, especially in the north, where five of the ten tallest peaks in the world are located.
"Those 12 days were the happiest days in my life," said the jubilant Muslim woman.
"I explored the nature and bowed to Allah many times a day, which enabled me to become a role model for Pakistani girls, especially from my area."
Her elder brother, Mirza Ali, was a staunch supporter of Samina to do her 12-day adventure, which began in August 2010.
"I could never do that without my brother. Being a Muslim girl, I would not go to any expedition alone.
"My brother was my strength who backed me and lifted my courage wherever I lost the temperament.
"It was he (brother) who fully took care of me, and I felt absolutely safe and sound because of him," added Samina, who is preparing to appear in Grade-10 examinations this year.
Just 30-meter away from the peak, hardly a 15-minute distance, Samina felt severe pain in her left foot, virtually because of biting snow and freezing cold.
"I laid down the snow in severe pain. It was so painful as I felt I could not be able to touch the peak.
Her brother once again came to back her.
"She kept on reciting (from Noble Quran), as I continued to press her foot and rejuvenate her courage," Ali, a professional climber told OnIslam.net.
"All team members were waiting for her to get to her feet as no one wanted to touch the peak without her.
"She showed exemplary courage and resilience at times, which was totally unexpected to all of us," a proud Mirza said.
Samina said it was her recitation of the Noble Qur'an and her brother's support that gave her the strength to complete her adventure.
"All the team members congratulated and clapped for me as shining snow was swirling around us."
Samina, a member of the Pakistan Youth Outreach, a local organization established by her brother, does not see the title of being first-ever professional woman climber of Pakistan as an end to her passion.
"This is the beginning rather than an end," said Samina, who has recently returned from her winter climbing expedition in the Karakorum, which was financially supported by the Danish government.
She wants to carry mountain climbing as a profession in future.
"I want to be trained and to train other women in future. This is a great profession, and I would love to see more women in this profession."