Jewish terrorists set fire to Mosque near Bethlehem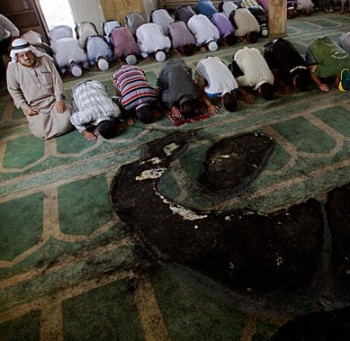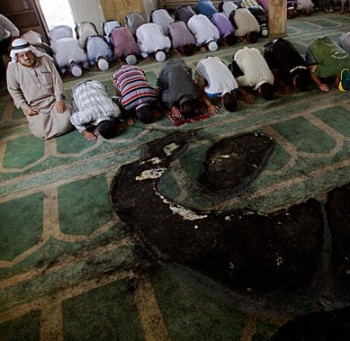 October 5 2010
Israel is worried that Jewish militants torched a West Bank mosque overnight Monday in a bid to undermine peace negotiations with the Palestinians.
A mosque in the Palestinian village of Beit Fajar, just south of Bethlehem, became the fourth in the last two years to be the target of an arson attempt, according to human rights workers. The attack is believed to be part of a campaign by vigilante settlers to ignite violence by attacking Muslim holy sites.
"Whoever did this is a terrorist in every sense of the word, and intended to hurt the chances for peace and dialogue with the Palestinians," said Israeli Defense Minister Ehud Barak in a statement. "This was a shameful act that besmirched the State of Israel and its value."
Perpetrators of previous attacks against mosques have left behind in Hebrew graffiti the words "price tag," referring to a policy of using violence against Palestinians and Israeli security forces in retaliation for outpost evacuations and militant attacks on settlers.
The price tag campaign is seen by experts as an attempt by militant settlers to deter Israel from making concessions to Palestinians, either by evacuating illegal settler outposts or by temporarily halting settlement expansion in the West Bank. Militant settlers have rioted in Palestinian villages and uprooted crops belonging to Palestinian farmers.
The arson attack in Beit Faraj comes as Israel, the US and the Palestinians are trying to reach a compromise on a new freeze in settlement building to enable peace talks to continue.
Patriarch's Tomb
In 1994, Israeli Palestinian peace talks were disrupted after Baruch Goldstein, a New York-born born Jewish settler, walked in to a mosque in Hebron's Tomb of the Patriarchs and gunned down worshipers, killing 29.
"Everyone knows this was Israeli settlers. There is no question that they want to disrupt any process, and they think they can do it by a conflagration that redefines it as a religious war between Jews and Muslims," said Yaron Ezrahi, a political science professor at Hebrew University. "The most explosive element in the conflict is the religious tension."
The renewal of peace talks on Sept. 2 has prompted an uptick in violence by Palestinian militants as well. There have been three shootings in the last two months which have left four dead.
The mosque torching could weaken Palestinian President Mahmoud Abbas by fanning skepticism about peace talks and leading to retaliation.
Intifada?
"It seems that the settlers are pushing things to a third Intifada. The general public feeling is very sad and very mad," said Nashat Aqtasj, a communications professor at Bir Zeit University. "This will increase the feeling that negotiations is not doing any good for the Palestinians, it brings more violence."
A spokesman for the Israeli human rights group Yesh Din said the organization is already pursuing three mosque arson cases with the Palestinians. Despite investigations which have continued for months, there have been no indictments, said Michael Sfard, a lawyer for Yesh Din.
Of the more than 700 cases of violence against Palestinians in the last 5 years, only 8 percent have resulted in indictments. Sfard said the rising number of attacks is a result of "unprofessional" and sub-par law enforcement in the West Bank.
"There have always been attempts by settlers to use violence to change the course of political events," he said. "Unfortunately they are very successful at that."