Indonesian fashion scores a global Ramadan hit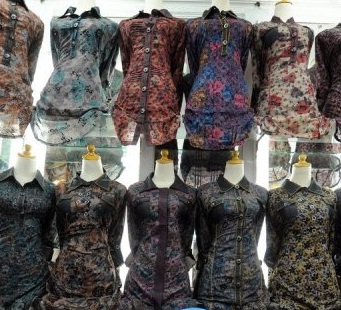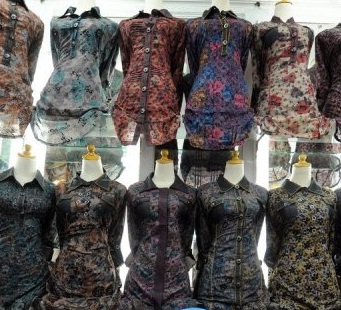 Sept 6 2010
JAKARTA — This Eid al-Fitr Muslim holiday, Malaysian Sharifa Ahmad is determined to make heads turn in her "Made in Indonesia" outfit — a black flowing chiffon robe with embroidered neckline and matching headscarf hand stitched with Swarovski crystals.
"The dress is perfect for the holy day — modest yet elegant. I'm definitely going to rock my little black Islamic dress," the 35-year-old civil servant told AFP.
Ahmad is among a growing number of Muslim fashionistas across the region who visit Indonesia to splurge on new festive clothes to celebrate the end of the Ramadan fasting month, which falls on September 10.
The country's booming Islamic fashion industry reported a spike in sales of about 20 to 30 percent as early as June, thanks mainly to buyers like Ahmad from neighbouring Malaysia and Singapore, retailers said.
Busloads of women flock to textile markets in cities like Jakarta and Yogyakarta to buy fabric, ready-to-wear dresses and headscarves, textile seller Azizah said.
"They will come in tour buses, choose what they like and buy 10 to 20 pieces of fabric. When they return to their countries, some telephone us to place more orders," she said.
Ahmad flew on a budget airline from Kuala Lumpur in July, bought the fabric at a textile market in Jakarta and sent it to an Indonesian seamstress "to work her magic" before getting an friend to post it to her in Malaysia.
"I paid 600,000 rupiah (66 dollars) for it, half of what I would pay if I had it made in Malaysia. It's a bargain for designer quality," she said.
Chiffon, silk and crepe fabrics draping the silhouette in softer pastel colours, highlighted by delicate embellishments on the neck lines, are top fashion picks this year. Plainer headscarves strewn with Swarovski crystals replaced last year's heavily-embroidered beehive and turban craze.
"Some people shop for themselves. Others buy to resell. They would buy 10 yards of fabric of the same design in three colours, tailor the dresses here and sell them at a higher price in their boutiques back home," textile merchant Vishal Kumar said.
Hoping to cash in on one of the most important dates on the Islamic calendar, Islamic fashion designer Dian Pelangi flew to Cairo, Abu Dhabi, London, Australia and Malaysia several months ago to hawk her wares.
She said she sold "thousands" of pieces from her Eid collection at fashion exhibitions in those countries for around 2.5 million rupiah (277 dollars) each.
"Arab women are glamorous. They love their bling. My Islamic brown robes with hand-drawn batik detail at the bottom were sold out. Those with beadwork and rhinestones were also popular," she added.
"Middle-eastern customers don't bargain much and when they like something, they buy a lot. Some buy 20 to 30 pieces at one go. It's a very lucrative market," Pelangi said.
Sales of her Islamic dresses, priced from 20 to 300 dollars, tripled in July and jumped 10 times in August as local buyers joined in, she said.
Indonesia offers lower prices, quality workmanship, creativity in design and a variety of fabrics, from batik and ikat weaving to gold-threaded songket.
Hassan Marican, director of Singaporean clothing company Second Chance Properties Limited, said it imported 20 percent of its ready-made festive dresses from Indonesia and sold them at double the cost price.
"We buy from Indonesia because it's cheap. For us businessmen, it all boils down to the price. Also we want some embroidery and beadwork. Our suppliers in China and Malaysia can't provide that," he told AFP.
"For Islamic fashion, Malaysia and Singapore always look to Indonesia for pointers. They're very creative. Their headscarf designs are unmatchable."
Industry Minister MS Hidayat said export of textiles and textile products this year was projected to reach 10 billion dollars, up from 9.26 billion dollars last year, or about eight percent of total exports.
While fashion creations represented only a small fraction of those exports, there is great room for expansion, he said.
"Fashion products have great potential to be developed. We're rich in natural resources and cultural heritage which can be inspiring and spur creativity," the minister said.
Indonesian Fashion Designers Association chairman Taruna Kusmaryuda Kusmayadi agreed.
He hopes Indonesian designers can help change the world's perception that Islamic attire is dull, stuffy and unfashionable.
"Sometimes when you mention Muslim or Islam, people develop an allergy. They think it's a very scary religion," he said.
"But Islamic attire can be both modest and stylish. And also fun. They aren't worn only during special Islamic days by country folks who read the Koran day and night. Modern city women wear them too while filling up gas for their BMWs," he added with a laugh.
"Islamic fashion is borderless."