Somalia's Al Shabab take fight onto the world stage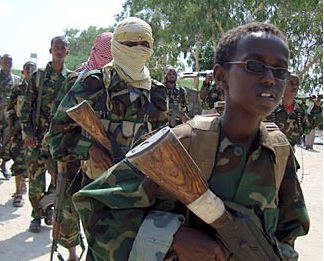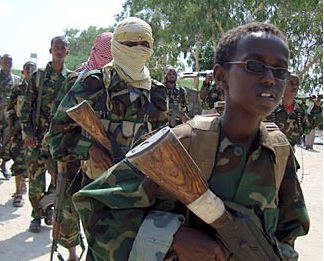 July 13 2010
Last September, one of the most militant of Somalia's extremist groups, Al-Shabab, threatened to target Uganda and Burundi, the two contributors to the African peacekeeping force in the country. That call was repeated just three days ago by an Al-Shabab commander in his Friday sermon.
Al-Shabab has finally claimed responsibility for Sunday night's murderous double bomb attacks on fans watching the World Cup final in the Ugandan capital, Kampala. The city police chief had earlier asserted that Al-Shabab movement was responsible; and in addition, there were claims from some Al-Shabab officials. Uganda has its own vicious terrorist movement, the Lord's Resistance Army (LRA), which is to Christianity what Al-Qaeda is to Islam — a warped and twisted variant out for power and not remotely interested in how many people are killed in the process. However, the LRA is not known for suicide bombs which Sunday's attacks appear to have been.
It is the first time Al-Shabab has successfully taken terror beyond the borders of Somalia, although not the first time that it has tried. Last August, four men said to be connected to Al-Shabab were arrested in Australia and charged with planning to attack an army barracks. In January, a man said to be linked to it tried to kill one of the Danish cartoonists. Not only did it declare war on Uganda and Burundi, but in February it added Kenya to the list because it said it was training Somali troops, a claim Kenya denies.
Clearly Al-Shabab is out to establish itself as an international operator. Its ability to do so is evident. As part of the wider Al-Qaeda web, it has managed to draw a number of young, disaffected supporters from across the world, including the US; one of its commanders is an American of Somali origin. Not all the thousand or so foreign fighters in Somalia are with Al-Shabab but many are. It is these foreign elements that have developed suicide bombing as one of the movement's tactics.
Given the foreign link, it is not going to be difficult for it to strike elsewhere and a place such as Kampala made a very easy target, especially with so many people focused on the World Cup final. Obviously questions will be asked whether the World Cup was specifically connected. One of Somalia's other terror organizations, Hizbul Islam, has declared football haram and last month murdered two fans caught watching one of the World Cup matches on TV. But Al-Shabab has not gone that far. Moreover, the two are bitter rivals. The choice of events targeted was probably opportunistic although the choice of an Ethiopian club venue may have been deliberate.
Much more important, however, is that the attacks expose a dangerous weakness in Uganda — a weakness that has to be rectified. It does not have the sophisticated intelligence facilities that have resulted in Al-Qaeda plots being discovered in time elsewhere, such as happened just a few days ago in Norway. That is also true of the rest of sub-Saharan Africa. The probability of similar attacks in Burundi and Kenya must be taken extremely seriously. The governments in both need to put their security on the highest alert. They and others in Africa (and beyond) need all the information and help they can get from countries where keeping the closest eye on the activities of terrorists has become an industry — in other words, countries like Australia, France, Germany, the UK and, most of all, the US.