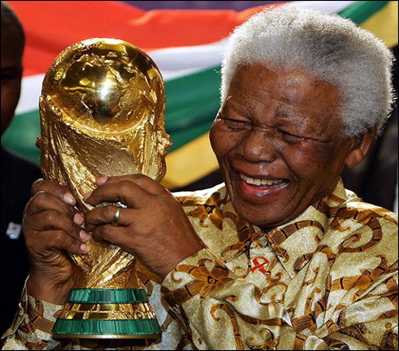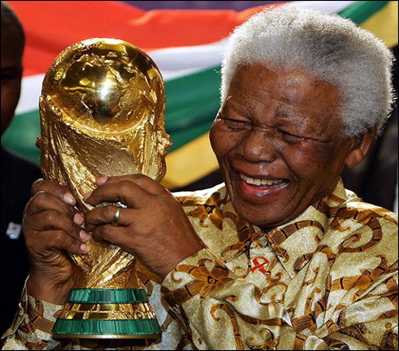 June 17 2010
CAPE TOWN – South Africa's Muslim community says as many as 130,000 Muslim fans could visit for the World Cup, and it has set up welcome centres and a website to inform visitors where to eat and pray close to stadiums.
In Cape Town local Muslims are expecting to welcome Muslim supporters from Algeria, who will play England in Cape Town on Friday, as well as fans of Muslim faith from competing nations such as Nigeria, Ghana, Ivory Coast and Cameroon.
"We thought to ourselves the World Cup will be on our doorstep and we want to showcase our hospitality. We wanted to show that we are a peaceful and tranquil community, particularly as there have been so many stories about crime and violence in South Africa," said Fatima Allie, a local organiser.
Just minutes from Cape Town's Green Point stadium is the Bo-Kaap district, one of the city's oldest residential quarters and traditionally associated with the Muslim community.
Built on a hillside it is a dense neighbourhood of historic, brightly-painted houses interspersed with tiny mosques in bright pastel shades, and with eye-catching minarets.
A special exhibition at the Bo-Kaap museum offers information about the history of Islam in South Africa as well as practical tips on where to eat and pray. A special "Islamic Cape Town Map" has also been produced and left in the prayer room of the airport.
Similar initiatives are taking place in other host cities and there is also a website: www.samuslims2010.net
"We wanted to show our history here and also show to other African nations that although we are a bit cut off here in South Africa we are also still a part of Africa," Allie said.
Asked whether the World Cup might be perceived as quite an alcohol-fuelled event which might deter Muslim fans from visiting South Africa, Allie said loyal fans from Algeria for example would want above all to follow their teams.
Gasant Emeran, a retired teacher from Bo-Kaap, said everything had been considered, even where to find Muslim funeral directors.
"Muslim communities are very cohesive here which is why we've been able to organise ourselves like this."
Islam first arrived in South Africa when Dutch colonials brought slaves and political exiles to the cape from Indonesia and southeast Asia. Today around 1.5 percent of the population of 50 million are Muslim and 80 percent Christian.
"I think fans realise that during the World Cup people may be exposed to things that are against their principles, but we certainly don't impose our religious views on anyone else," he said.